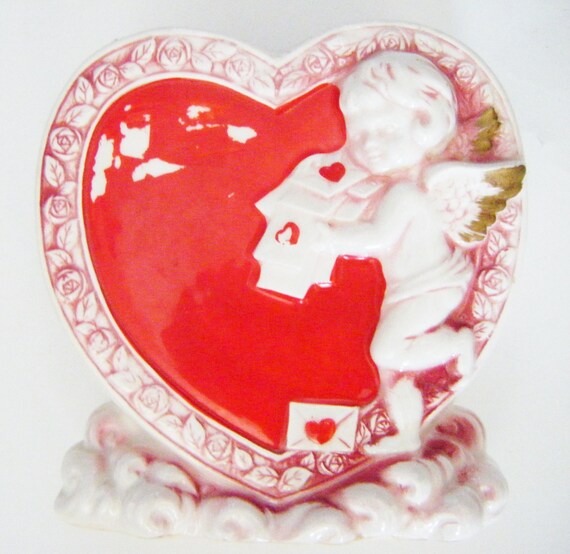 Vintage Lefton Heart Shaped Valentine Planter Or Vase With Cupid
Vintage Lefton Heart Shaped Valentine Planter Or Vase With Cupid. Cupid's wings are gold tipped. Measures approximately 5 1/2" high and 5" across. This midcentury memory maker has it's original foil tag and number on bottom.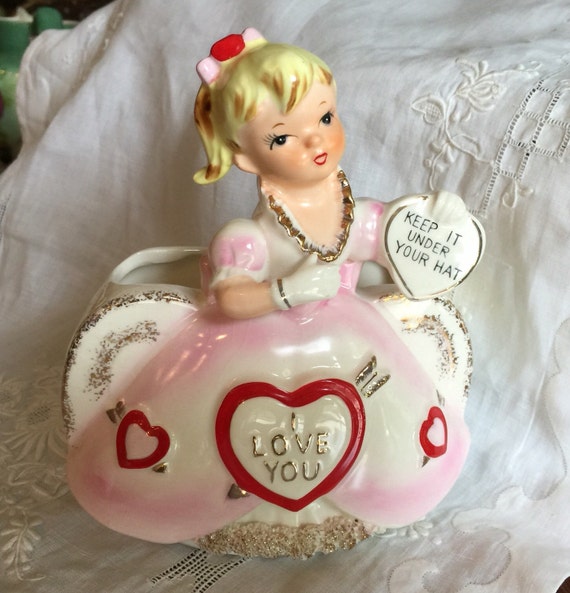 Vintage Heart Ruben Planter; Vintage Valentine Planter
Vintage planter says I love you and girl holds a heart saying "keep it under your hat" Size: 6" x 5 1/2"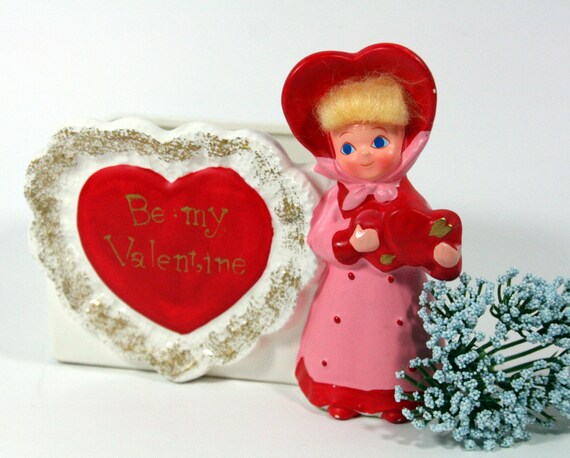 Napcoware Valentine planter-girl in red and pink- yellow fuzzy hair
Collectible Napco planter features a sweet blonde and blue eyed girl dressed in bright pink and red. She has mohair or acrylic hair. The planter section is in the shape of a valentine heart with dimensional white and gold edging. In very nice vintage condition. Some paint wear (esp on bonnet as shown in second picture). Lovely little piece. Numbered. Foil sticker intact. Measures 5" tall and 6" across.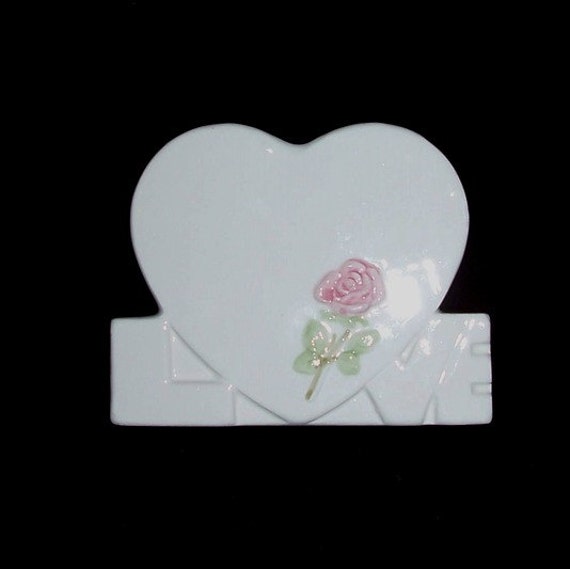 LOVE HEART Shaped Rose Pink White Valentine's Planter Painted Ceramic Porcelain Love Heart Planter Home Decor
LOVE HEART Shaped Rose Pink White Valentine's Planter Painted Ceramic Porcelain Love Heart Planter Home Decor 4 1/2" High X5 1/2" WIDE X 4" DEEP - Across top opening is 3 1/2 inches. Slightly heavy weighted LOVE Heart Shaped Planter. Front and Back look exactly the same, White planter with LOVE spelled out and a beautiful pink green rose.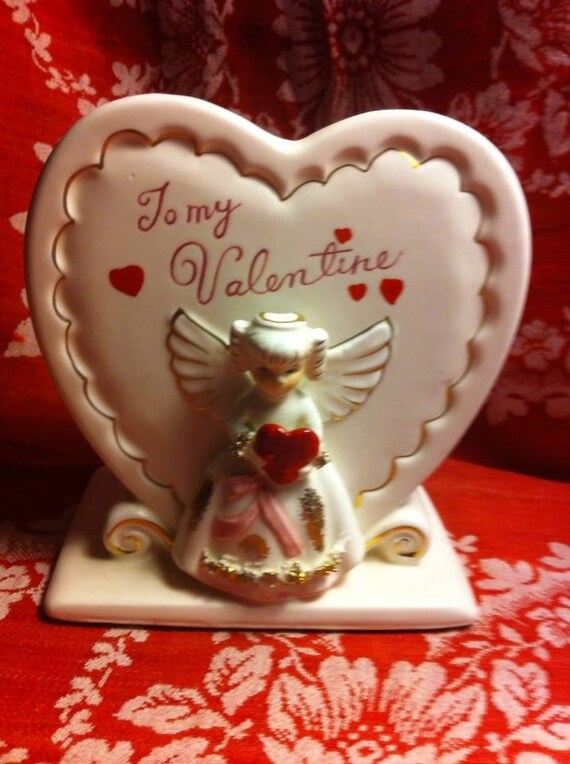 Vintage Napco Be My Valentine Planter Rare
Wonderful Napco For My Valentine Planter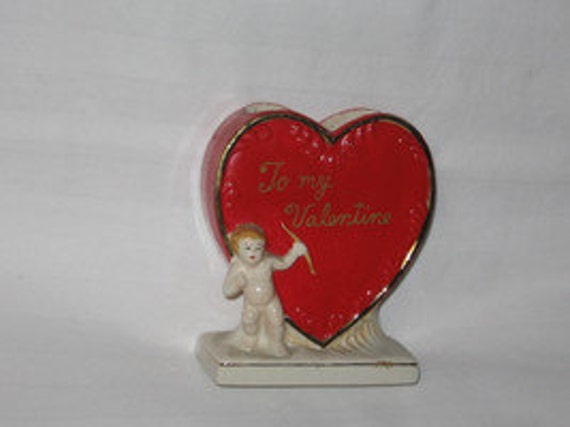 vintage 1960s japan ceramic valentines planter
hi. one vintage 1960s japan ceramic valentines planter used and in good condition for its age, it would make a nice gift.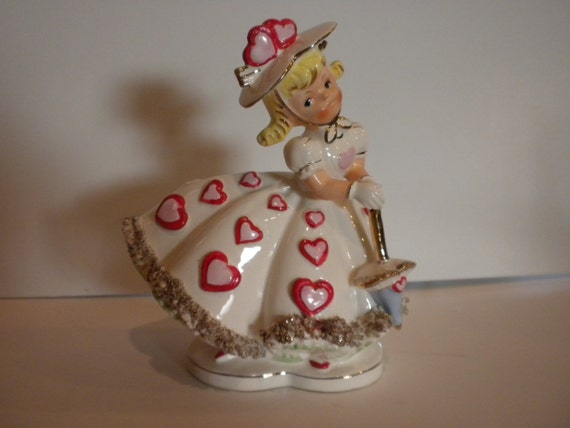 1958 Valentines Planter - Beautiful from Samson's Import - RELCO
Absolutely Ready To STEAL Your Heart! This beautiful Valentines planter would make a perfect gift when filled with some chocolate kisses. She is 7 inches tall and 6 inches across, no chips or cracks....some minor loss of cold paint.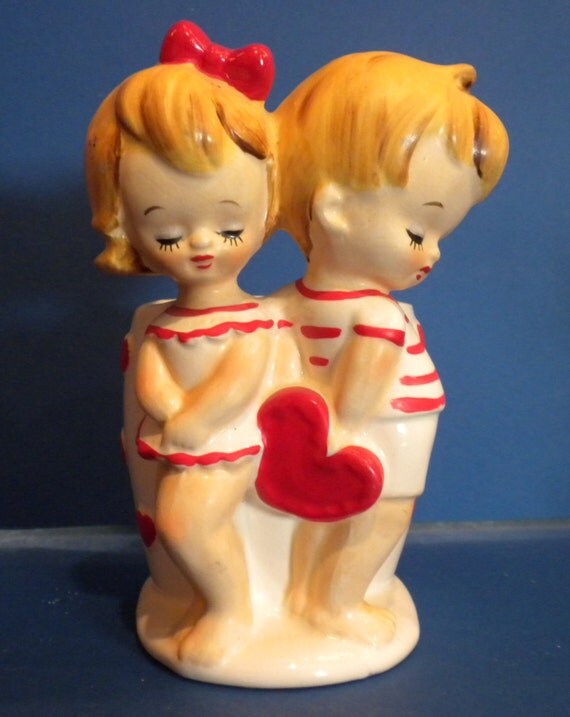 Lefton Valentines Planter - Boy and Girl with Heart
Beautiful Lefton Valentines Planter; in terrific vintage condition. No chips or cracks...maybe some minor cold paint loss but it is minimal.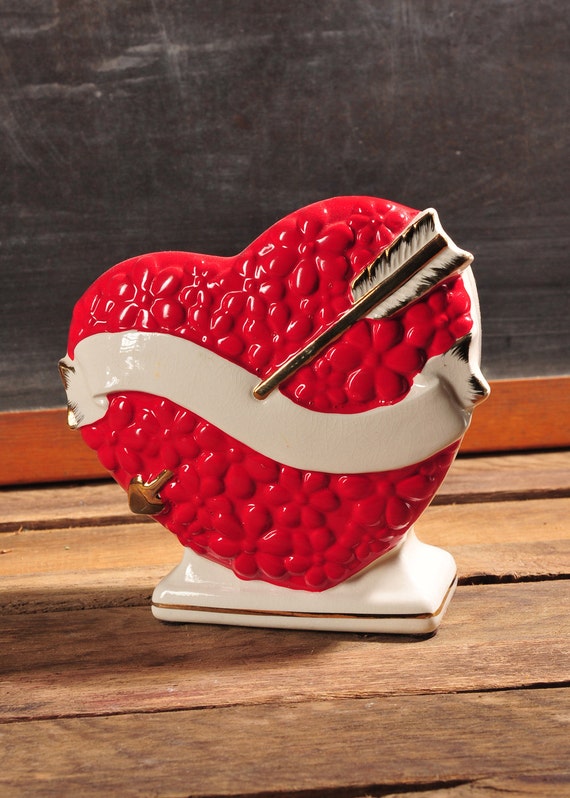 Vintage Mid Century Relpo Ceramic red Heart with Gold Arrow Valentine planter vase. Flash Tattoo style retro cool
This vintage Valentines vase reminds me of flash tattoo art work. It's white ceramic the red heart has 3d flowers and a scroll across it. Nice gold arrow. It is marked with A-1841 on the bottom the Relpo sticker is missing. It is 5 1/2"w X 5 1/2"h Great vintage condition no chips, cracks or missing paint.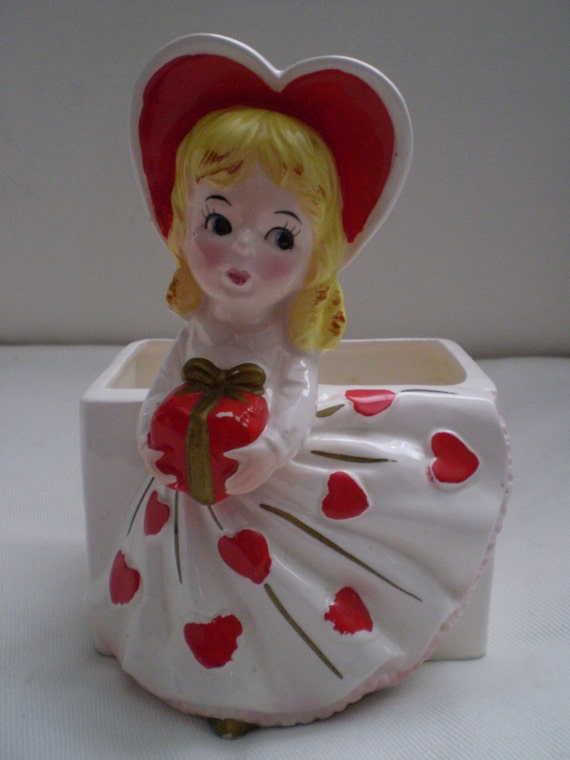 Vintage RELPO LADY Heart Valentine Planter Head Vase Love Headvase
HERE IS AN ADORABLE VINTAGE RELPO GIRL WITH HEART, VALENTINE PLANTER.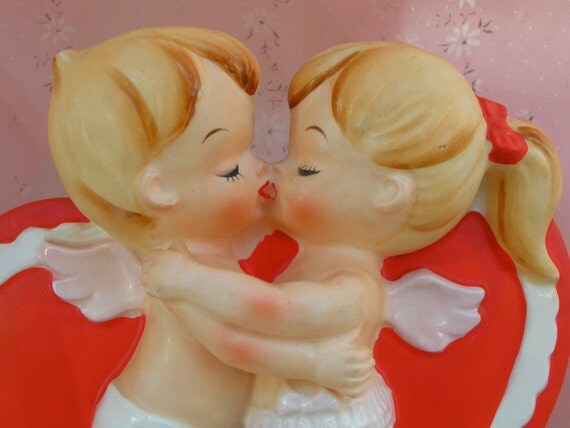 Adorable Kissing Angels
So perfectly adorable!!....a vintage Lefton kissing baby angels planter in perfect vintage condition...just a teeny tiny, almost invisible bit of normal age related crazing....please zoom photos. Very clean and shiny with bright vibrant colors and markings...6x6 inches in size..a most lovely piece to be treasured for generations!! Darling in a little girls room..and or in the your Baby's Nursery too!!..this is my ONLY one!!!...makes a super sweet gift for the Holidays too!!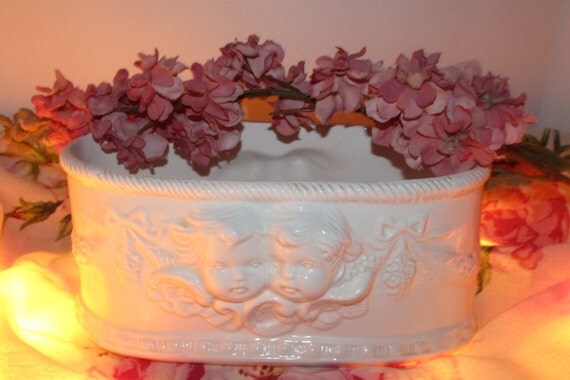 Ceramic Planter Box Victorian Double Cherubs Putti Angels Shabby Cottage Chic
This sweet cottage shabby chic Victorian style piece has many uses: napkin holder, silverware server, planter, bedroom, bathroom storage, guest towels and,bath supplies. Perfect Valentine's planter box gift box. Fill it with Valentine's goodies! There are double cherubs on both sides. Measures 9 1/4" x 5".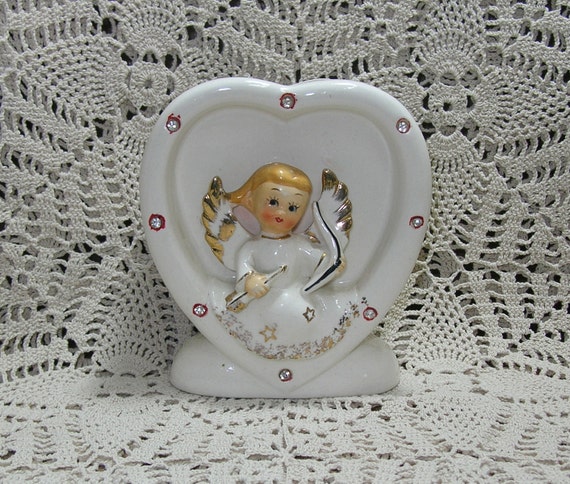 Vintage Heart Shaped Angel Planter Rhinestones Gold Accents Must See
Here's a beautiful vintage heart shaped planter with a dimensional angel with bow and arrow in the center of the front side. She has a beautiful face and gold accents. There are 8 rhinestones around the outside edge of the front. It has a little red paint around each one......not sure why. No cracks or chips. Very pretty and measures 4 1/4" long x 2 1/4" wide x 4 3/4" tall. This would be pretty to use with Christmas greenery in it or at Valentine's day too. No markings on the bottom.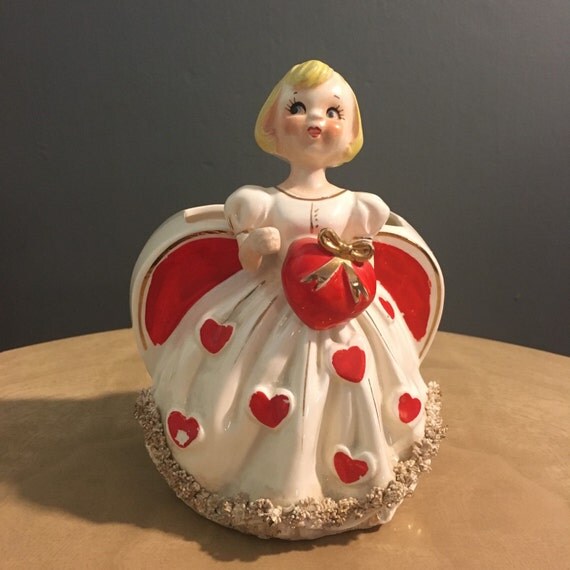 1950s RB Valentine Girl Planter with Spaghetti Trim
For your consideration is this cute Valentine girl planter. She was made in the 1950s by RB. She is ceramic and has an adorable heart print dress with spaghetti trim. Her features are hand painted. Looks like she should be holding an umbrella, which is missing. Also one of the hearts on her dress has a patch of paint missing. No chips, cracks or breaks. She has her original maker sticker on the bottom.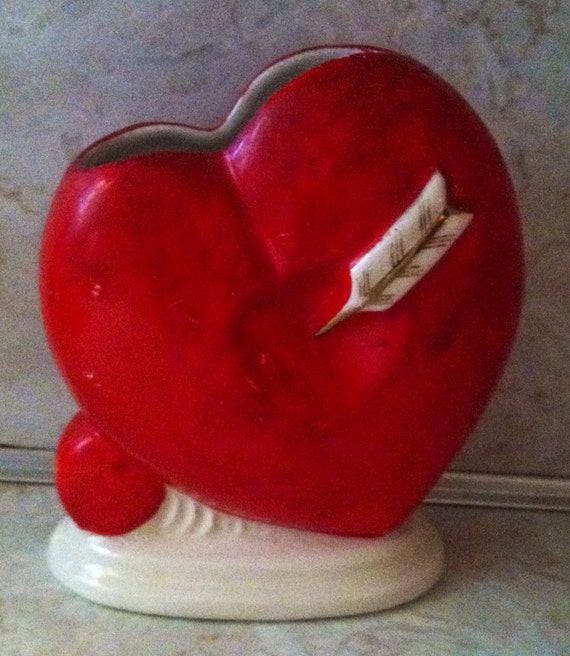 Vintage pierced by cupid's arrow Heart vase 1940's 40's Valentine planter valentine's sweetheart true love Japan
5 high 4 1/2 wide Some paint chips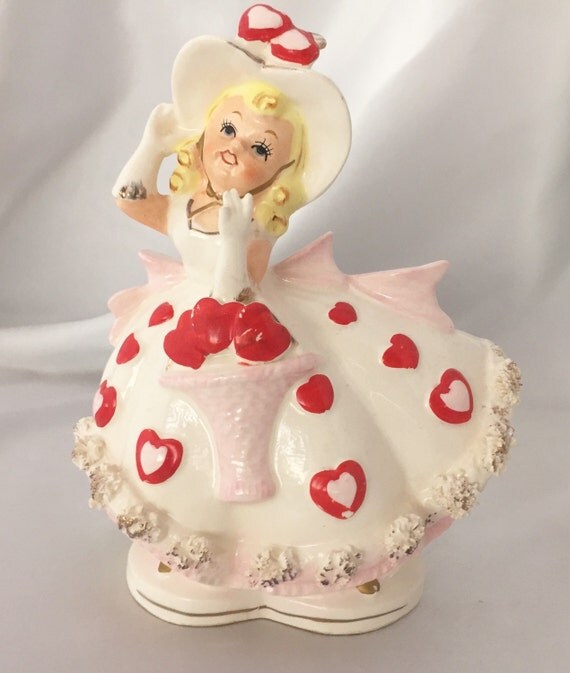 Vintage ceramic Rubens Japan Valentine heart girl planter
This is a sweet vintage planter perfect for Valentines Day! This piece is in very good condition aside from her pinky finger being chipped off. This is not very noticeable, especially when she is on display. There are a few minor scratches in the red paint on the hearts, these are visible in the pictures. Measurements are 7 1/4" tall, 5 1/2" wide, and 4" deep. The planter opening is 4" wide and 1 1/2" deep.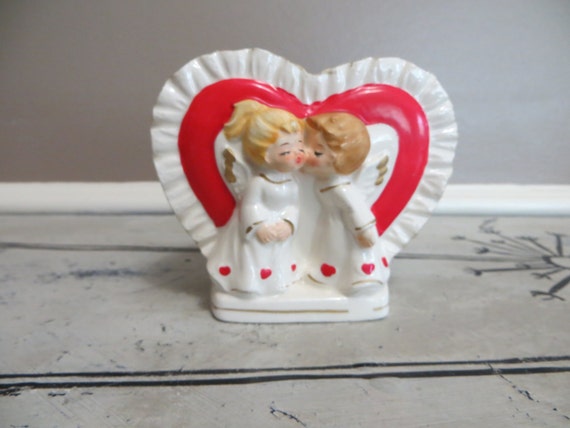 Vintage Lefton Planter Heart Planter Angels Kissing Lefton Vase Heart Vase
This darling vintage Lefton planter is perfect for that loved one you want to celebrate. Cute filled with a small plant or cut down some roses and fill her up:) This is free from chips and cracks. It has some discoloration, but comes with the original foil. Enjoy. Measures: 4 3/4" w x 4" t x 3" d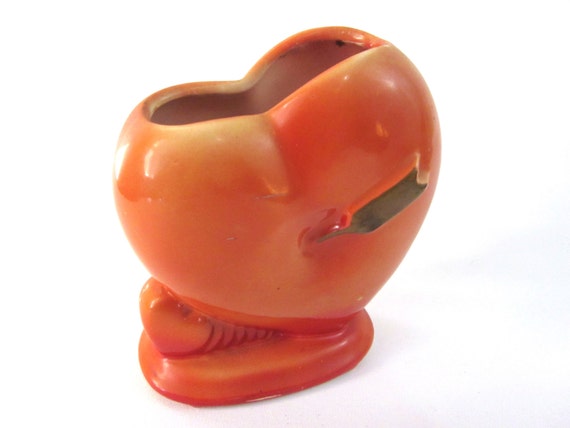 Vintage Valentine Heart Planter Vase Cupid Arrow Love Romance Holiday Pottery
Vintage Valentine's Day Pottery Heart Planter Vase with Arrow Relief design on both sides and cute "infinity heart" at the base Red-orange glaze with gold arrow Condition – Solid condition with no cracks or crazing. Natural variations to the glaze. Small chip to base (see photos). Measurements Approximately 6" high x 5" wide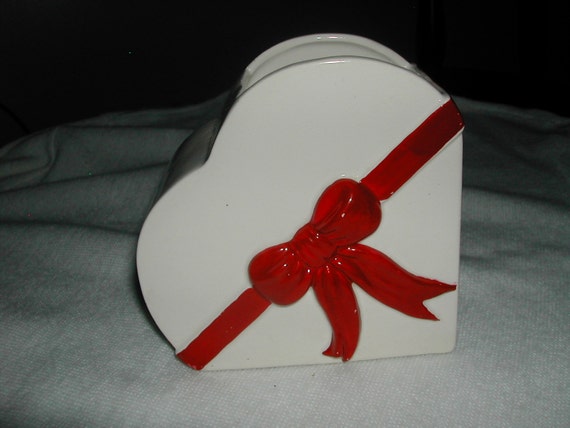 Vtg Relpo Valentines Day Planter Heart Red Ribbon W165 Relief Glazed Ceramic
Vintage Relpo (Of Dayton Ohio)Valentine's Day Planter Heart With Relief Design Of Red Ribbon Tied In A Bow # W165 50's /60's "Relpo & W165" Are Incised, And There Is a Gold & Green Sticker "Relpo Dayton Ohio Made In Sri Lanka" On Bottom Measures 5" x 5" x 2.5" Glazed Ceramic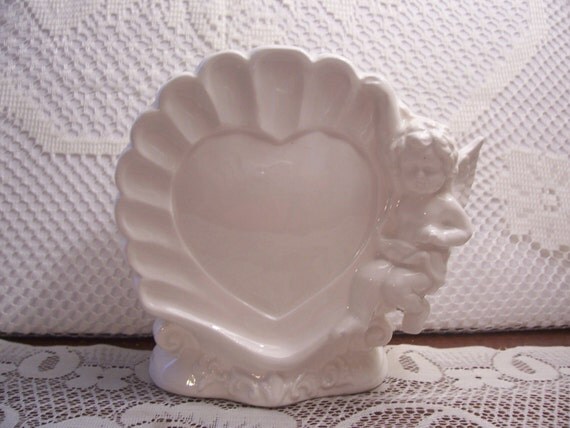 Valentine Heart Shaped Planter with Cherub, Japan
It measures 5 1/2" tall and 6" wide. It is in excellent condition. It has a Japan label and number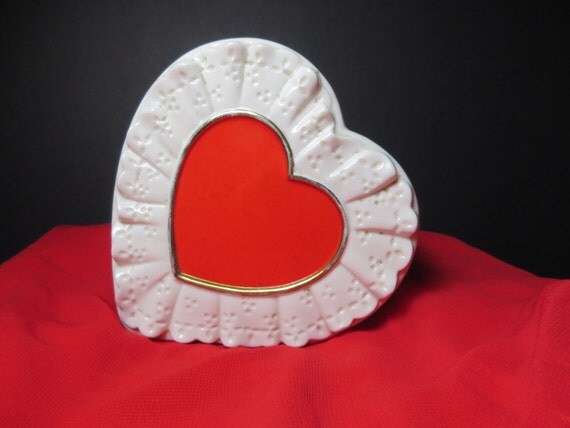 Retro 80s Red White Heart Planter Fancy Ruffles Lace Ceramic Valentine Vase
Cute vintage ceramic red and white heart planter. The gold around the heart is a bit worn and some spotting on the heart otherwise in great condition. Pretty white lace ruffles surround the heart. No cracks or chips. Great addition to your collection or for that special someone filled with flowers. Measures 5.25" x 5", 2.75" wide. Weighs 12.4oz before packing.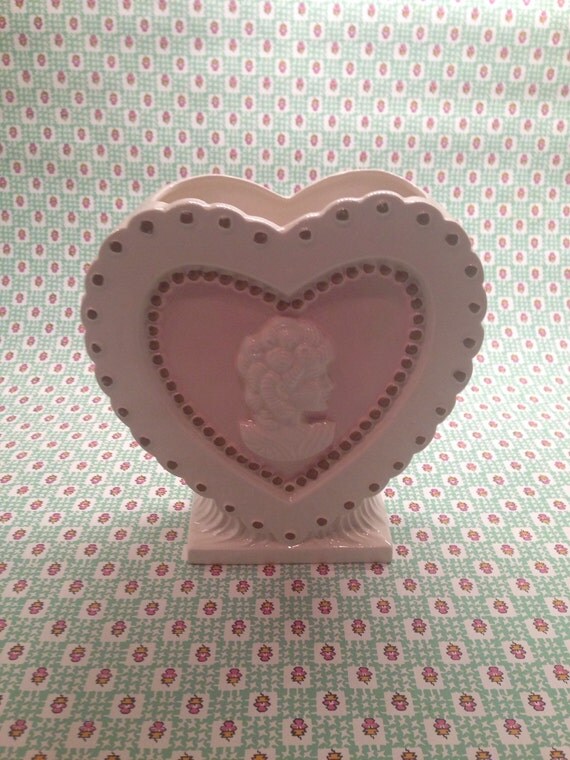 Vintage Ceramic Heart Planter -Valentine's Day - Pink Off-White Gold Cameo
Happy Valentine's Day! Treat your sweetie with this adorable and unique-looking vintage ceramic heart planter - fill it with candy, love notes or a plant! This item is in great condition with just one small chip on top opening but no cracks, just some light crazing (which is normal for a planter of this age.) Slight discoloration on lower back of planter as seen in photo. Feel free to convo me for more up close photos if interested. Measures 7"W x 7"H x 2 1/2"D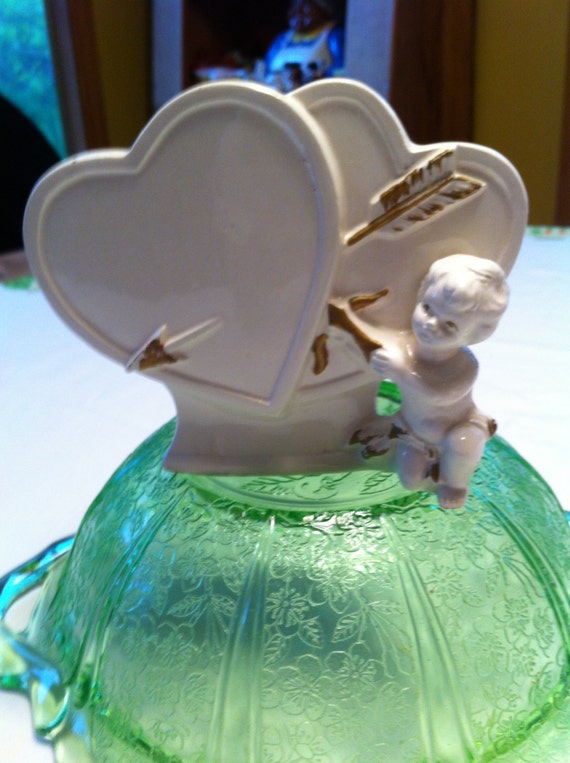 Vintage LEFTON Valentine Hearts and Cherub Vase Planter 2995N
For your consideration... A lovely vintage LEFTON Valentine Vase with sweet little cherub marked 2995N with original sticker. Vase measures 4-1/2" tall (from bottom to tip of heart) x 5-3/4" (widest between hearts). It is in very good vintage condition no cracks or chips. Please note residue from price sticker (?) in pic 3. I have not tried to remove it and item is being sold as found.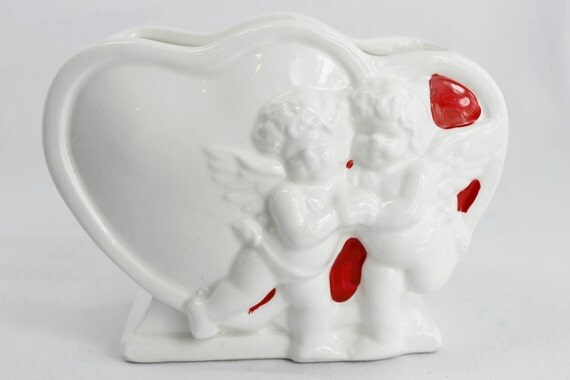 Vintage Valentine's Day Cupid and Hearts White Planter
Super adorable vintage planter featuring a heart and a half with two sweet little cupids holding hands. The planter is all white except for a small patch of red on the half heart. No markings, bottom has a Made in Taiwan sticker. No chips of cracks, but there is crazing throughout. Measures 6" x 4" x 2" deep.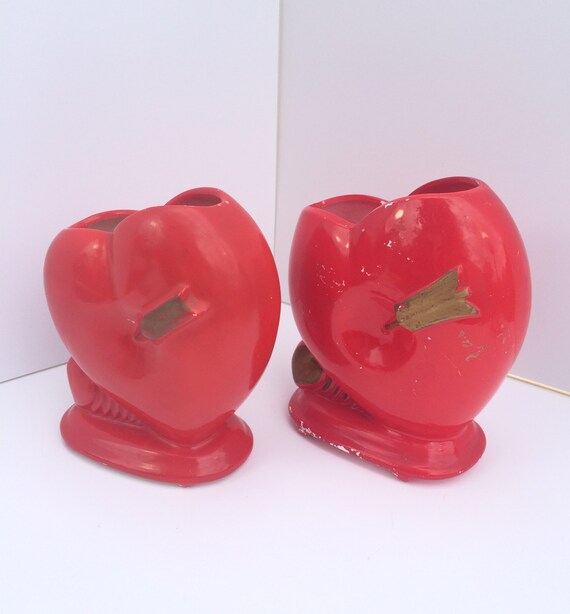 Vintage Ceramic Heart Planter, Red with Cupid's Arrow, Set of 2
Vintage Mid Century Red Ceramic Heart Planters, Set of 2 Both in vintage condition with marks in the paint. These planters look the same to the naked eye, but when examining them up close one is lighter (.5 oz) and seems to have a different level of quality. The one that is lighter is the one marked with the Ruben's LA Made in Japan sticker. The other one (1 oz.) looks to be in slightly better shape and a thicker ceramic.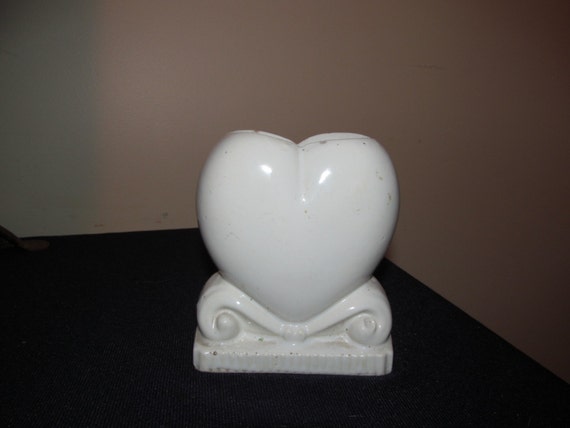 Vtg Valentines Day Ceramic Heart Vase White Glazed Planter
Vintage White Ceramic Heart Vase/ Planter Glazed Sits On A Rectangular Fluted Base Unglazed Bottom Not Marked Measures- 5"H x 4"W x 2.5" Deep It Has A Number Of Glaze Pops And Small Amount Of Roughness At Bottom Edge Where Glazed Area Meets Unglazed Area A Tiny Chip At Top Open Edge On One Side Good Condition For Age & Use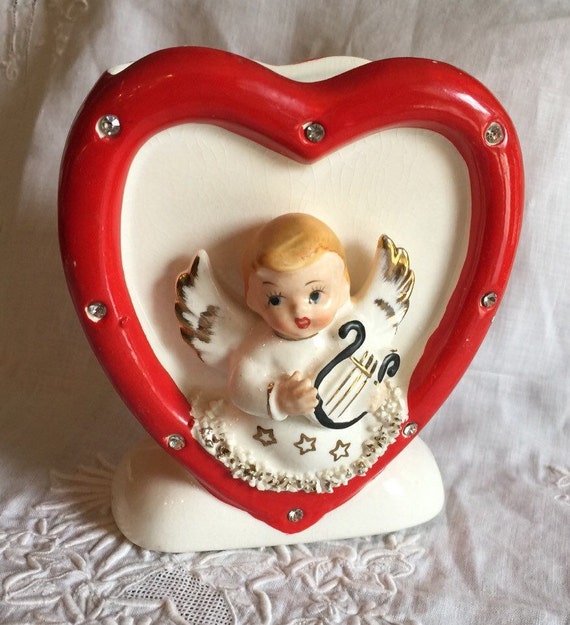 Vintage Heart Planter; Vintage Valentine Planter; Cupid With Rhinestones; Japan 1950's
Vintage heart with rhinestones around it. Cupid inside with harp. Size: 5" tall. 4" wide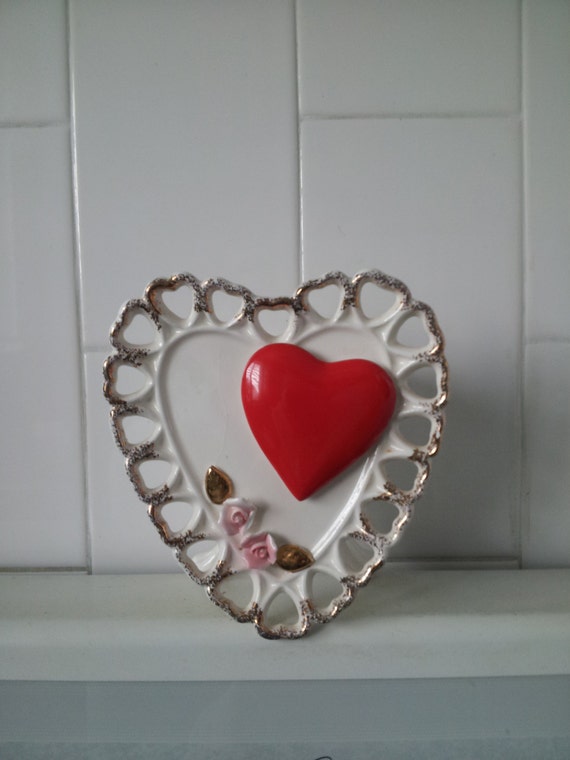 SALE Vintage Samson Imports RELPO Heart Valentine Planter Head Vase Love Headvase
HERE IS AN ADORABLE HEART, VALENTINE PLANTER. ORIGINAL RELPO stamp ON THE BOTTOM AND IS MARKED Samson imports co 445/s Japan IN EXCELLENT CONDITION WITH NO CHIPS OR CRACKS. Looks like one petal may have been chipped off and repaired Has crazing as expected due to its age MEASURES APPROX 5 X 5 INCHES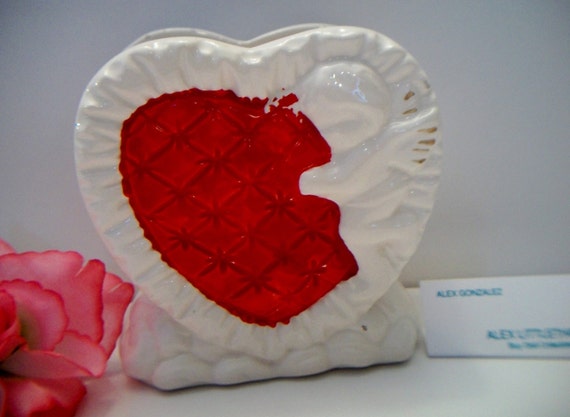 Vintage Valentines Heart Cherub Angel Planter Cottage Chic
Vintage ceramic red & white heart shaped planter with red heart & cherub. Measures 4-3/4 inches x 4-1/2 inches. It has a chip on the inside of the planter & some paint loss on the red heart. All sales are final. Thank you for looking. Shipping in the U.S. only on this item.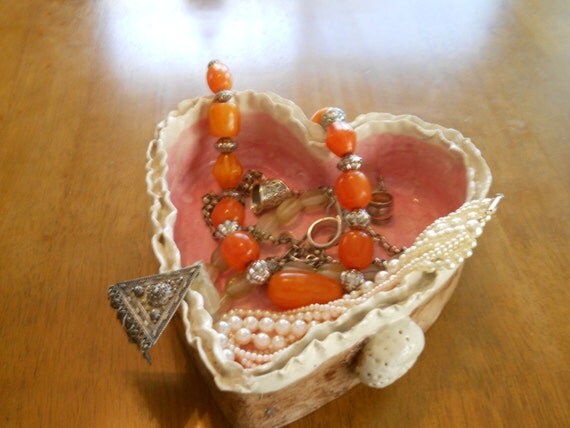 Handmade ceramic planter and more for Valentine's day, Mother's day or any day.
Handmade ceramic planter. Can be a lovely gift for Valentine's Day, Mother's Day, or any occasion. Also may be used as a soap dish or for collectibles and is food-safe size 9.50" x 9.50.can be made to order without the draining holes, different size or colors. If custom ordering let me know at list seven weeks before delivery date
Valentines Day Ceramic Planters Page TWO