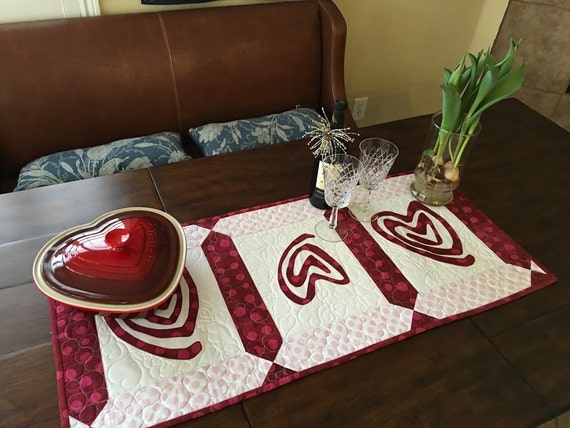 Valentines Day table runner
A Valentine Day table runner. It signifies romance, love, companionship, or just plain happiness. It can be used year after year. It is made of cotton with appliqued hearts that are sewn with a basket weave stitch. The quilting is circles and hearts. It can be washed in a machine on a low setting and dried in a clothes dryer on low settings. There are two available. They are slightly different. Dimensions are 42inches by 18 inches.

Red Valentine Table Runner
Red and white Valentine table runner measures 14"x 41" and is all machine made. How pretty this runner would look on your table or anywhere during the season for a punch of red in your home.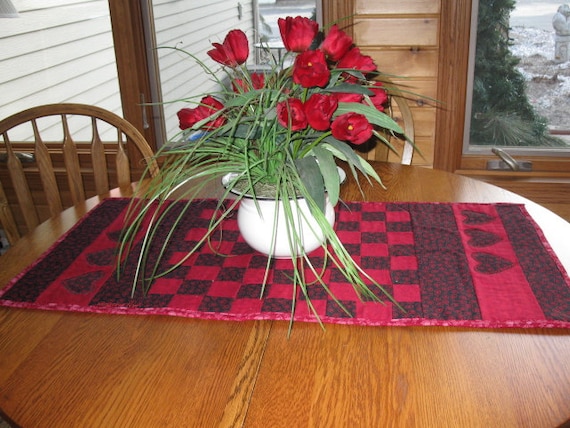 Valentine Table Runner
This is a bright red and black Table Runner with appliqued hearts. The backing is a matching color the same as the binding. The size is 18 1/2" wide and 38" long. This runner looks rice on a table with a white table cloth underneath. It is festive looking and perfect for Valentines. Check with me when ordering outside the U.S.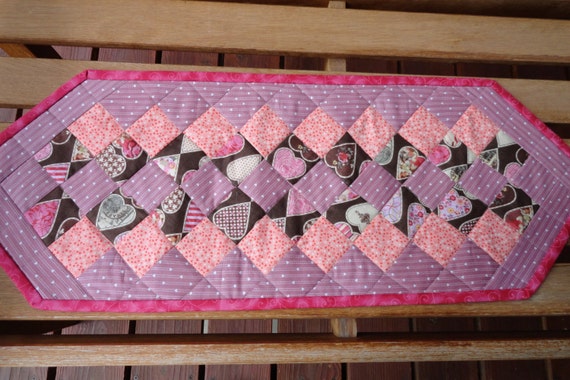 Quilted Table Runner, Valentine's Day Home Decor
An all cotton table runner that measures approximately 31" x 11". The front is quilted in four different fabrics and binded with a fifth. It is binded by hand as is the quilting. The fabric colors consist of pinks, reds, brown, hearts, etc. The back is a fabric of mainly pink in a heart/swirl design. Wash in cold water, normal wash cycle, tumble dry on low. Iron as needed.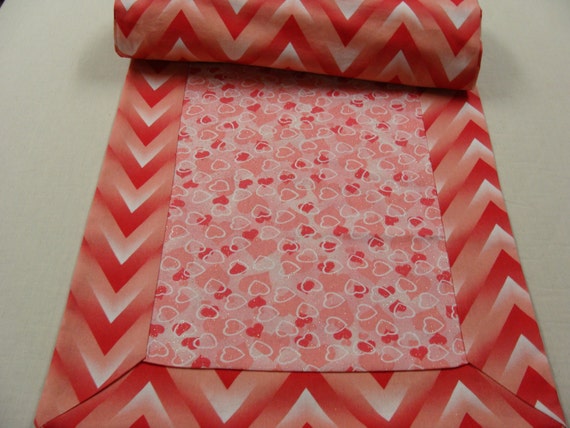 Pink Hearts and Chevron Print Valentine Table Runner
Dress up your table this Valentine's Day with a pretty table runner in shades of pink. This cute heart print bordered in a coordinating chevron print will help you decorate your table with fun colors! This table runner would make a fantastic hostess gift for someone on your list. Runner measures approximately 70 inches long, by 14 inches wide. This runner is unique, it has no batting in it. So, you can place candles and even wine glasses on it, and they won't wobble. It can be reversible too.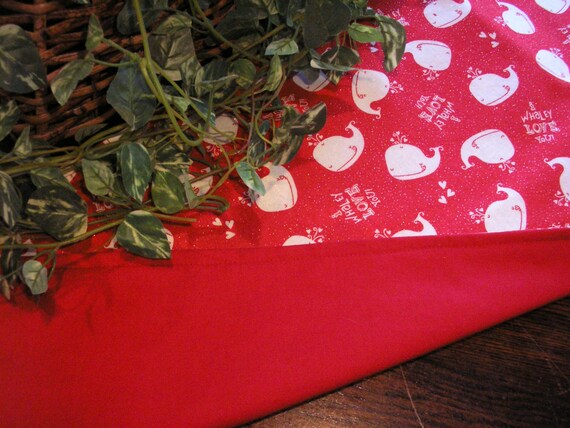 Valentine's Day Table Runner I Whaley Love You Red Padded
Enjoy this Table Runner. This Valentine's Day runner is very sweet. It has white whales & lots of glitter on a red background & says "I Whaley Love You." The back side is solid red. It's wonderful! This runner is versatile & can be used on a sofa or coffee table, entertainment center, dresser, etc. It measures 12" X 39". The ends are squared & there is a medium weight stabilizer between the cotton print fabrics to help it keep its shape. The runner has also been topstitched for durability.

Valentines Day Table Runner
This Valentines Day Conversation Heart Burlap Table Runner will look so cute and romantic on your table this Valentine's Day. It will add a nice little rustic touch to your home. It is approximately 13 inches wide by 90 inches long or 108 inches long, please make your selection when ordering. If you need a custom size, please send me a conversation and I can create something special for you. Each heart is hand painted on and the writing is done in puff paint. Please note these are for decorative purposes only and not meant to be eaten on or washed. Spot clean only.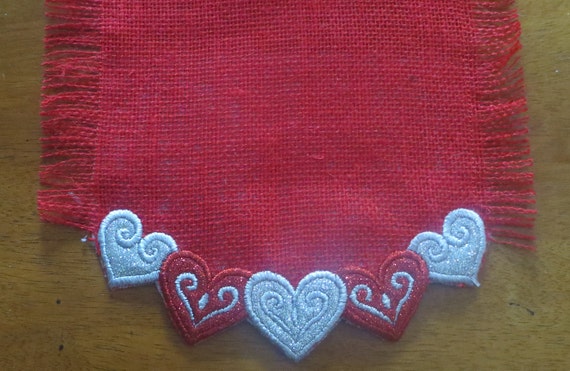 Luxury Burlap Scalloped edge Valentine's Heart Embroidered Table Runner
Update your kitchen table for Valentine's Day with this beautiful luxury embroidered red burlap table runner unlike any other that you will find on Etsy. Made to order for your specific size table. Valentine's Day and Burlap are a wonderful combination to your home rustic décor. This table runner will look wonderful in any country home, log cabin, vacation retreat, or in any room that you are looking for a rustic décor enhancement and will make a great conversation piece in your home. This design is machine applique embroidered on both ends with a high quality glitter embroidery fabric of red and silver that make up the scallop heart design with matching embroidery thread. These runners are absolutely gorgeous! The long edges of the runners are double stitched about 1/2" in and then left frayed to give it that ultimate rustic feel and look.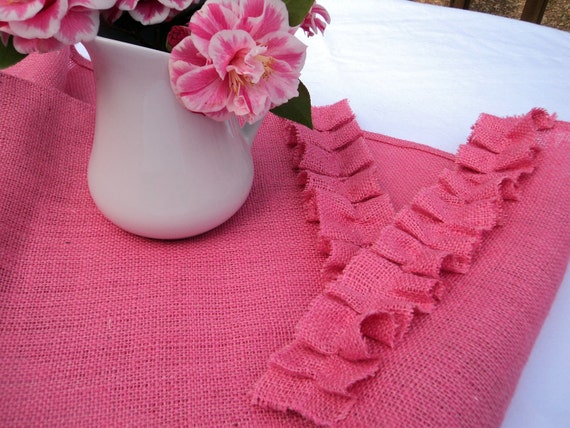 Pink Burlap Table Runner Valentines Day Decorations
My ruffled burlap table runner in pink! This table runner is perfectly rustic and feminine. It would also be absolutely adorable in a girls room or just anywhere you want a feminine and shabby chic look. I have two different shades of pink. A darker pink or a soft blush pink. Click through the pictures to see both colors.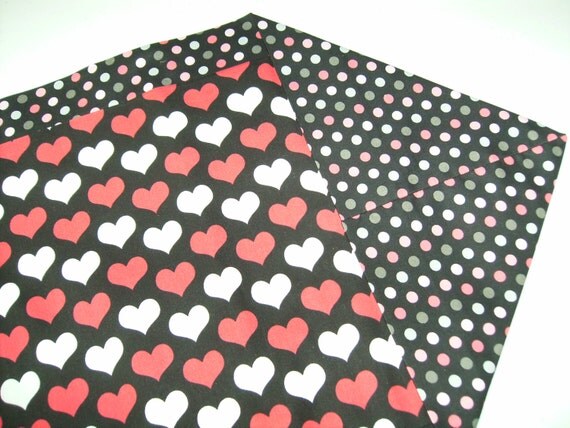 Reversible Valentine's Day Table Runner
A perfect table runner for your Valentine's Day table! This reversible runner is made of 100% coordinating cotton fabric. Easily washed on a gentle cycle in cold water; pressed with a warm iron. The runner measures approximately 42 inches by 14 inches. This would also look great on your dining room buffet, bedroom dresser, or living room coffee table.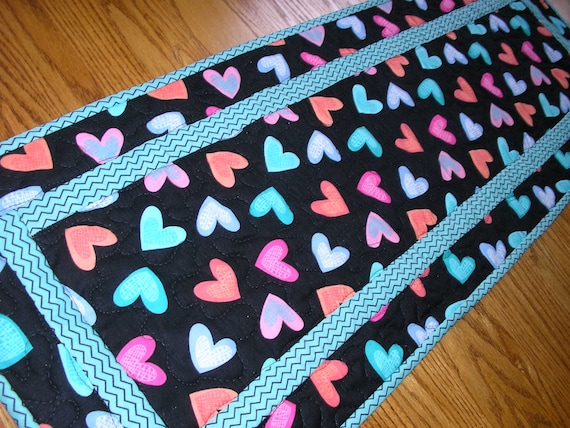 Quilted Table Runner, Modern Valentine Runner, Pink, Peach, Blue, and Aqua, 14 x 40 inches
Great valentine runner for your traditional or modern decor. If you are looking for something other than the traditional red for valentines this runner is for you. Also would work well on a little girls dresser. The colors will take you into spring. The center and outer border is a multicolor heart print. The inner border is a aqua and black chevron print. The back is also the heart print fabric on black. A great piece for your dining table, coffee table, hutch, sideboard or anywhere you want to add a little color. The binding is made from the aqua and black chevron print and is double thick. It has been machine stitched to the front and hand stitched to the back with mitered corners for a nice finished look.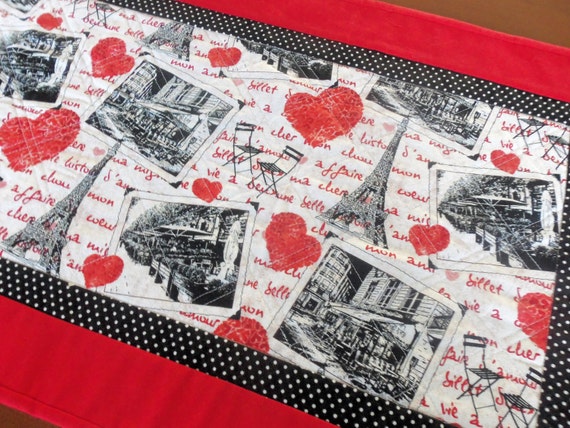 Quilted Paris Table Runner, Valentine's Day Table Runner
Is there a more romantic city than Paris ? This Paris print is perfect for your Valentine table. The print has scenes of paris, including the eiffel tower, french words and hearts. It is trimmed with a black and white dotted fabric and a red solid. It measures 16 x 44 inches.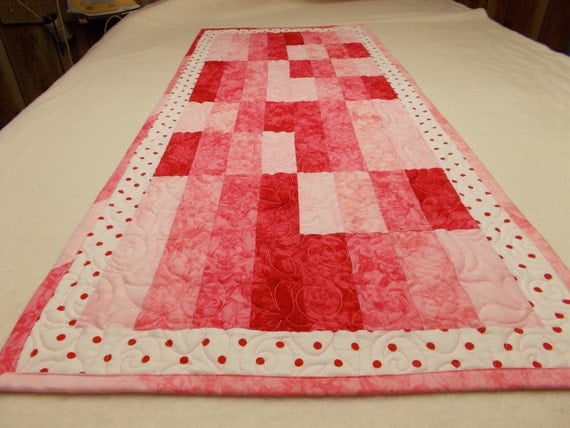 Valentine's Day Table runner
Valentine's Day Table Runner Size: 20 x 47 Quilted in a rose pattern. Made with hand dyed fabrics A bright, cheery way to show off your Valentine decorations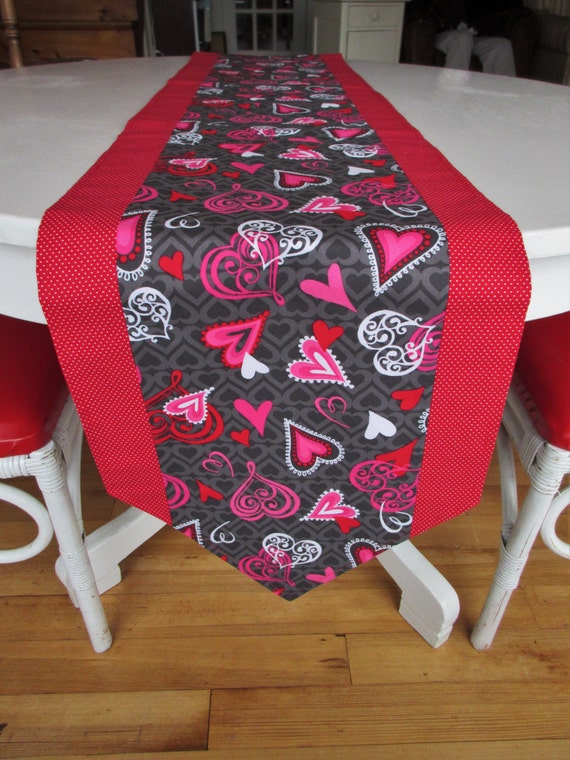 Valentine's Day Table Runner, Handmade Hearts Table Runner
This sweet Valentine's Day table runner is 70" long by 12" wide. Handmade with 100% cotton fabrics. Top is gray with various red, pink, and white hearts. Back layer and trim are done in red with white pin dots. Placemats sold separately.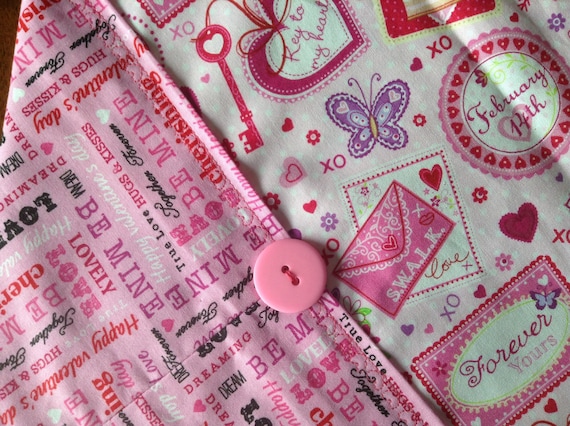 Valentine Table Runner - Be Mine
A pretty Valentine's Day table runner. The inner fabric has cute little Valentine designs with butterflies and hearts. The outer fabric is pink with Valentine sayings. A pretty pink button brings attention to the decorative stitching. Runner is approx. 44" from tip to tip.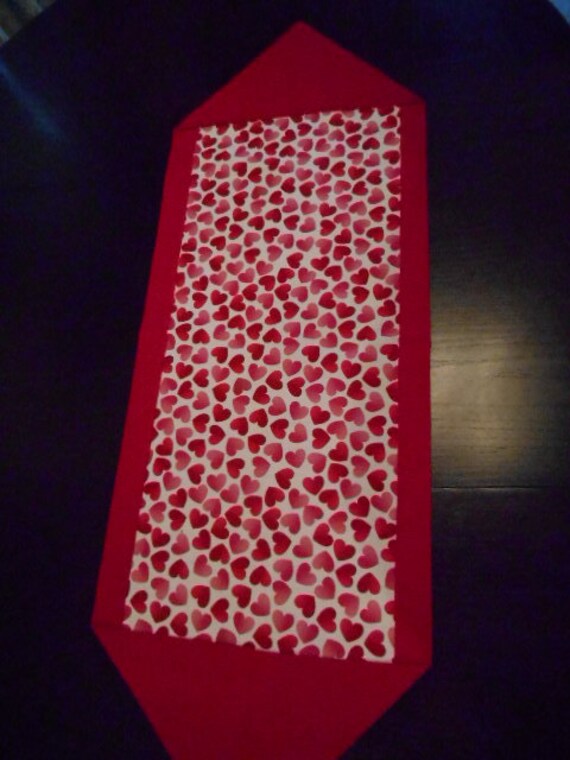 Valentine table runner
Another adorable Valentine table runner it measures 14 x 40 made with 100% cotton fabrics super cute tossed hearts on white I used a solid red for the backing and borders machine washable/ Air dry recommended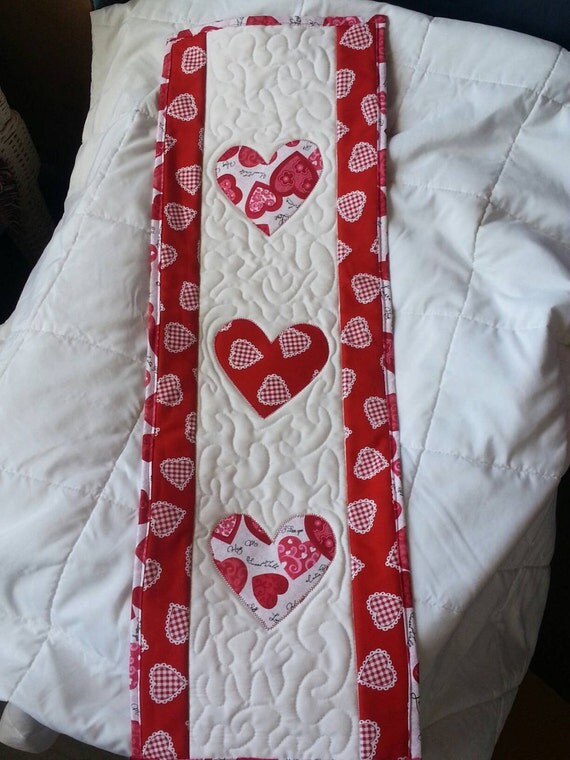 Happy Valentines Day Quilted Table Runner
How beautiful is this Valentines Day Table Runner. Measuring 10 1/2" by 33" this runner is full of love. I have used timeless treasures and Henry Glass Fabrics along with warm and natural batting. I used applique for the hearts and stipple quilted the background. Machine wash and tumble dry low. A warm iron can be used if needed. Comes from a smoke free home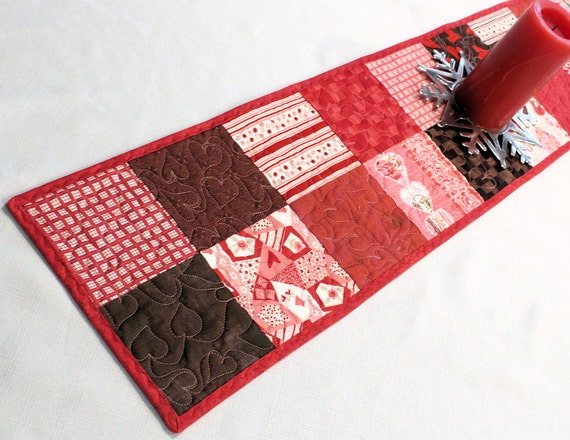 Quilted Table Runner - Red, Pink and Chocolate Brown Charm Squares, Valentines Day Table Runner Quilt
This is a sweet little quilted table runner for Valentine's Day and all the month of February. The fabrics are all pink, red, white and chocolate brown. Isn't chocolate just perfect for Valentine's Day! SIZE and FEATURES --- 9" wide x 45" long --- fabrics are 100% cotton of quilt shop quality --- Batting is Warm and Natural - 100% cotton --- Great for holiday decorating --- Quilted with hearts everywhere in light pink thread. --- Back is a pretty pink print --- Binding is red, sewn on by machine with a decorative wavy stitch.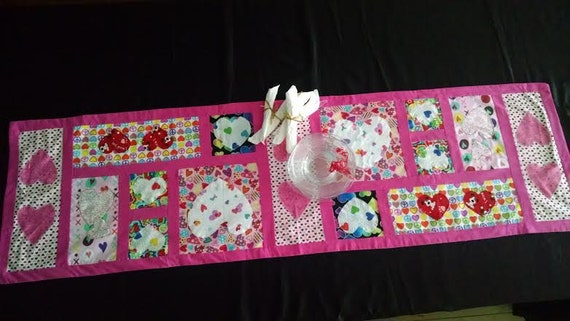 Handmade Love/Valentine's Day Table Runner
Our quilt-block-style birthday & holiday table runners will add so much fun to your celebration! Whimsical, silly creatures, colorful balloons and holiday-specific decorations - we can make them to order per your color specifications and/or table measurements, or you may purchase one that we have on hand ready-to-ship. From coffee tables to buffets, and sideboards to full-length formal dining tables, we have something suitable for everyone's celebration setting! Great for use in the office, too!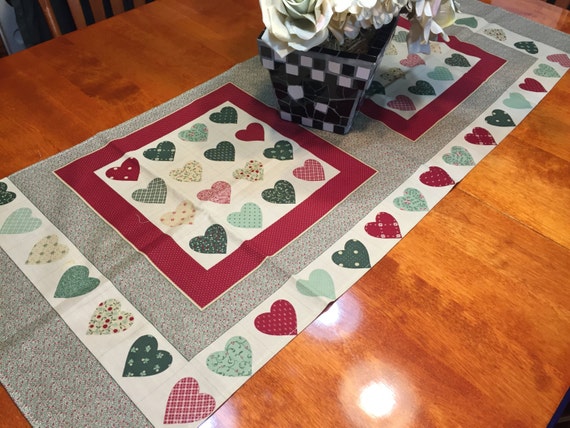 Vintage Valentines Heart table runner for housewares
One Valentines table runner with a heart design throughout Measures 45 x 18 inches, in good vintage condition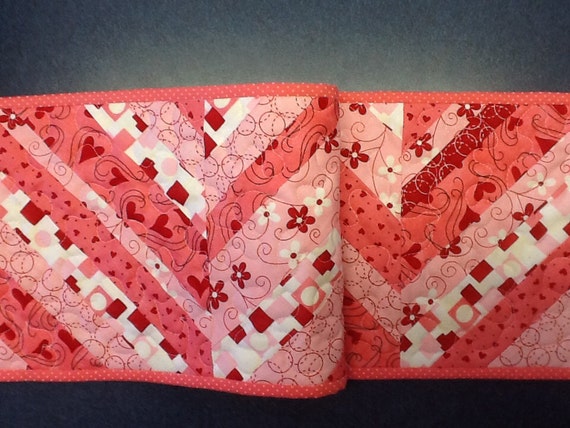 Valentine Quilted Table Runner
Hearts, flowers, circles and squares are scattered over this pink, red and white Valentine table runner. Various width fabric strips have been sew together to create a zig zag pattern. I have used 100% cotton fabric and 80% cotton, 20% poly batting. It's quilted with pink 100% cotton thread. I used a meandering stitch and have stitched hearts throughout. I use 100% cotton fabric on all my quilts and table runners. They have been quilted with cotton thread. I usually use 100% cotton batting unless otherwise stated.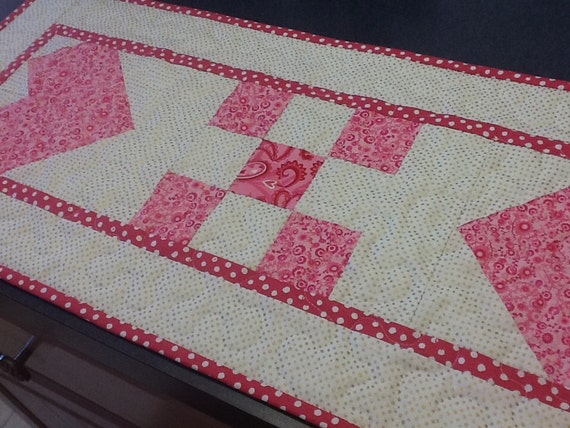 Valentine Hearts Quilted Table Runner, Pink and White Table Topper
I paired a few pink prints with a metallic gold dot to make this lovely Valentine runner. There is a pieced heart at either end and a patchwork square in the center. All fabrics are 100% cotton. The batting is 80% cotton and 20%poly. I've quilted it with white 100% cotton thread. It measures 11.5 x 27.25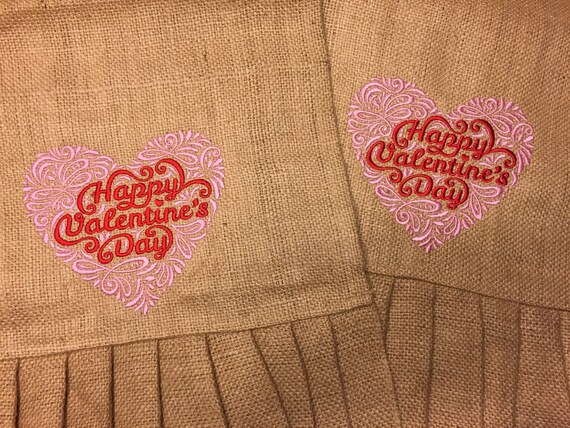 Valentine's Day Burlap Table Runner Embroidery Design Both Ends 2 yards x 14"
Valentine's Day design embroidered on a burlap table runner. It is ruffled at the ends. Design is 6 1/4"x 5 3/4". Runner is 2 yards long by 14 inches. Design is on both ends. Comes from a smoke free house and a pet free room!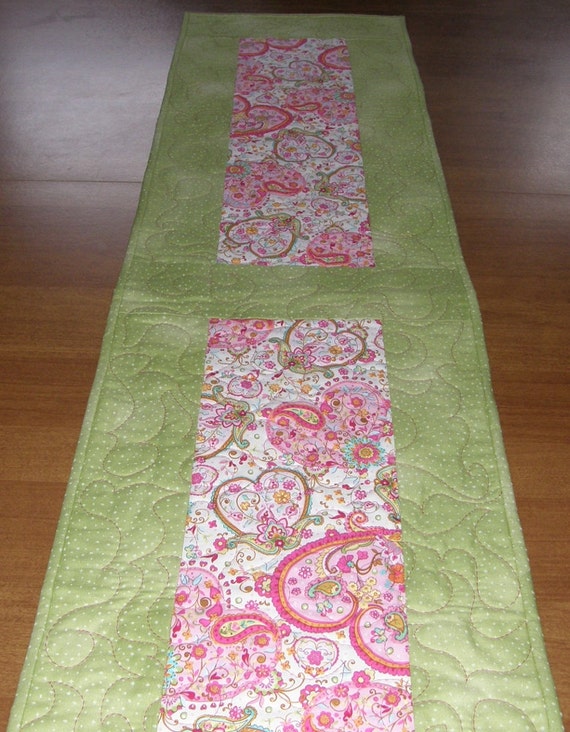 Valentines Day Quilted Table Runner, Pink and Green Quilt
A sweet quilted table runner in pinks and greens, perfect for Valentine's Day or on a little girls dresser. Pink hearts of varying sizes set on a creamy white background surrounded by a polka dot soft green border. Your daughter or granddaughter will love decorating with this soft green and pink runner. Lay it on her dresser or hang it on the back of her door. I will be happy to add a hanging sleeve at no charge. 12" x 49 1/2"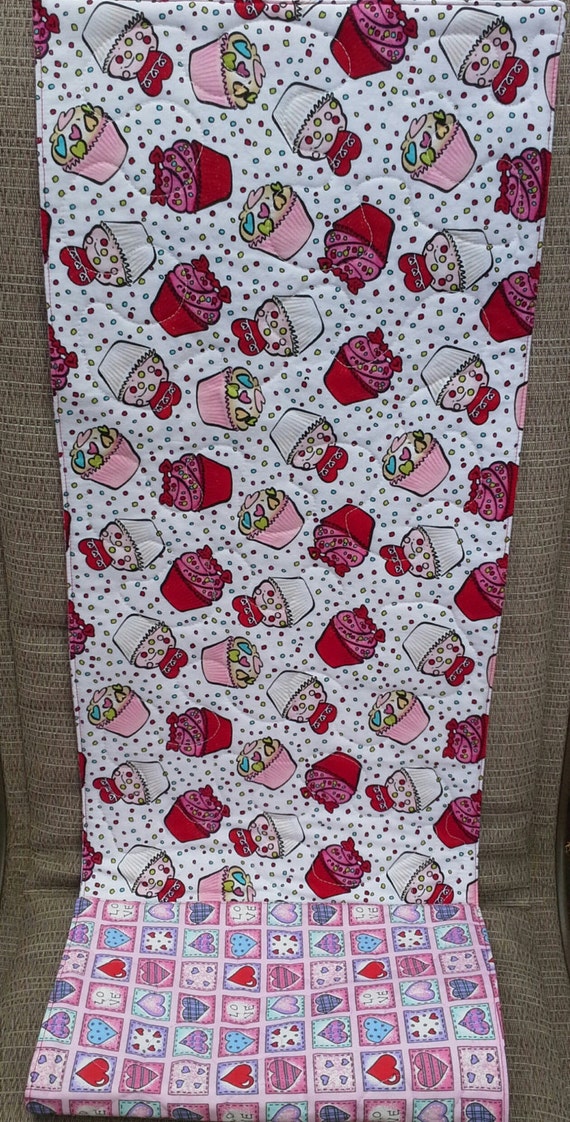 Table Runner - Reversible, Valentine Cupcakes and Conversation Hearts, 12." X 40"
This table runner is beautiful on both sides, it has glitter embedded on the side with the cupcakes. Silver on the cupcake side, and conversation hearts on the other side. It is on my 6ft table so you can see size and I have a quarter on the cupcake so you can see the size of each print. It is a very fun fabric and will add to your holiday mood :) Ready to ship! Machine quilted. Cotton fabric, thread, and polyester batting. 12." X 40".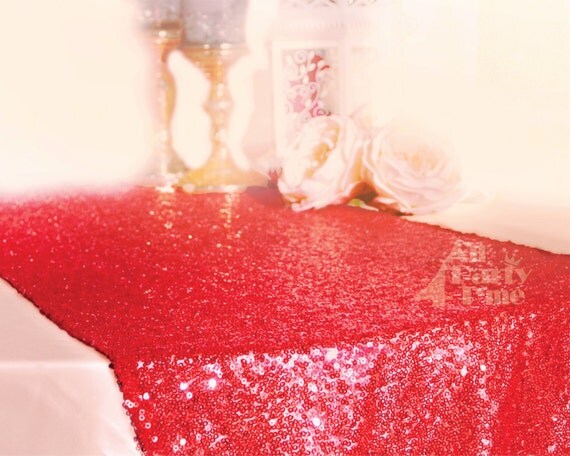 Valentines day Sequin Red Table Runner
Sequin Red Table Runner (and more color options) Sparkly Sequin Runner for Valentine's Day Gift, Event Table Decoration, Birthday Party, Bridal Shower, housewares Gift Idea This Sequin Red Table runner is a glamorous choice for your upcoming Valentine's day Dinner decoration, Mom's gift or Event decor accent.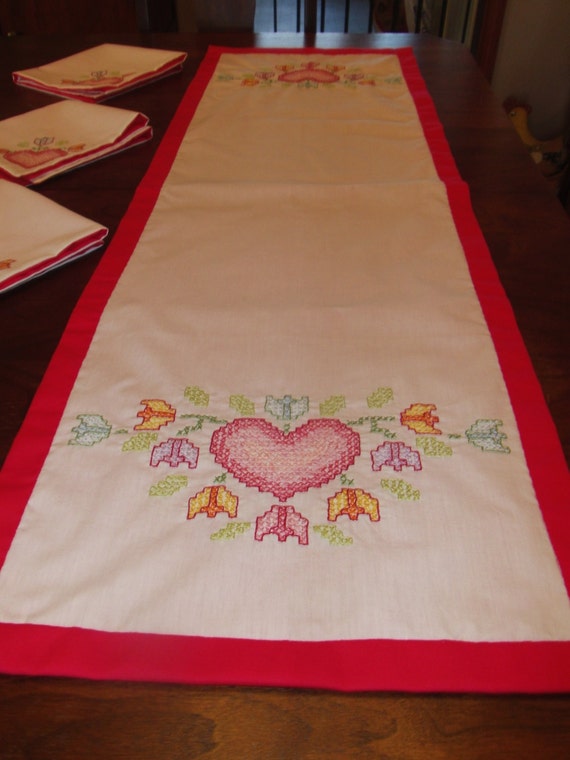 Happy Valentines Hand Made Hand Embroidered TABLE RUNNER And NAPKINS Set
What a nice way to set your table for your Special Valentine! A Complete Set. Table Runner and Four Napkins. We have for you a Hand Stitched, Hand Embroidered Table Runner and Four Napkins. Very nice for Valentines, but can be used any time of year. This Table Runner and Napkins was first Embroidered by Maggie. Then Hand Stitching the Crimson Backing Cloth on to each piece. They are made from a White Linen Type Polyester Cloth for the Tops, and a Crimson Red Poly Cotton Cloth for the Backing on each. The Table Runner Measures 43" by 14". The Napkins Measure 15 1/2" by 15 1/2".They are machine washable on a cool gentle cycle.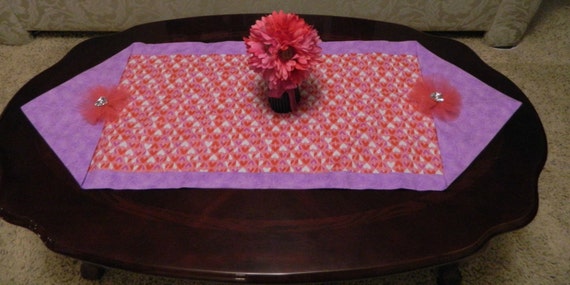 February Table Runner. Change your table decor and tablescapes
February: Bring some love in the room by setting a festive table for Valentine's Day. February's table runner features nothing more that the classic Valentine hearts in red, pink, white, and purple on a purple border, embellished with a pink tulle flower and crystal heart. Each runner is 15" wide by 42" long. Seams are serged and stitched. Embellishments are sewn and glued (see care instructions). Longer runners can be made at a special request. The measurement for the longer runner is double the length (84" long). If you would like a different measurement, please feel free to ask. Prices vary.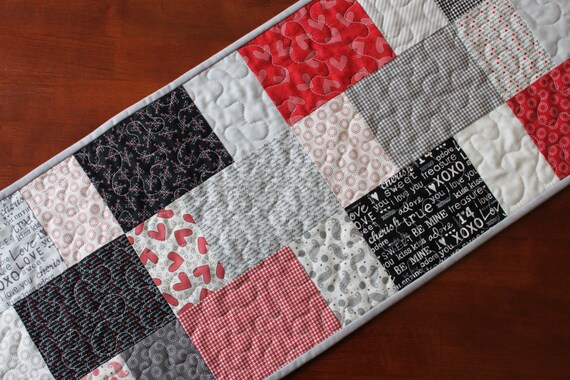 Valentine Table Runner, First Crush, Quilted Valentine Table Runner
This Valentine quilted table runner was created with fabrics from Sweetwater's "First Crush" fabric line for Moda. The fabric features hearts, words, stripes, plaids, circles, paisley and houndstooth in red, black, gray and cream. The bold colors are perfect to brighten up your table for Valentine's Day. This table runner measures approximately 13.5" by 44" and is the perfect size to decorate your dining room table, coffee table, or any other surface that you want to add a splash of color to. The backing is a red and cream striped fabric from Moda. This table runner was quilted with Quilter's Dream batting on a sewing machine with white thread in a meandering pattern. It was completed with a double binding that is machine stitched to the front and then hand stitched to the back for durability.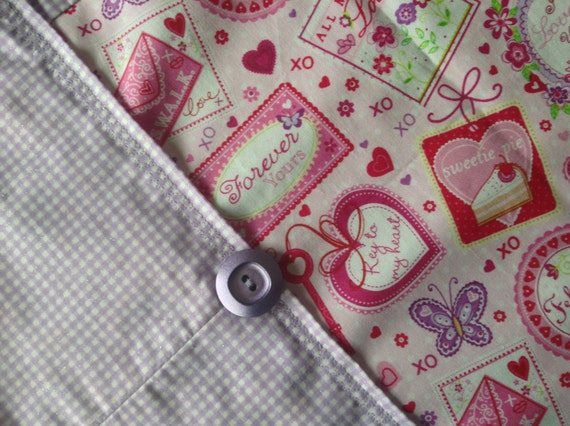 Valentine Table Runner - Purple Butterflies
A pretty Valentine's Day table runner. The inner fabric has cute little Valentine designs. The outer fabric is purple gingham with a bit of sparkle. A pretty purple button brings attention to the decorative stitching. Runner is approx. 44" from tip to tip. 30
Valentines Day Table Runners Page ONE
Valentines Day Table Runners Page TWO
Valentines Day Table Runners Page THREE
Valentines Day Table Runners Page FIVE
Valentines Day Table Runners Page SIX
Valentines Day Table Runners Page SEVEN
Valentines Day Table Runners Page EIGHT
Valentines Day Table Runners Page NINE