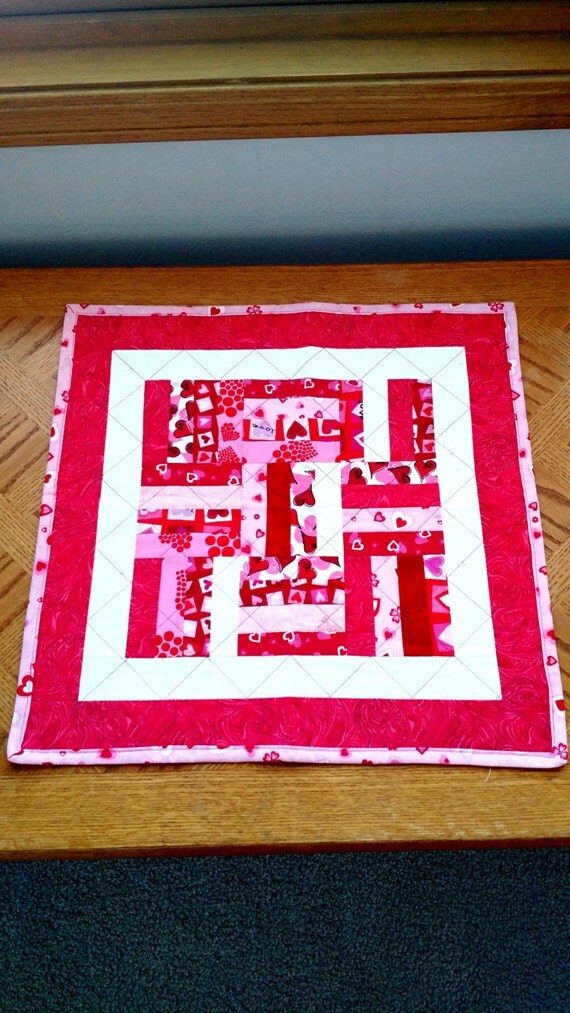 Valentine Table topper>
Celebrate the Valentine's Day holiday with this colorful red, pink and white table topper/wall hanging. Place this on a side table under a lamp or on your dining room table with a candle or plan to add to your seasonal decor. Turn it over after the holiday and use the apple side during the spring and summer. It's like getting two toppers for the price of one!! Measurements: 18.5 inches by 18.5 inches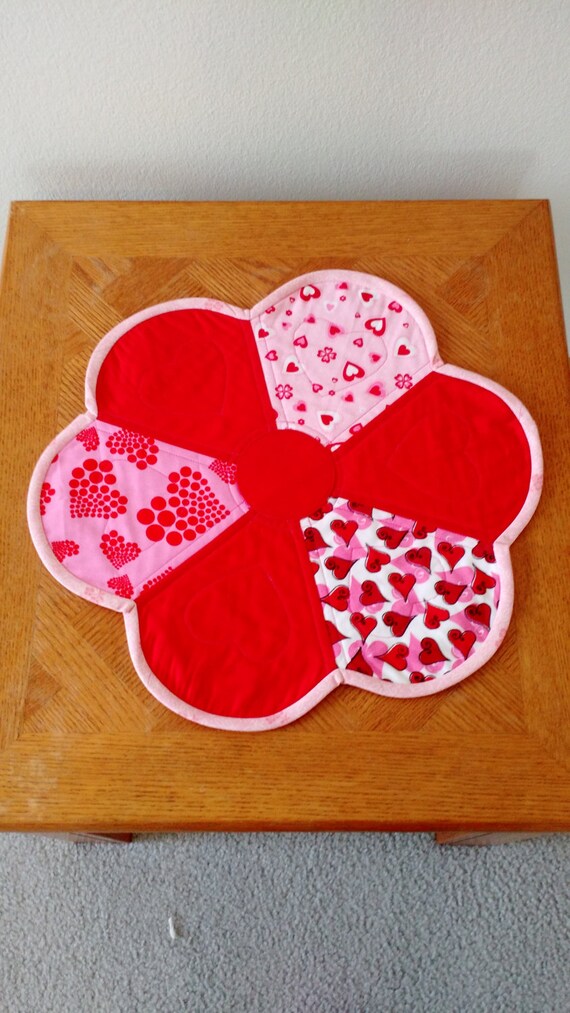 Valentine Day Table topper
This cute little Valentine's Day table topper will add lots of color to your Valentine decorations. Add some Valentine's Day decorations, a red, pink or white candle or a lovely red and white floral arrangement. Use it under a lamp on a side table to add some color to your room. It would make a great gift as well. Red Dresden plates alternate with red, white and pink patterned plates to create this cute little Valentine's Day table topper or candle mat. It measures approximately 16 inches across and has a piece of white cotton flannel as the batting. The double fold pink binding is machine stitched to the front and hand sewn to the back. The binding matches the backing fabric. This cute little Valentine candle mat has been machine quilted with dark pink thread. The price is for the topper only. Props not included.
Handmade "Be My Sweetie" Valentine's Day Quilted Table Topper
Gimme some sugar, baby! This fun holiday table topper, made with a fun and playful panel in red, cream and candy pink, it is sure to bring extra sweetness to your table! Makes a great Valentine's Day gift! The backing is a natural colored cotton and the binding is double folded and machine stitched to the front and back for added durability. Finished Quilt measures approx: 30" x 30"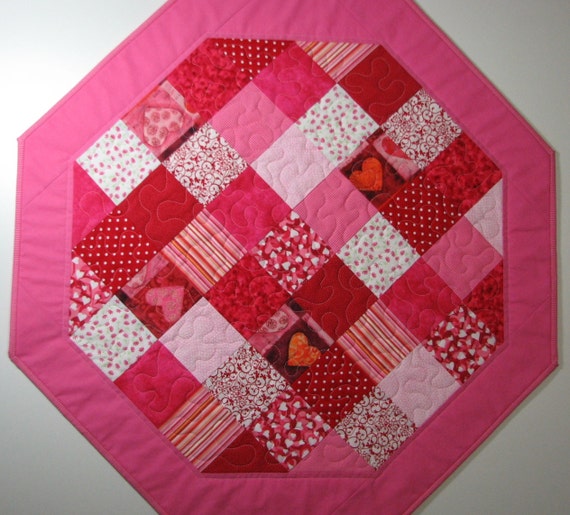 Quilted Table Topper , Valentines Day Patchwork
Pretty scraps of cotton fabric in shades of pink and red come together in this octagon-shaped quilted table topper measuring approximately 29 inches point to point, and 26.5 inches side to side. Hearts, tiny blossoms, pin dots and dainty stripes make this topper perfect for your table at Valentine's Day. Bordered with solid light pink, and edged with a pink pin stripe double-fold binding. Layered with Warm and Natural cotton batting, and machine quilted with pale pink cotton thread within the patchwork center in a meandering stitch.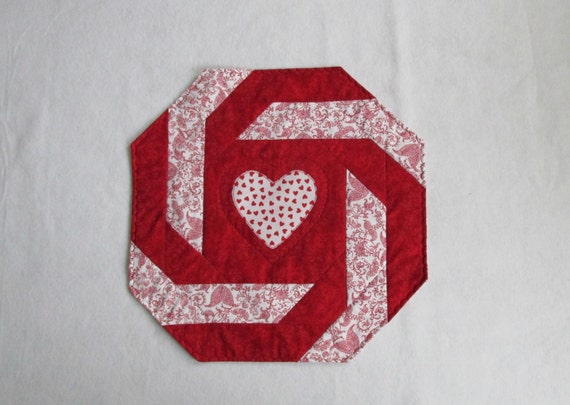 Large Quilted Table Topper, Quilt Centerpiece
LARGE QUILTED HEXAGON CENTERPIECE, beautifully quilted and made with only high quality fabrics. Pattern has small Red flowers and leaves on White background and small leaves print on Red background. Center heart has small Red hearts on white background. Centerpiece is finished with a scallop edge stitch along the border. Back print is the same as the front White background and Red flowers and leaves. Can be used on either side. From a smoke free home. Size 19 1/2" X 1 9 1/2"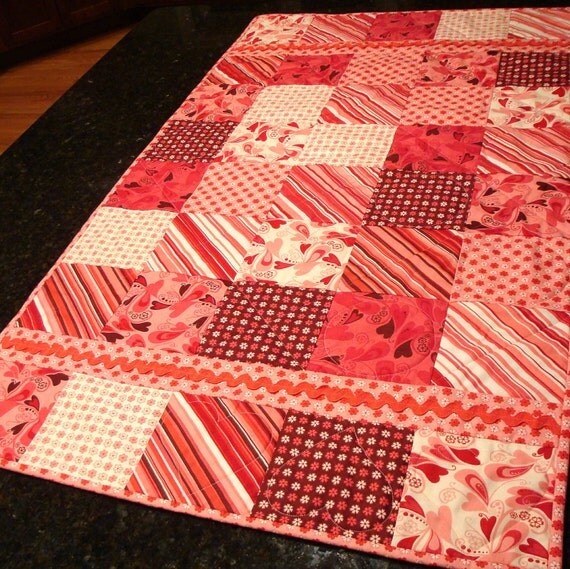 Chemistry Handmade Quilted Table Runner or Topper -
The bright, cheerful colors and love-themed designs in this fabric lend themselves to a beautiful handmade table runner that could brighten up any room. In shades of pink ranging from blush to salmon, white, and chocolate brown, this table runner is made using the Chemistry line of fabrics by Basic Grey for Moda. Moda makes top quality quilting fabric and Chemistry is no exception. The backing and binding of this runner are also made of Chemistry fabrics. The backing is pink with hearts. This table runner/topper measures about 22 by 39 inches. It is machine pieced and machine quilted for longer lasting durability that is machine washable. Large pink ricrac is sewn into the borders on either end of this runner. Kisses and hugs (X's and O's) are quilted into the center section of this runner, with hearts in the outer borders.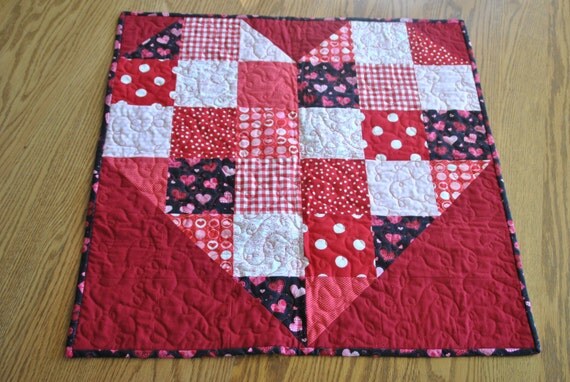 Square Quilted Heart Patchwork Table Runner
Decorate your table for February in honor of Valentine's Day with this beautiful table runner from Oh Sew Splendid. This table runner is made from nine different cotton fabrics all with the Valentine theme. The front of the runner features one large patchwork heart featuring eight different patterns and the surround as well as the back is a solid red cotton fabric. The binding is also made from one of the same fabrics used in the heart as well. 100% cotton was used for the batting of this runner. The back of the runner also has a Oh Sew Splendid label hand sewn on it. The table runner measures approximately 26" x 26".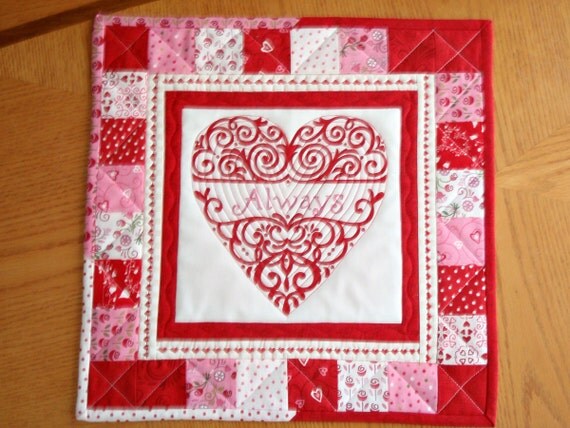 QULTED TABLE RUNNERS Set of two [2] for Valentine's Day, Sweetest Day
The two Heart quilts are made with 100% cotton quilter's quality fabrics. I used 100% polyester batting which provides the middle layer of this quilt which is washable and non-allergenic. The back of the quilt also includes 100% cotton coordinating fabric from the Always & Forever line. Check out the cute fabric on the back too. The quilt is machine sewn and quilted using red & white thread that adds to an already unique look. CHECK OUT the tiny embroidered "hearts" in red thread in the close-up picture. The binding is machine stitched on the front, folded over and hand stitched on the back. The coordinating colors are red, white, and pink prints. The quilt can be displayed as a table top in your dining room, kitchen, front hall, sun room or coffee tables, etc., or hang it on a wall for décor. SIZE: 16" x 16" square. I also have two of these quilts in a separate listing where the predominant colors are shades of PINK, red, and white.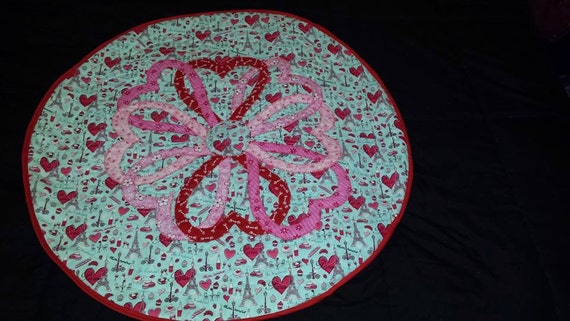 Reversible Appliqued Hearts Table Top Quilt
Reversible Appliqued Hearts Table Top Quilt This is a unique quilt as it is two-sided. On one side there are pink and red hearts machine appliqued onto a light blue cotton print fabric with Paris items scattered all over. This one is a Valentine's Day theme. On the other side, there are hearts machine appliqued onto a blue cotton print with Christmas Trees all over. The hearts have peppermint candies, candy canes and snowflakes printed on them. This is a Christmas theme. You may use it as a table top quilt, or a decoration for your bed or chair. Each side has been machine quilted and a red bias binding has been sewn around the edge. It is round and It measures 30 inches across.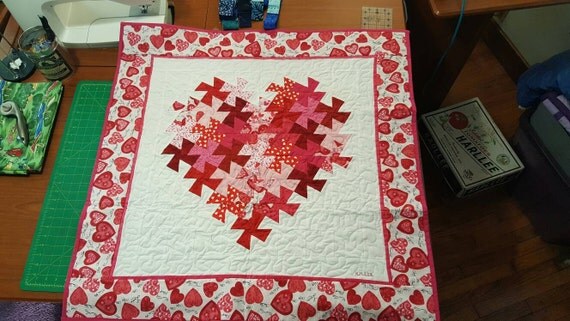 Quilted Heart Table Cover/ wall hanging
This beautiful handmade quilt is 37" by 37". I have used the twister method to construct this quilt using fabrics from Henry Glass , Michael Miller and Timeless Treasures. I used warm and natural cotton batting and a heart filled backing. I have stipple quilted all over this quilt.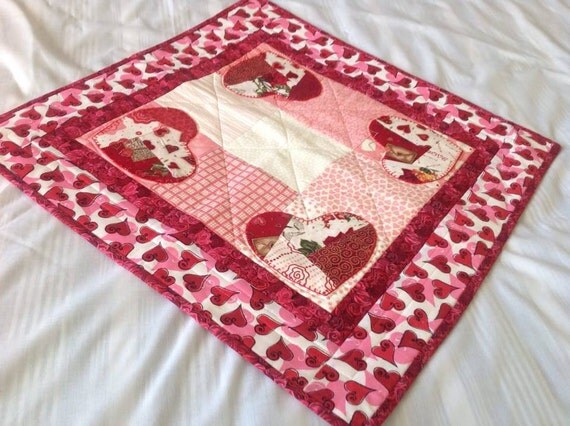 Quilted and Appliqued Table Mat
This is a quilted and appliqued Valentines Mat It is made of cotton fabric, in a smoke free home Measures 19" x 19" air dry flat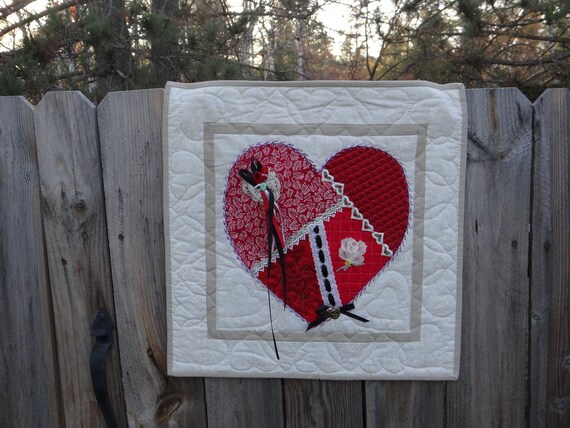 Crazy Love
A hand quilted crazy quilt wall hanging that includes charms, lace, ribbons, and hand embroidery. Size measures approximately 19x19.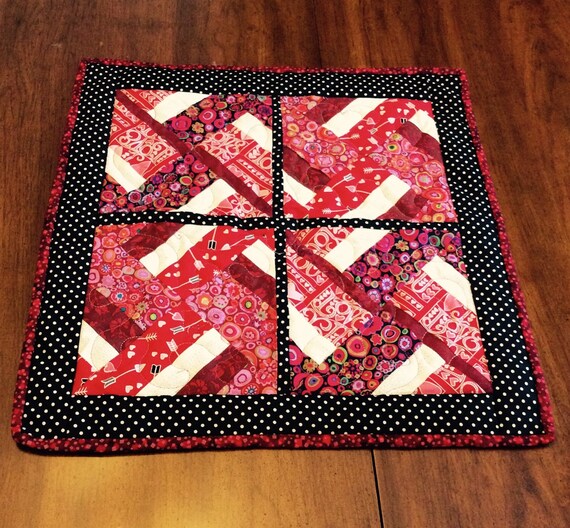 Loving red vase mat, Valentine patchwork table runner
This beautiful vase mat is the perfect place to showcase your valentine flowers, or other decorative piece. Constructed of a variety of red cotton fabrics, and trimmed and backed with black and white polka-dots, the mat measures about 18 inches square. It will be a standout on any table, and will provide a warm bright spot in the cold winter months.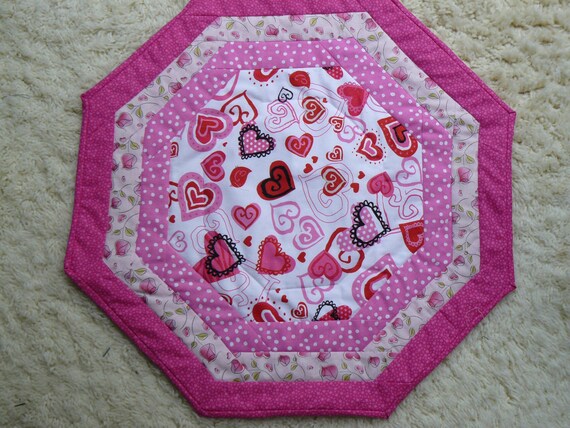 Sweet Valentines Table Runner (M26)
Lots of Hearts are the center of this octagon table runner, available just in time for Valentines Day! Bright pink fabrics surround the centerpiece fabric and the reverse side is white fabric with tiny hearts. Won't having this quilted runner on your table be a great way to celebrate Valentines Day? 21 inches across. Cotton fabrics; machine washable.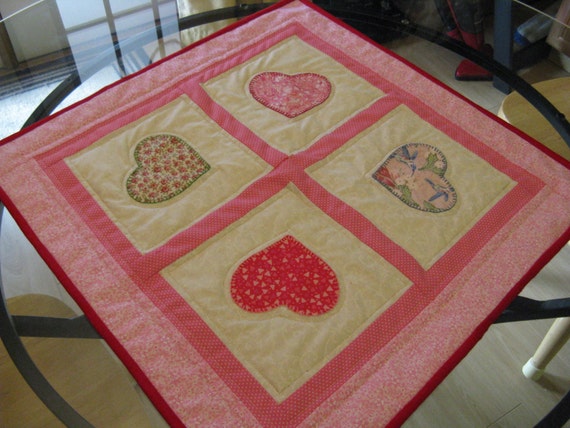 Sweet heart table topper
Perfect wall hanging, table topper or doll blanket. This cute item measures 20 1/2" square. It shows four hearts appliqued by hand in a blanket stitch, on a white background. Then it has been machine quilted around each heart, and around each square. There are two borders, each a different pink fabric..Then the entire wall hanging has a red binding sewn by machine to the front and by hand to the back The backing is a white on white fabric Just a fun .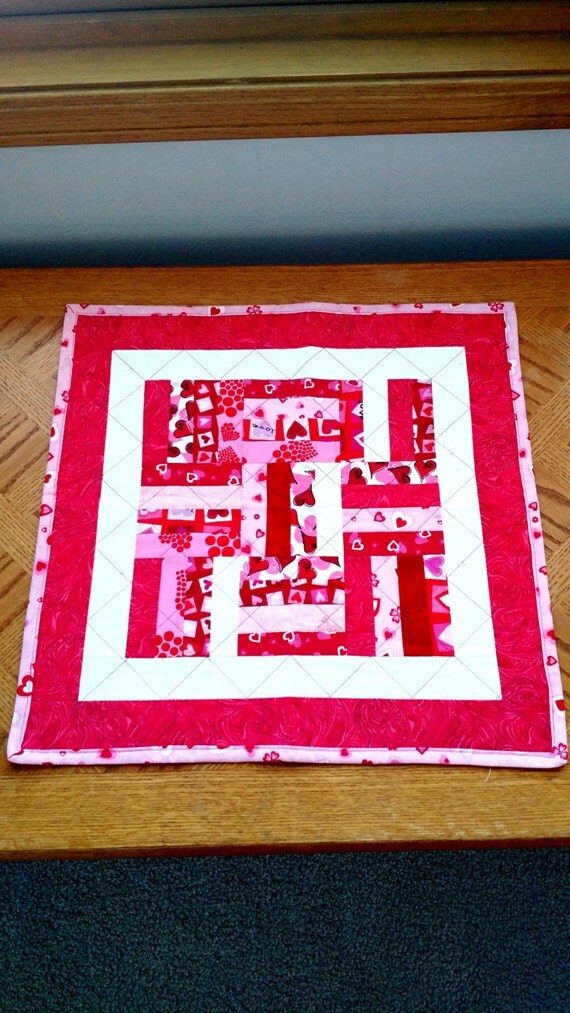 Valentine Table topper, Valentine candle mat
Celebrate the Valentine's Day holiday with this colorful red, pink and white table topper/wall hanging. Place this on a side table under a lamp or on your dining room table with a candle or plan to add to your seasonal decor. Turn it over after the holiday and use the apple side during the spring and summer. It's like getting two toppers for the price of one!! Measurements: 18.5 inches by 18.5 inches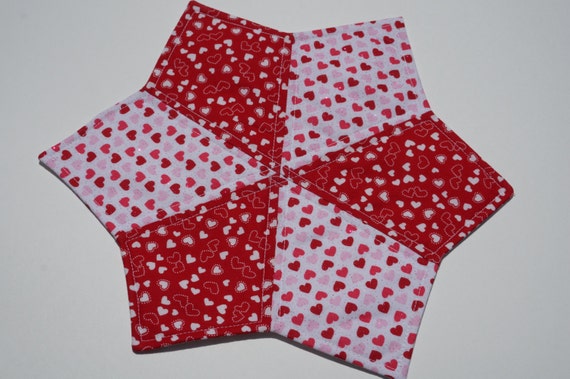 Valentines Day Table Topper, Small Hearts
This is an adorable Valentine table topper. Perfect for Valentines Day with pink, white and red hearts. The heart fabric is backed by a basic white fabric, making this table topper reversible. The table topper measures 11.5" in diameter. It is the perfect size for a table centerpiece or for use as a candle mat. The table topper offers a fun decorative way to protect and decorate your furnishings.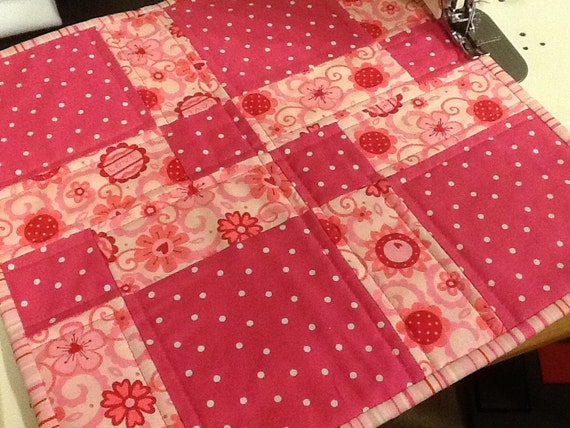 Pink and White Valentine Table Topper Candle Mat
Pink and white polka dots, flowers, circles, swirls and the word LOVE are scattered over the top of this table topper. This will make a great mat for a center piece on your Valentine's day table. I've quilted it with straight lines in pink cotton thread. The fabric and batting are also 100% cotton. I use 100% cotton fabric on all my quilts and table runners. They have been quilted with cotton thread. I usually use 100% cotton batting unless otherwise stated. All quilts have been laundered to add that wonderful crinkly softness seen in antique quilts.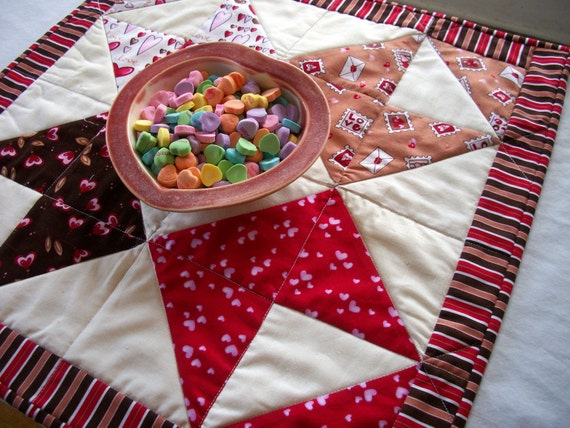 Valentine Table Topper Love Letters Quilted Quiltsy Handmade FREE U.S. Shipping
This pretty collection of Valentine fabrics is carefully arranged to form open envelopes! The 19-1/4" x 19-1/4" table topper is made from the Sending My Love by Marie Cole for Henry Glass collection, in pink, red, cream, brown and tan. It has hearts, stamps and stripes, and the middle is the perfect place for a flower arrangement or candle. The backing is in the cream, and the border and binding are in the stripe. Perfect for a romantic touch! Easy gentle wash and dry.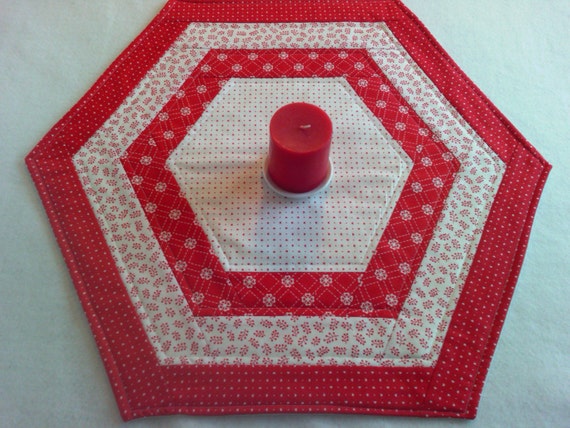 Hexagon Patchwork Quilted Table Topper ~ Red and White ~ Centerpiece ~ Reversible
Item details 5 out of 5 stars. (308) reviews Shipping & Policies A sweet Valentine Hexagon Table Topper measuring 22.5" x 20". Hearts a plenty on this red and white topper. Machine quilted and reversible to a white fabric. Perfect addition to your Valentine decor. Table Topper is made from 2 layers of cotton, with warm-n-natural cotton batting sandwiched between. Table Topper has been machine pieced and machine quilted around each row to enhance the piecing of the fabrics.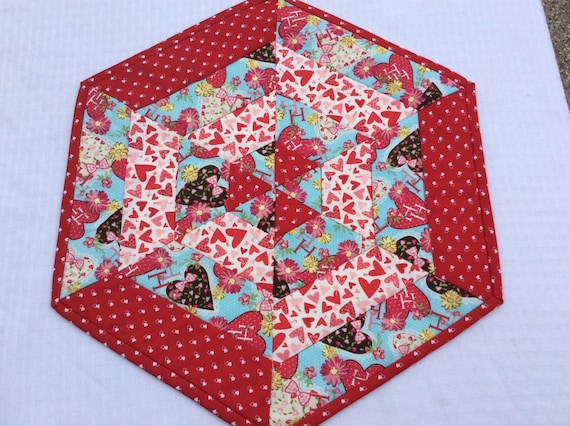 Hearts Valentine's Day Quilted Centerpiece Handmade Homemade
Complete your Valentines Day decor with this beautiful red and white centerpiece! Measuring at 18 inches from point to point, this table topper would look wonderful in your kitchen, or on an end table! I used quality fabrics in red and white, and top stitched in a stitch in the ditch pattern in red! I used Warm and Natural batting in the center. I also hand finished the binding.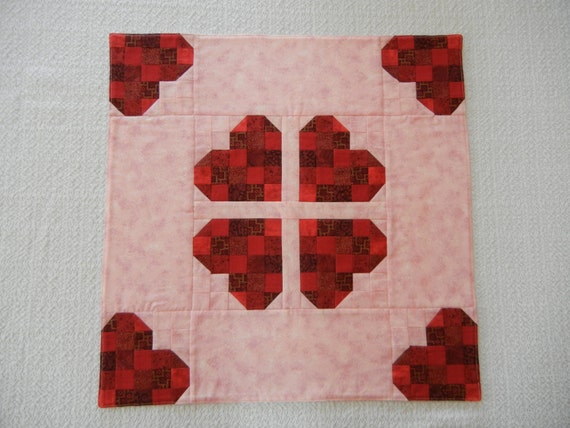 Red Hearts on Pink Wall Hanging/Table Topper
Celebrate Valentine's day with a passion!!! This cheery wall hanging will warm hearts for years to come. The eight hearts are composed of reds that range from bright crimson to burgundy. The background fabric is a mottled pink. I always use high quality 100% cotton which I prewash to prevent shrinkage. I used 100% polyester Pellon fleece for the inner batting and the backing is a Robert Kaufman light pink solid. The piece is quilted "in the ditch" (along seam lines) and topstitched around the edges to ensure years of use. It measures ~21" x ~21". I take pride in my work and the precision of my piecing. Of note in this piece is the mirror image placement of the seven red fabrics that make up all the hearts. I hand sewed two plastic rings onto the top back of this piece to make hanging it simple. You can use push pins on your wall or door so you don't have to dedicate a specific space for it with involved hardware.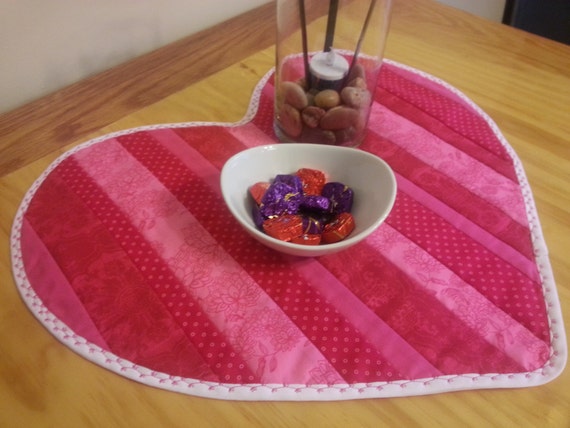 Heart Shaped Quilted Table Topper - Reversable
***Made to order item*** I am currently out of this design in my pre-made stock but would love to create this for you as a made to order item! Labor time is about 5-7 business days, Shipping is 1-3 business days Total ETA after payment is confirmed is 6-10 business days. Put this reversible table topper on your kitchen table around Valentine's day as a great decoration or as a gentle reminder to your partner that Valentine's Day is just around the corner. Go a step further and leave an empty vase on it ;) This piece would also be a lovely addition at a wedding table display for pictures, guestbook, candles, etc. Approximately 20" wide by 17" tall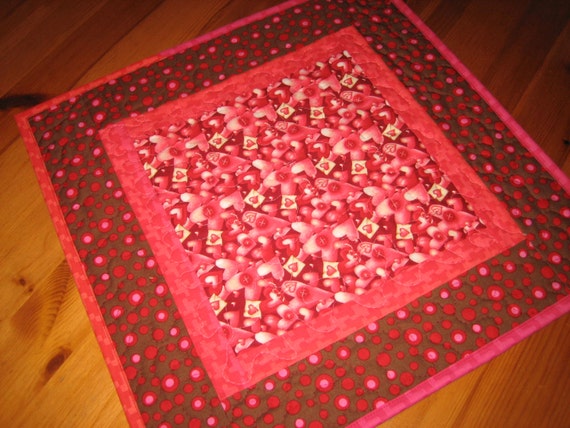 Valentines Day Table Topper, Pink and Red Hearts
Pink and red hearts dance across the middle of this Valentine's Day quilted table topper. The background is white with small hearts, and I used a chocolate brown fabric with red and pink circles for the outer border. The small inner sashing is a pink fabric that I also used on the binding strip, highlighting the reds and pinks beautifully. The back is a brown fabric. Measurements: 17 x 17"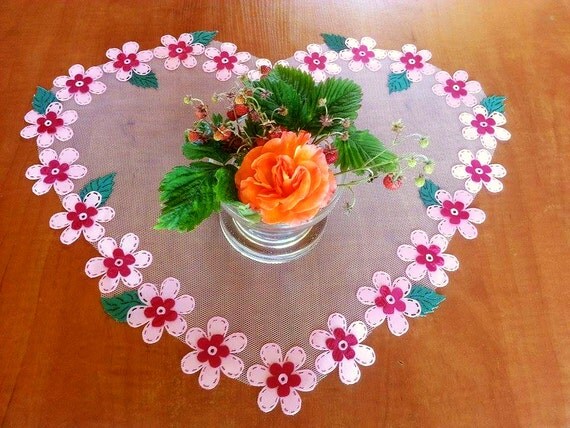 20,5x16,1' Pink flower table mat- heart place mat
Item details 5 out of 5 stars. (8) reviews Shipping & Policies Handmade table mats- Pink and red flower decorated table mat is an amazing decoration to fit in your home. These are very cute, as pink color gives so much cheerfulness to the red flowers. They are made of fabric, using special technology: cauterize to the tulle. THE SET INCLUDES: 1 Place mat as shown in picture SIZE: Big: (52x41 cm/ 20,5x16,1 inches)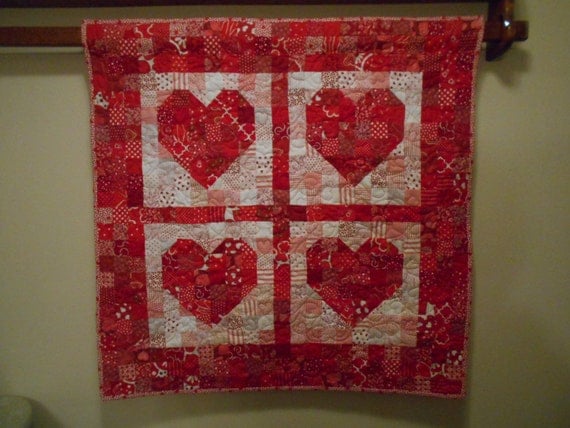 Red and White Postage Stamp Hearts Wall Quilt or Patchwork Table Topper
I have been collecting red and white and Valentine print fabrics for quite some time and some of them were used for this pieced table topper, table cloth or wall quilt. I used 63 different red, white and red & white fabrics carefully chosen to create this quilt. This quilt features four similar pieced heart blocks surrounded by pieced block borders. The fabric for back of the quilt is larger scale red and white polka cotton print. The quilt measures approximately 33 1/2" square and is machine quilted in heart motif pantograph using Hobbs Premium Heirloom 80/20 batting for texture. The double fold binding of a white with red hearts cotton print is hand stitched to the back for a smooth finish. A hanging sleeve has been stitched onto the back for easy hanging as a wall quilt. Machine washable and dry gently. Please note that I have 2 coordinated couch or bed pillows available in my store. Same fabrics but 2" finished blocks instead of the 1 1/2" finished blocks of the wall quilt or table cloth.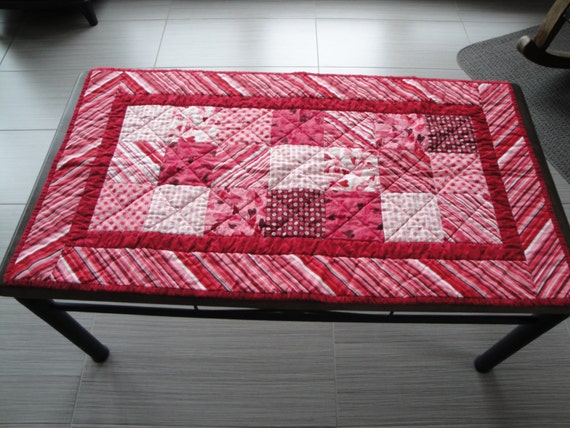 Valentine's Table Runner
bleeding on each others. Batting used is 80% cotton and 20% polyester. Quilt is completely handmade. Machine pieced and quilted. The binding is sew by machine on the top and by hand on the back.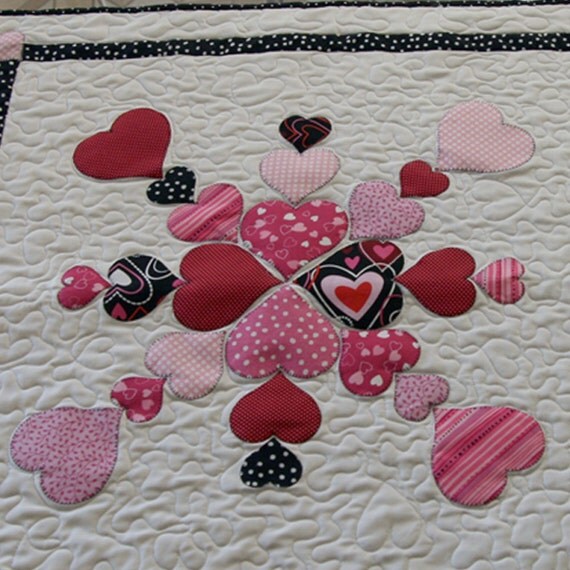 Heart to My Heart Table Topper
Decorate your table for Valentine's Day with this colorful heart table topper. Hearts are different sizes and made in shades of reds pinks and black appliqued on a white background. Quilted with a meandering stitch with a heart thrown in here and there. Measures 30 X 30 in. Pattern from Accuquilt.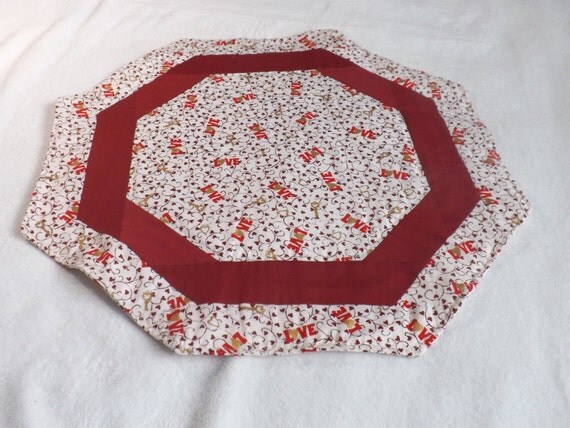 Octagon table runner
This quilted table runner is designed with maroon, red, gold, and cream coordinating fabrics. The back is made from maroon, cream, gold, and red Love fabric to make it reversible. It has been made in a pet free smoke free home. It can be machine washed and dried. This table runner measures ~20" (50 cm) across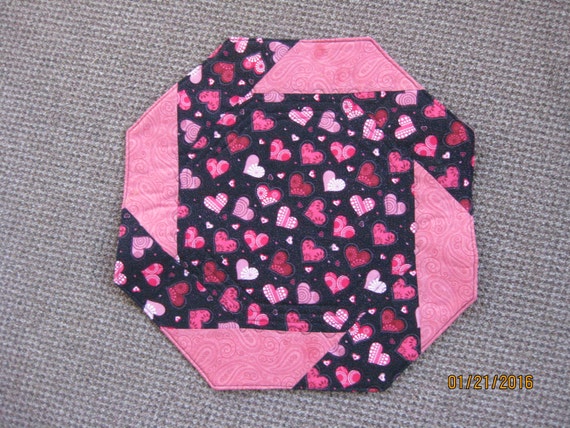 Hearts on Black Octagonal Table Topper
This 14 inch, 100% cotton, octagonal table topper features pink and red hearts on a black sparkly background. The coordinating color is a pink paisley print. The table topper is layered with Warm and Natural cotton batting and is backed with the pink paisley print. Fabrics used have been prewashed and dried. I recommend machine washing in cool water. Machine dry on a low temperature. This table topper was personally made by me in a smoke and pet free environment.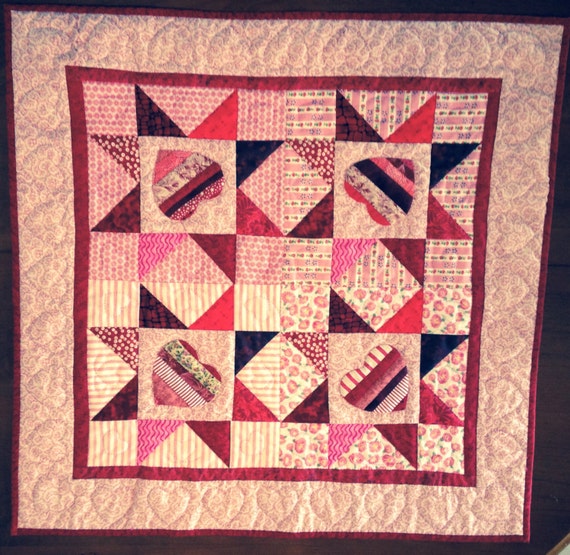 Handmade, hand-quilted patchwork, strip-pieced and appliqued hearts in reds & pinks table topper or runner
29 1/2" square scrappy hand-quilted in various red & pink print fabrics. Four star blocks feature a strip-pieced heart in the center block. The four blocks are framed in 3/4" dark red print, and then bordered by a pale red and white leaf print. Quilting is in the ditch at seams. Each corner block of this mini quilt has a quilted 2" heart motif, and the pale red print border is hand-quilted around with 3" heart motifs. Quilted with pink quilting thread. Binding is red tone on tone, Backing fabric is the same pale red print fabric as border print. Can be used as a table mat, or alternately as wall hanging by using the 2" hanging hanging rod sleeve. Cotton-polyester blend batting.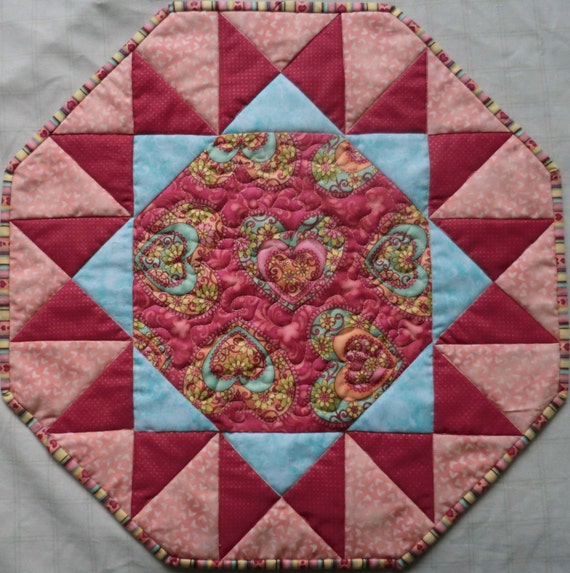 Pretty Hearts Runner Quilt Kit. Includes Backing
This listing is for the Valentine's Day topper picutred here. Measures 20" x 20". Kit includes enough fabric to make the top, binding and backing and the pattern. Very quick to make. Fabric is dark pink, coral and turquoise. Very pretty and easy to machine quilt.