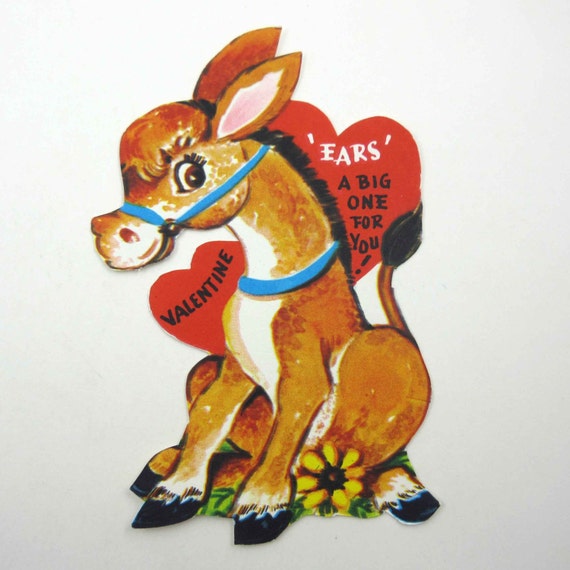 Vintage Unused Valentine Greeting Card with Cute Donkey and Big Ears
A fabulous unused vintage valentine! Super cute valentine of a little donkey with big ears! Made of thin paper. Measures approx. 3 1/2" x 5 1/4".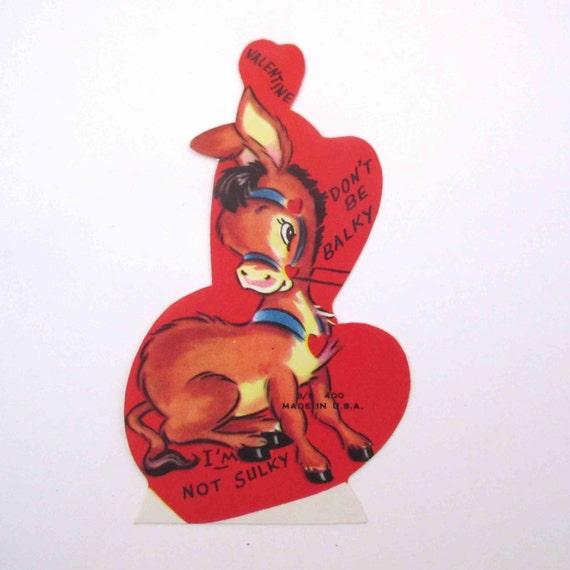 Vintage Unused Children's Novelty Valentine Greeting Card with Cute Donkey Red Background
A fabulous vintage valentine featuring a cute valentine of a little donkey! Measures approx. 2 1/2" x 4 1/4". Great overall condition! Unused, no writing! Super cute! Sold as is. Perfect for your card collection, holiday decorating or stash of ephemera for collage, assemblage, mixed media or altered art projects!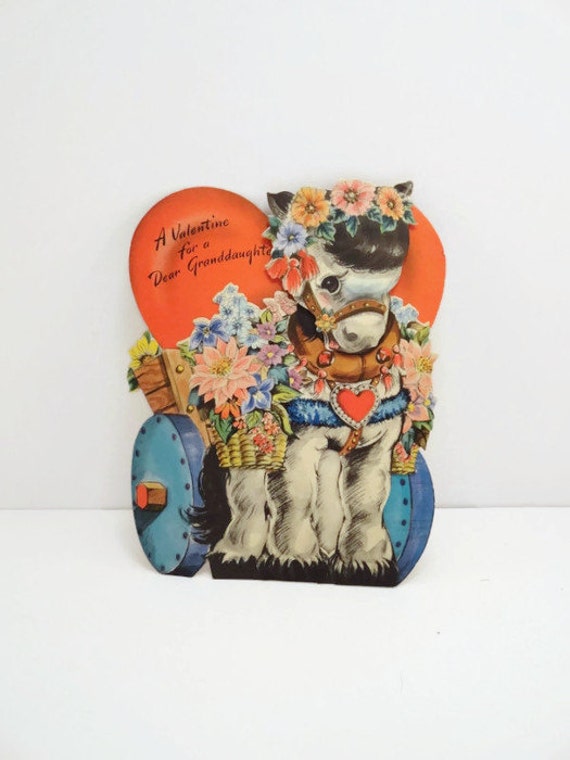 Vintage Donkey Valentines Day Card Vintage 1948 Hallmark Valentines Day Card for Granddaughter
Card Measures 8 1/2" x 6 1/2". This Valentine's Day Card is 3D and reads "A Valentine for a Dear Granddaughter." The back has some handwriting on it and there is a sticker marked "Hallmark Card 1948". The card is layered so it gives it a 3D look. Very cute card!!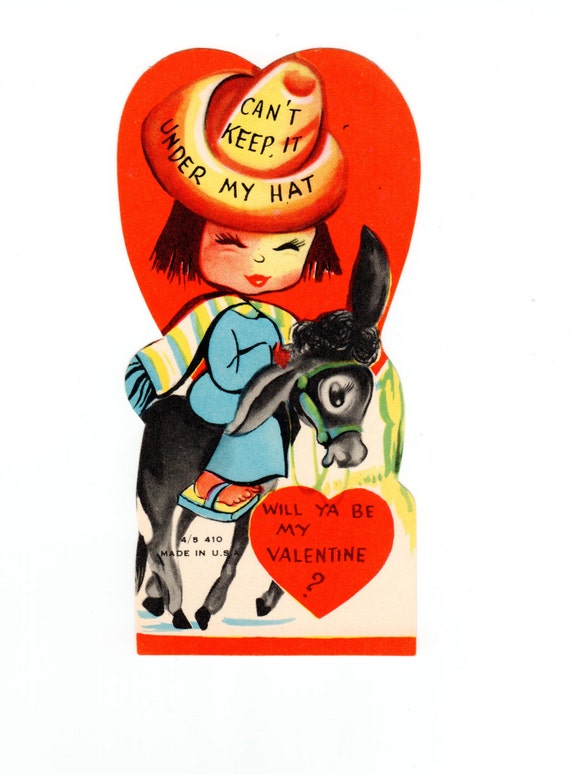 Antique Valentines Day Card Can't Keep it Under My Hat Will Ya Be My Valentine Girl Donkey Heart Vintage Die Cut Message Card NEW Un-used
Antique 1950's era Saint Valentine's Day un-used die-cut color printed Valentine. Two sided vintage message card has an adorable girl riding a donkey. She is wearing a blue dress, sandals and a large sombrero with a big red heart in the background. Very cute message printed in black ink says: "Can't keep it under my hat" "Will ya be my Valentine"?. The back of the Valentine's Day card is blank and the paper stock has discolored due to age. The card is numbered underneath the donkey's belly in small black print "4/5 410 Made in U.S.A." Fun, unique Valentine to send your love this Valentine's Day! Old estate find, some flaws. No tears, rips, holes or water damage. Please review photos to determine condition. Measures: 5" High x 2-3/8" Wide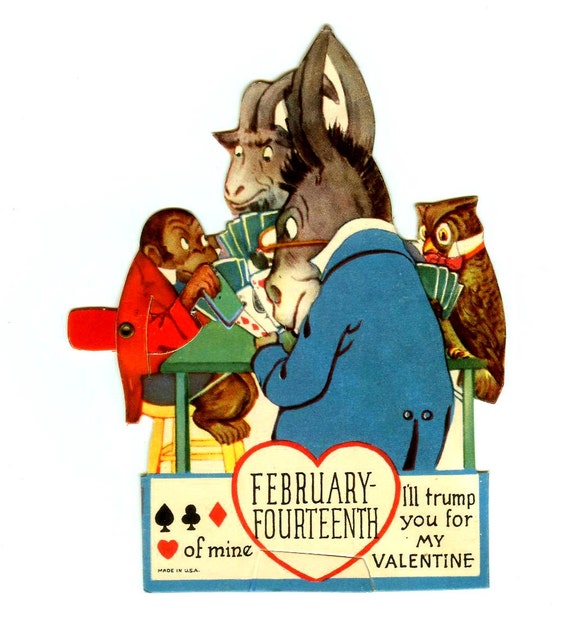 Vintage Die-Cut Mechanical Valentine Animals Playing Cards "Trump" Pun Anthropomorphic Valentine's Day Card 1930s
A monkey, donkey, goat, and owl play cards... Sounds like the start of an old joke ;) Here our animal friends play a game of cards. Could be poker, but the pun on this vintage die-cut mechanical Valentine greeting card is "trump", which lends itself more to games like Bridge, Sheepshead, Whist, Spades, or other trick-taking game. Card text reads "February Fourteenth I'll trump you for my valentine." And, at the left, all four card suits are shown -- with the words "of mine" after the heart. It's a fun anthropomorphic mechanical greeting card, you move the monkey's arm and watch him lift a card -- his, or the donkey's? Move the monkey's arm again and he covers his eyes. Is the monkey cheating? Or is it a "see no evil" monkey? You decide! You can see this vintage mechanical valentine in action here: http://youtu.be/844YxDPMiNE Measures approximately 5 1/4 inches tall. No maker markings, just marked Made in U.S.A.