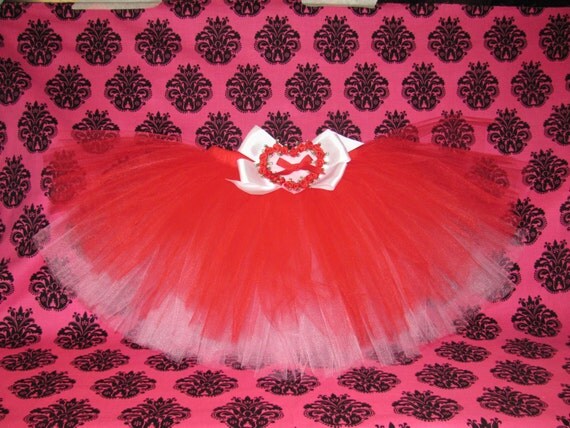 Valentine Tutu, Valentine's Day Tutu, Red and Pink Tutu
This beautiful red and ballet pink tutu can be ordered in sizes 0 months - Girl's size 14. The tutu is double layered so it is full of lavish fluff. The bottom layer is ballet pink, and the top layer is red. To top off this beautiful tutu is a removable white satin bow that has been embellished with a pink felt heart and dozens of tiny red satin roses and a red bow in the center.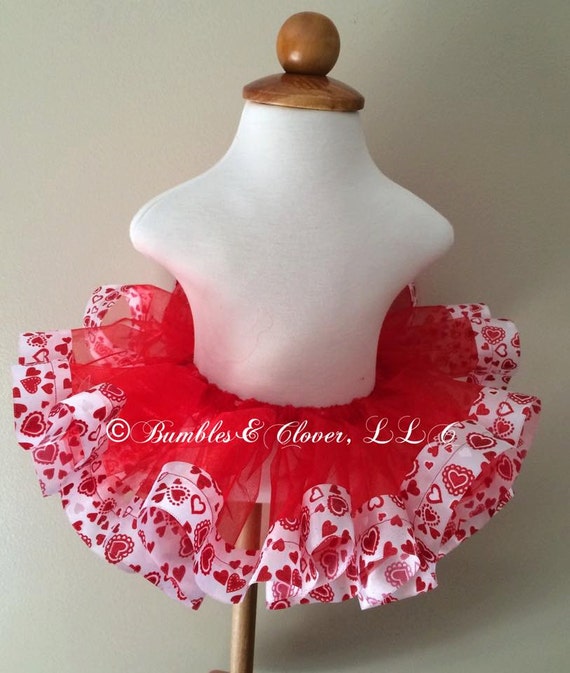 Deluxe Ribbon Edge Valentine Tutu
Looking for the perfect Valentine prop for your little one's photo shoot? Do you have a special Valentine party to attend? This adorable, custom soft tulle tutu is the PERFECT accessory for your little one to really make a statement! This tutu is sewn with an elastic waistband, ribbon edge trim, and has lots of fluff! Your little heartbreaker will enjoy hours of wear in this custom creation.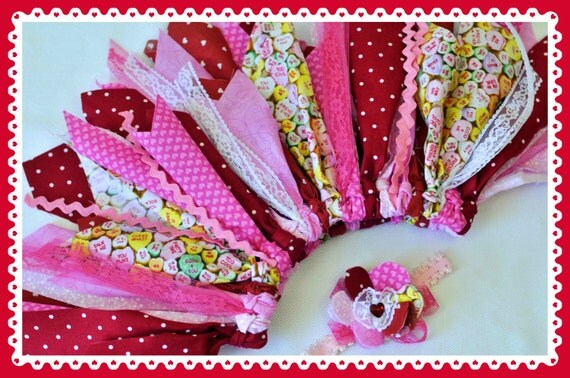 Custom Valentine Colors Fabric Tutu Set
This tutu set will look amazing for your little one's Valentine mini photo session! This gorgeous tutu features a variety of carefully selected cotton fabrics (not scraps or rags) in six different Valentine themed fabrics, with three different alternating hem types, and accented with fushia pink lace, white lace, and bubblegum pink ric rac. Fabric is carefully measured, cut, ironed, organized, and placed on a full elastic waistband for a uniform look of the skirt. This tutu set includes a headband made with coordinating fabrics and lace, a pink elastic headband, and a deep red rhinestone heart center. If the set is for an older toddler and you would prefer a clip, just let me know. This extra special tutu is not intended for play wear and will be the perfect thing for a Valentine themed photo shoot or party.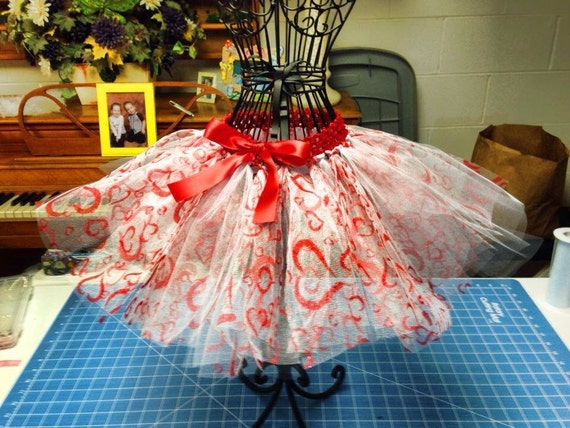 Valentine Heart Themed Tutu
Heart themed tutu. Perfect for those Valentine photos.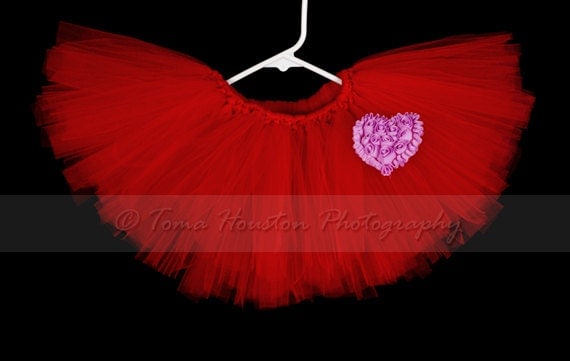 Valentine Princess Tutu- Baby,Toddler, Child
This beautiful tutu is made-to-order just for your pretty princess! Extra fluffy! Beautiful red tutu has a lovely, lavender shabby chiffon heart in front. Elastic waist.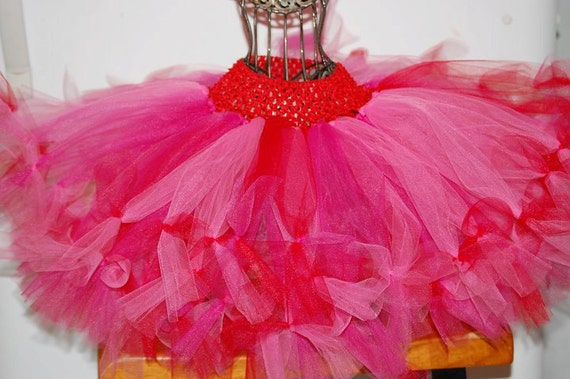 Red, Hot Pink and Fuchsia Petti-Tutu
This adorable petti- tutu is made with 50+ yards of fuchsia, red and hot pink. The ends are tied off with tulle of the same colors to create a fun petti-tutu look!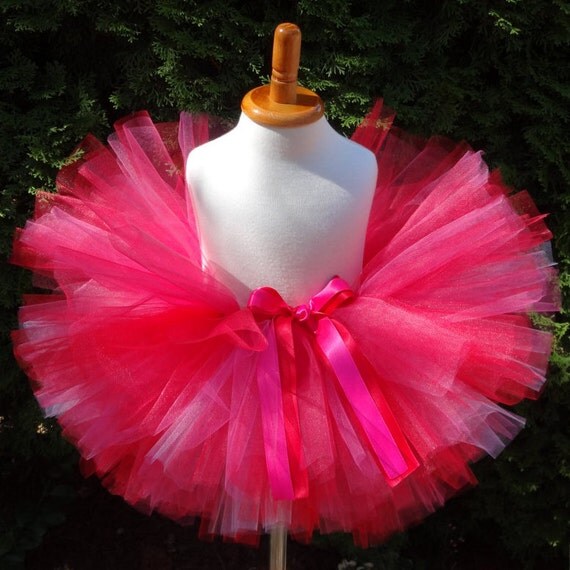 Pink Birthday Tutu, Pink Tutu, Red Tutu
Perfect for Birthday parties, Valentine's Day celebrations and events, pagaents, dance recitals, photoshoots, cakesmashes, newborn photos and many other occasions. Beautiful tutu in a mix of pink and red tulle with a touch of white tulle and a red and pink satin bow.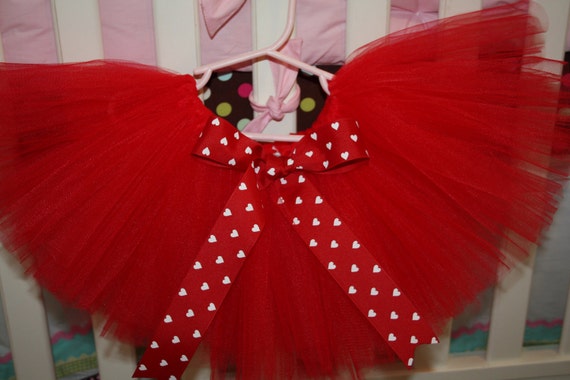 My Funny Valentine - Red Valentine Tutu - NB-5T
Let your Little Valentine celebrate the holiday of love in this adorable tutu! It is a classic all red, double layer tutu made complete with the Valentine bow. This tutu makes an amazing photo prop for her Valentine photos! (Complete the look with our headbands or hats sold separately.)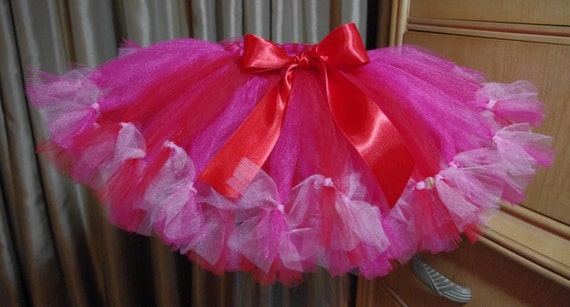 Cherry Pie Petti-Tutu Skirt: Birthday Tutu, Newborn Tutu, Valentine's Tutu, Photo Prop, Holiday Tutu, Tutu Skirt
Made with red and fuchsia mate tulle, each strand of mate tulle is tied with a pink tulle tie and adorned with iridescent sequins sewn at each tie, this keeps ties in place. Petti-tutu skirt is topped off with your choice of either a red, fuchsia, or pink satin bow…..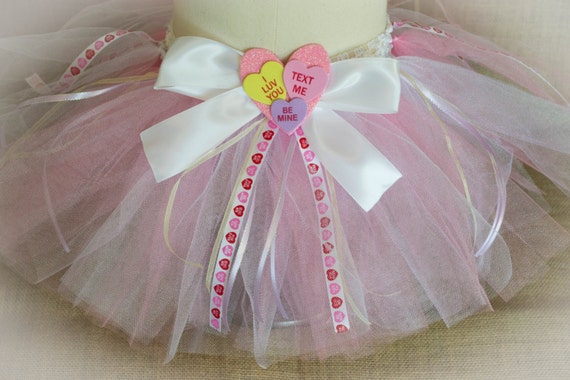 Shimmer Pink and White Candy Hearts Valentine Tutu Size Infant to 4 Years
Made with shimmery white and pink tulle on soft, stretchy white crochet headband waistband. Has lavender, yellow, and candy heart ribbons throughout. Candy hearts embellishment and white bow in the front. This size tutu fits infant up to approximately 4 years old depending on size of child.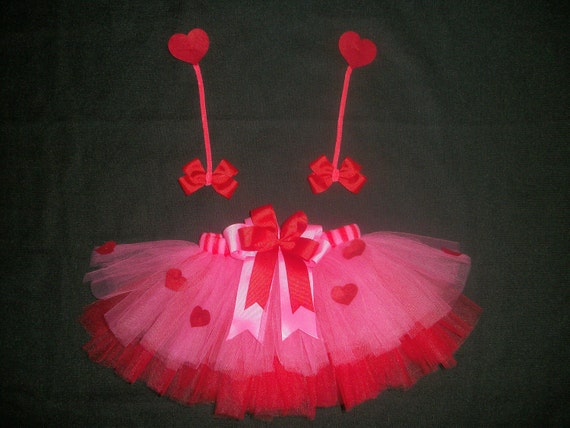 Valentine's day tutu set, "Love Bug" custom made Newborn-4t
This listing is for a "Love Bug" Valentine's day tutu with matching heart antenna bows. This tutu has a handsewn double layer bow and handsewn hearts. The antenna bows are also sewn together and then glued to secure on single prong alligator clips. This listing is up to a size 4t but if you need a larger size just message me for a custom listing. Please let me know what size you need upon checkout.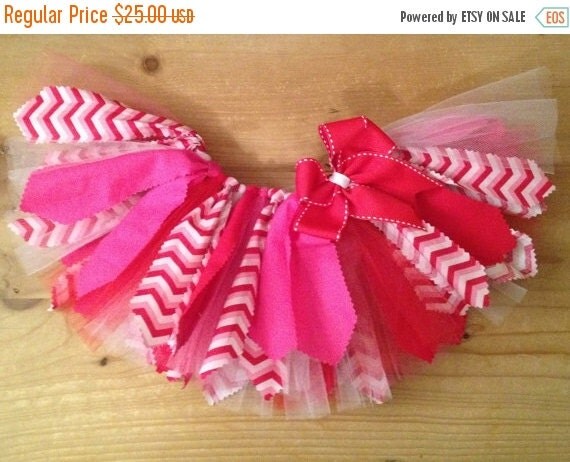 Valentine's Day Pink and Red Chevron Scrap Fabric Tutu
Exact fabrics, ribbons, flowers, rhinestones, or other portions of the outfit may vary slightly depending upon availability but will always remain similar to that shown in the photo. Tutus may contain glitter tulle, which will shed upon wearing. Non-glitter tulle is available upon request. Please note when purchasing if you would prefer the non-glitter tulle.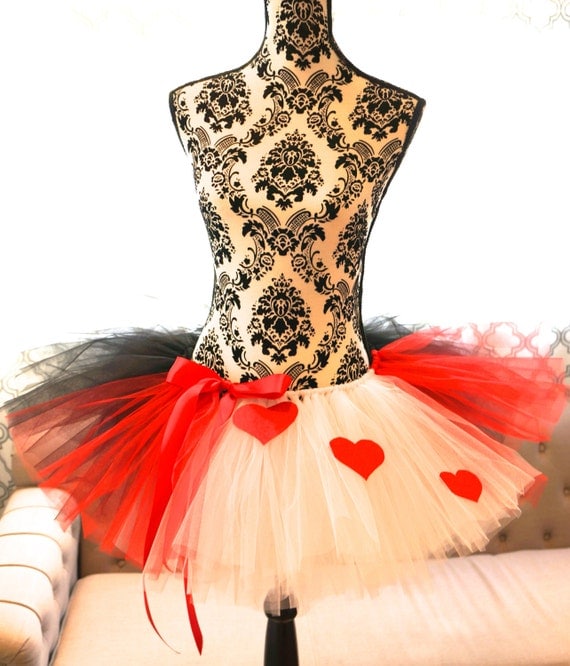 Adult Tutu - Heart Queen - Red and Black Tutu - Valentines Tutu
This very full handmade tutu is made with lots of gorgeous tulle and ribbon. Fits most. Tell me your pant size and I'll make sure it fits. :) You will be very happy with yours!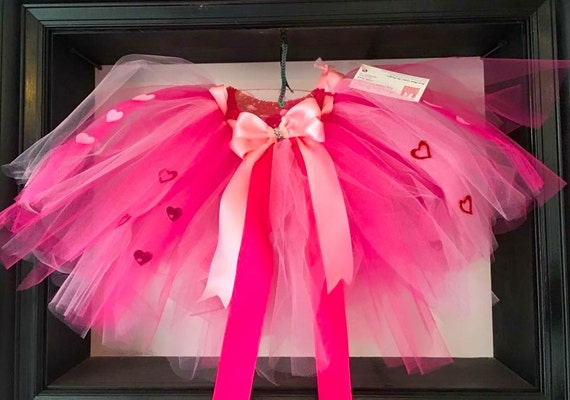 Valentine's Day Tutu, Pink Tutu Skirt, Valentine's Tutu, Princess Tutu, Tutu
Valentine's Day Tutu - Crochet Waist Band - Tulle colors used are hot pink and baby pink alternating (double layered tutu) - Fastening satin ribbon can be used to tighten skirt if needed (light pink) - Hot pink satin ribbon for contrast - Pink pin-wheel bow - Heart shaped appliqués throughout skirt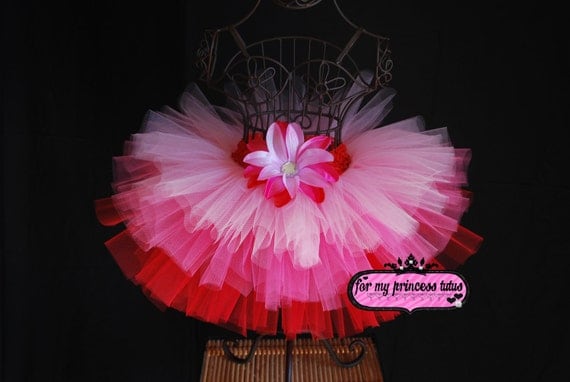 Valentine's Day Tutu -
This layered tutu will be perfect for Valentine's Day! The tutu comes on a crochet waist band and will fit most infants and toddlers sizes approx 0-5T/6T, however the standard length of my tutus are approx 8-9 inches (please see sizing note below.) Tutu will come with a removable bottlecap flower that is attached to an alligator clip. Flower and waist band colors may vary based on current stock availabiltiy.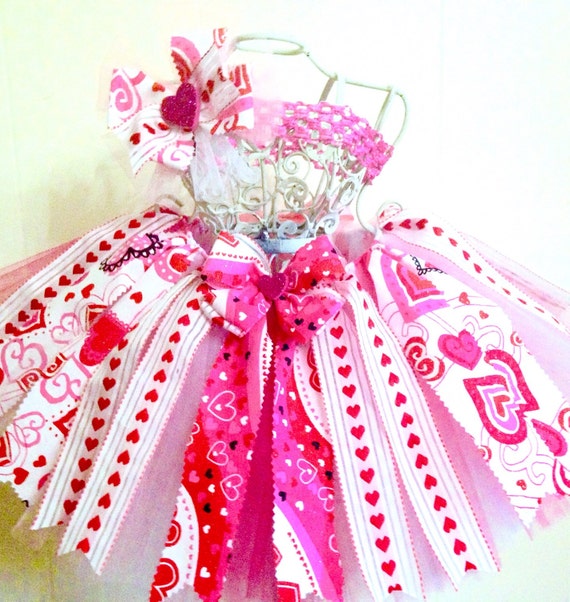 Hearts Tutu-Perfect for: Valentine's Day, photo shoot, pageant wear, ooc, birthday
Shades of pink & white tulle accented with heart fabric & ribbon strips make up this sweet tutu. Size: Medium waist 18" Length: 10" Skirt ties in the back and is adjustable..can be made smaller or larger just send a conversation with size requirements. A matching hair bow is included. Adorable! Sizing: 13-14" waist Extra Small/Infant 15-16" waist Small 6 months to 2T 17-18" waist Med. 2T to 4T 19-21" waist Large 5, 6, 7 22-24" waist Ex. Large 8 & up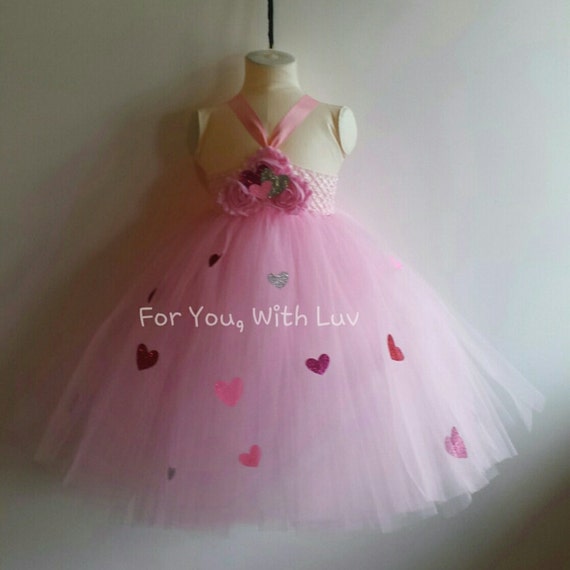 Glittery Heart and Shabby Flower Pink Empire Tutu Dress
Ships free USA! This gorgeous dress is made with 2 full layers of a soft light pink tulle on a crochet stretch empire band.(a 3rd layer option is available for each size in the drop down menu) Satin ribbon halter tie is adjustable in the back. The soft shabby Flowers with glittery hearts is on a removable clip. The front of this dress is adorned with glittery hearts in a variety of colors and sizes. Best part... The Glitter WILL NOT flake off all over your house!! Available up to a size 5. If you need it larger send us a message and we will quote you a price!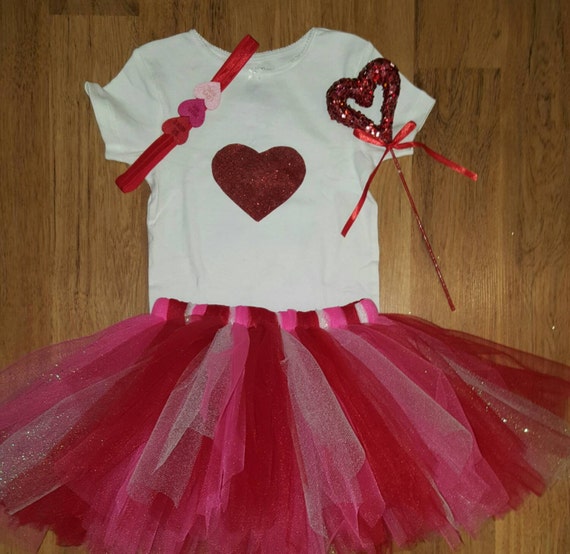 Valentines Day Tutu, Valentines Day Tutu Set
This tutu set comes with bodysuit/shirt, tutu and headband. This tutu is made with hot pink , red and glitter white tulle to give it an elegant look. Hot pink or red headband with felt hearts. Bodysuit/shirt is made with a red or hot pink heart iron on.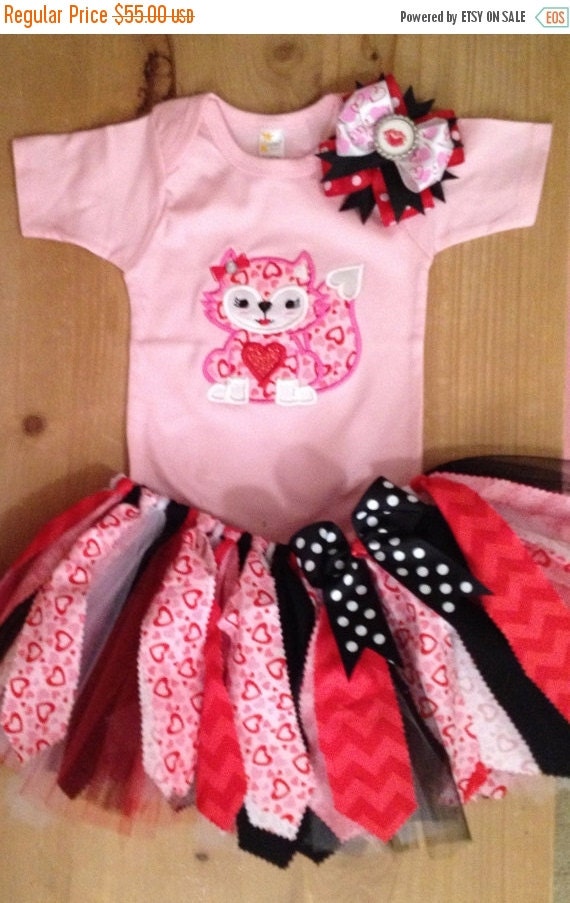 My Foxy Valentine Scrap Fabric Tutu Outfit
The tutu outfit includes the tutu, shirt or baby bodysuit, and matching hair piece. Shirts are used for sizes 2T and up and normally Blanks Boutique, ARB Blanks, or Monag brands are used. Baby bodysuits are used for sizes 24 months and smaller. For sizes 18 months and smaller, Blanks Boutique brand is used only which does run big (about 1 size larger than Carter's brand) and is made with snaps down the back. Size 24 months is only available as a Carter's brand bodysuit at this time. Infant shirts are available upon request in place of the bodysuits for sizes 18 months and smaller. Size charts are available upon request – please message me if there are any size concerns to obtain the sizing information.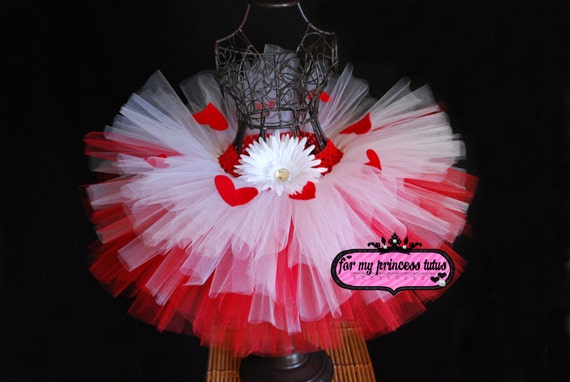 baby tutu, toddler tutu, dance tutu, 1st birthday tutu, birthday tutu, flower girl tutu
This Valentine's Day tutu is embellished with red felt hearts. The tutu comes on a crochet waist band and will fit most infants and toddlers sizes approx 0-5T/6T, however the standard length of my tutus are approx 8-9 inches (please see sizing note below.) Tutu will come with a removable flower that is attached to an alligator clip. Flower and waist band colors may vary based on current stock availability. These tutus are perfect for birthday parties, photographs, and just for fun! Also makes great props for photographers and great gifts!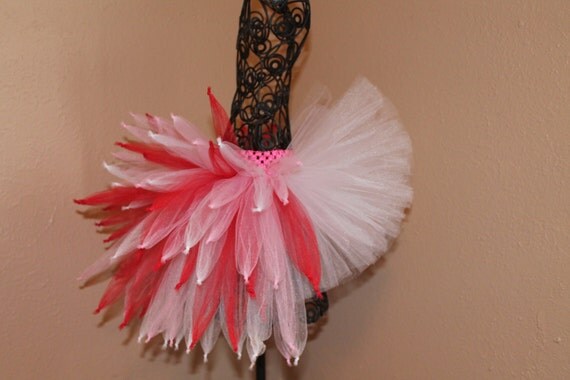 Valentine Sweetheart tutu.Toddler, baby, and infant dress.
FaithWorksTexas creates one of a kind handmade outfit for your little one. All outfits are made to order. ****before order is placed please check****** 1. size is correct 2. shipping times in the shop notes. 3. any changes that needed are addressed before purchase.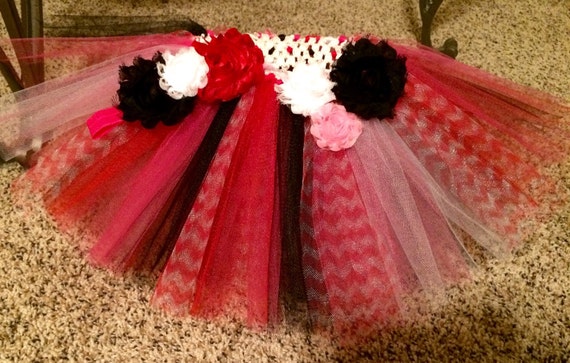 Valentines Day Chevron/Shabby chic tutu and headband set
Set of a shabby chic tutu with a matching headband💗 This picture is a Valentines day order but they can be made in any theme🎀💋 Please message me sizing info!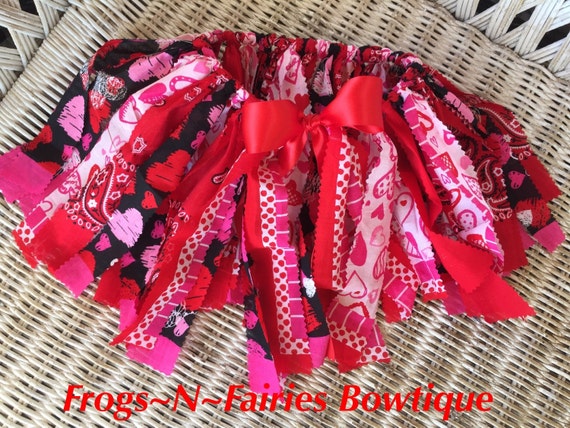 Valentine's Day Fabric Tutu 0-3 to 24 Months
Made with 3 different Valentine fabrics. Fits 0-3 up to 24 Months. Satin Sash Tie. Happy Valentine's Day!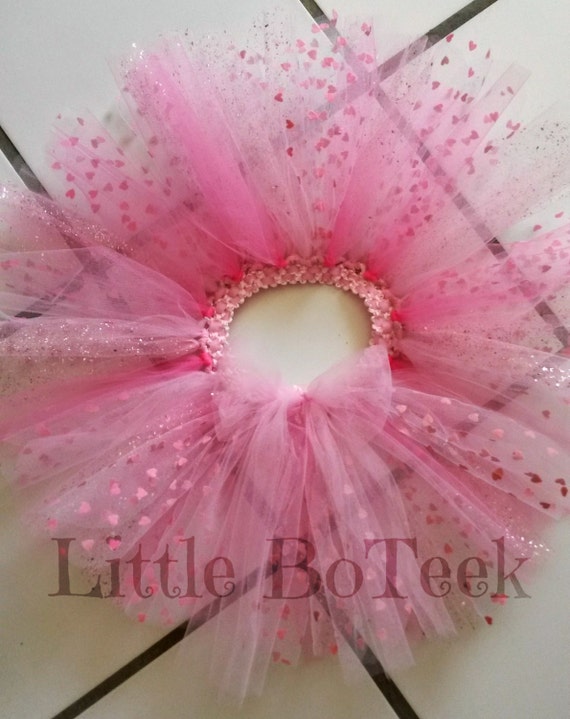 Pink Glitter & Hearts Valentine's Day Tutu / Photo Prop / Birthday Tutu / Birthday Skirt
Light pink, pink flocked hearts, hot pink, and pink confetti glitter tulle come together in perfect fashion to create this adorable Valentine's Day look. Finished with light pink tulle ribbon for easy size adjustment! Made on a light pink crochet waistband with a reinforced seem for extra durability, it's ideal for birthday parties, photo props, dance classes, and it's even durable enough to last in a dress-up box. All of my tutus are preschooler tested and approved because what good is a tutu if it can't take a beating?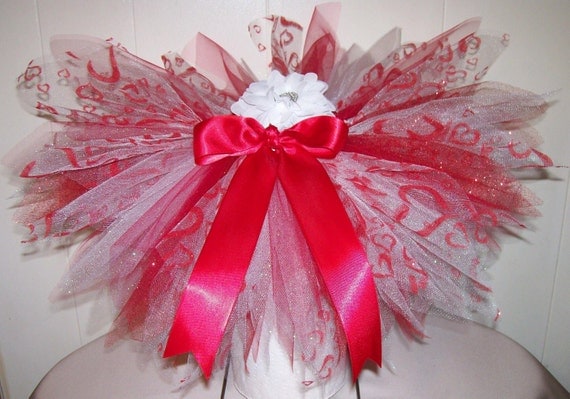 Sweetheart Kisses, Valentines day tutu, Red Hearts and White
This Tutu comes with Red hearts and white shimmer and sparkle tulle in a pixie style cut. It's made on a red or white crochet/elastic style band. It has very full layers upon layers of high quality tulle. It also come with this huge red satin bow on the front to add to it's already gorgeous look. It's perfect for gifts, parties, photo shoots, Birthday's and Valentines day. 25