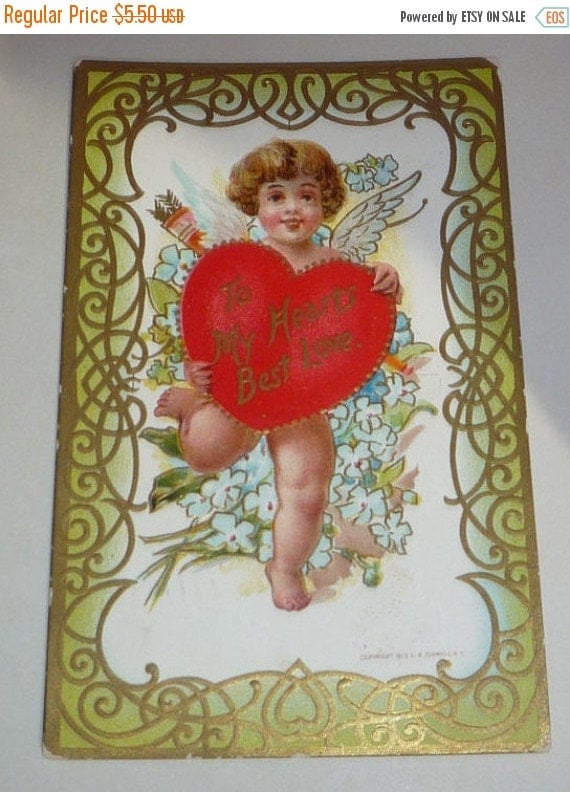 Cupid With a Large Heart and Flowers - To My Hearts Best Love Antique Valentine Postcard
Nice old card. Wear on corners. Copyright is 1910. Posted 1912. VG condition.
Cute Unused Valentine With Cupid Dropping Flowers
Sweet little card. Unused. 4 x 3 1/2 inches. Excellent condition.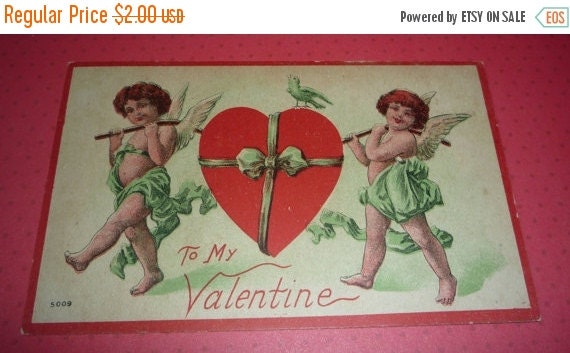 Two Cupids Carrying a Large Heart Antique Valentine Postcard
Old card in very good condition. Posted 1910.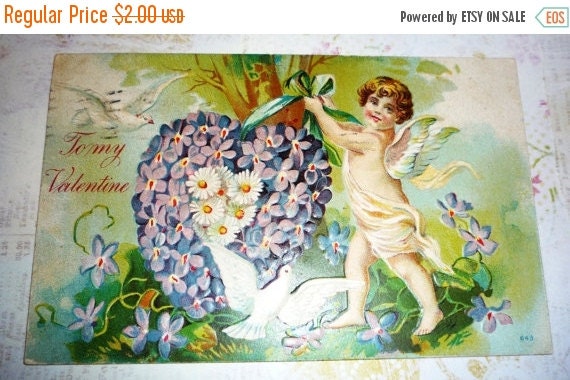 Antique Embossed Valentine Postcard Wite Doves andCupid With Large Heart made of Violets and Daisies
Beautiful card made in Germany. Has a bit of postal ink of the front. Postmarked 1908. Good condition.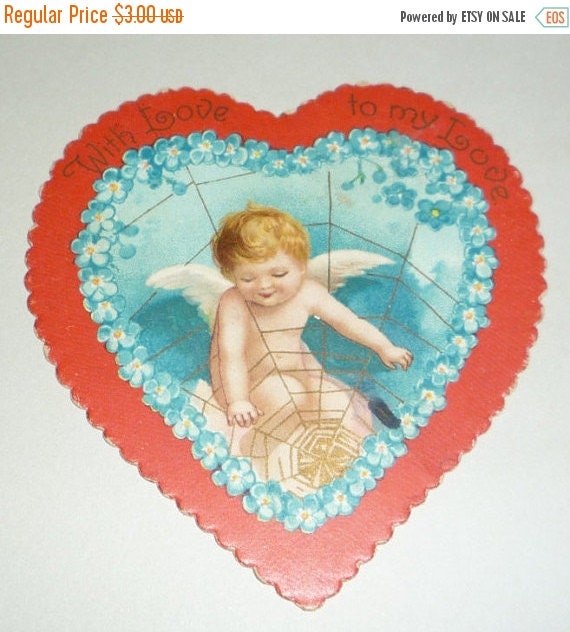 Adorable Little Die Cut Valentine Heart With Cupid In a a Cloud and Web Surrounded by Forget-Me-Nots Antique Card
Sweet little die cut card. Used on back. Ink spot on the front. Good condition.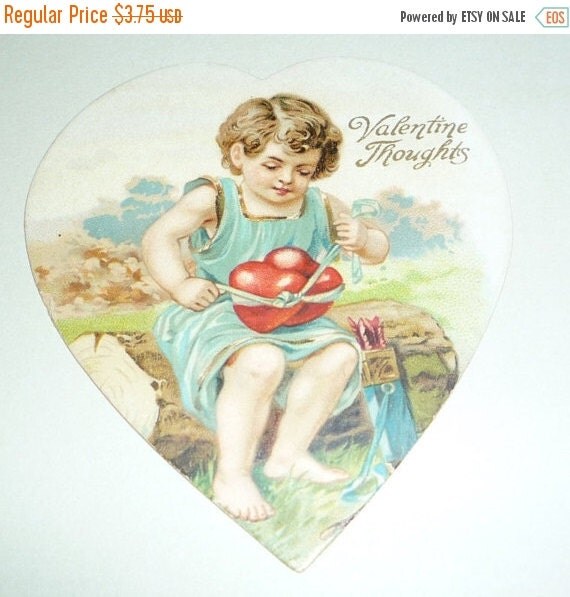 Cupid Tying a Bunch of Hearts Together Antique DieCut Valentine
I love these little die cut valentines from Germany. This one has a lot of nice detail. They are one of the things I like to collect. This one is used on the back. 3 x 2 1/8 inches. Excellent condition.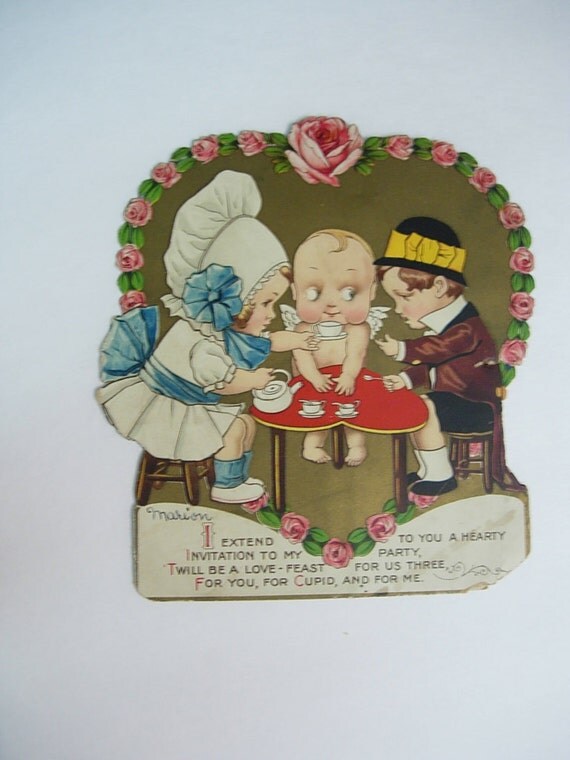 Vintage Mechanical Die Cut Paperdoll Valentine Day Greeting Card with Girl Boy and Cupid
This is a Vintage Mechanical Die Cut Paperdoll Valentine Day Greeting Card with a Girl Boy and Cupid. The card says on the bottom "I extend to you a hearty invitation to my party, Twill be a love-feast for us three, For you, for Cupid, and for me". Very cute card. When you move the stand up piece in the back Cupids eyes move. A very cute Valentine Day greeting card. The girl is on one side and the boy on the other and in the middle is cupid. They are having fun at a Valentine day tea party. This card is in good vintage condition. It measures 5" by 5 3/4". Sold as found.We are not greeting card experts.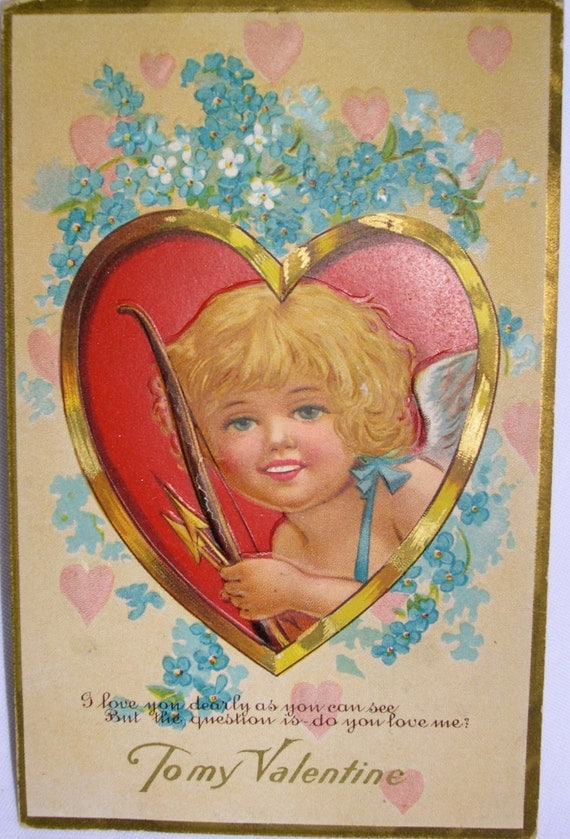 Valentine Postcard, Vintage Postcard, Valentines Day, Early 1900s
Sweet, sweet vintage Valentine Postcard. Embossed postcard from early 1900s.Postcard is marked on divided back- Valentine Series No. 1. Features a beautiful blonde headed Cupid/Angel framed in a Heart. Floating hearts and forget-me-nots are all over the postcard. Reads: "I love you dearly as you can see. But the question is do you love me?" "To My Valentine". Postmarked and written on the back. Good vintage condition on the front, the back shows where a leather Valentine Postcard had lain on it for years-but it did not bleed through to the front. Int'l buyers convo me for best ship rate.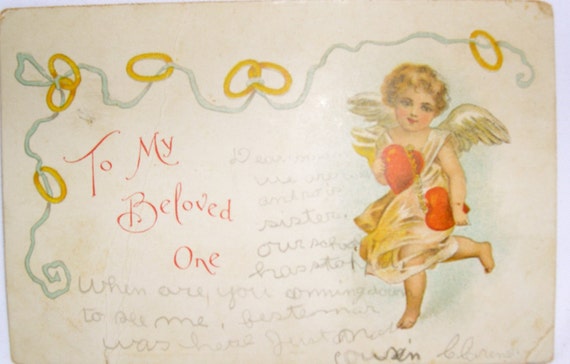 Valentine Postcard, Vintage postcard, cupid holding two hearts connected by a chain, "To My Beloved One"
Vintage Valentine Postcard with Cupid Holding Two Hearts Connected by a Chain--notice there are 2 wedding bands on each end of the ribbon surrounding Cupid!! Card is a undivided back, therefore the greeting was written on the front in a faded pencil-you can barely make it out. You could block that out and have a invitation, valentine, wedding card, etc. Card reads: To My Beloved One Postmarked 1908 and address is written in pencil also.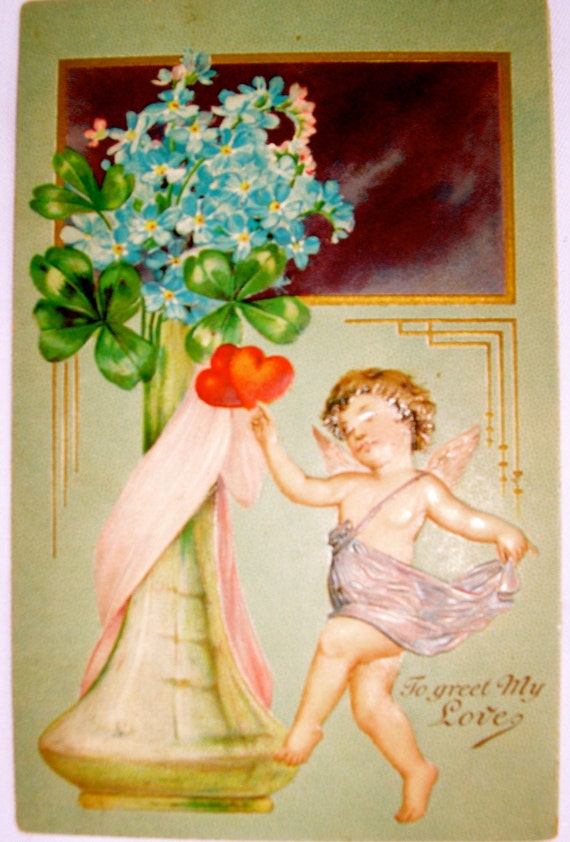 Valentine Postcard, Art Deco style Postcard, Cupid Presents His Love with a Vase of Flowers-Forget Me Nots
Vintage Valentine Postcard. Art Deco Valentine Postcard-notice perimeter of straight lines. Cupid is presenting his heart and a beautiful vase of Forget Me Nots and Shamrocks (for good Luck) to his sweetie. Reads: To Greet My Valentine Condition: Very Good Vintage Condition-edges are barely rubbed. Undivided back written on and postmarked 1908.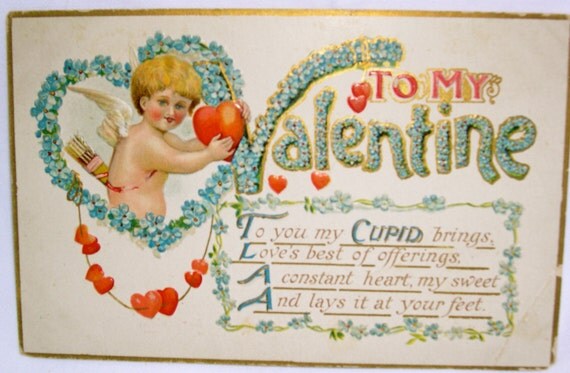 Valentine Postcard, Vintage Postcard, "To My Valentine" with Poem Following, Cupid with String of Hearts, Forget Me Nots
Beautiful Valentines Day Vintage Postcard. Features Cupid with bow and arrow, ready to shoot his heart to you. Reads: To MY VALENTINE POEM: TO YOU MY CUPID BRINGS LOVE'S BEST OF OFFERINGS. A CONSTANT HEART, MY SWEET AND LAYS IT AT YOUR FEET.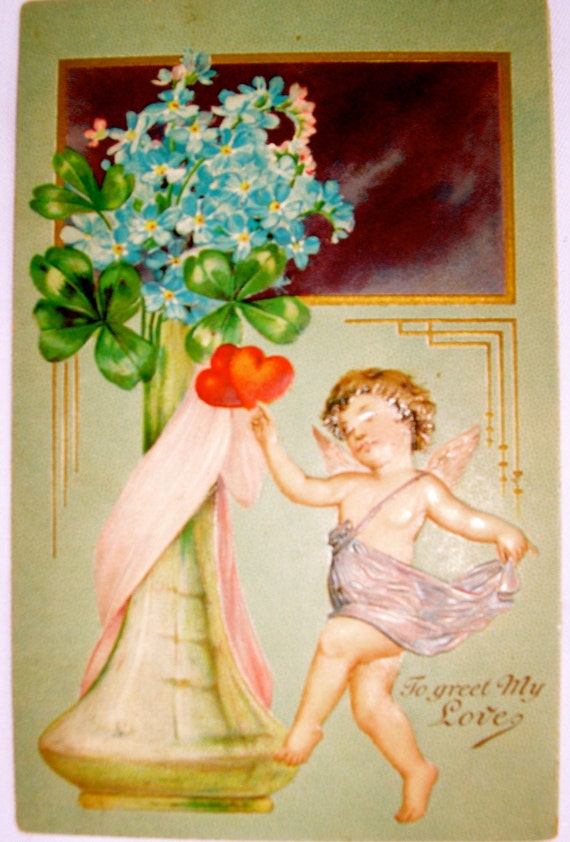 Valentine Postcard, Art Deco style Postcard, Cupid Presents His Love with a Vase of Flowers-Forget Me Nots
Vintage Valentine Postcard. Art Deco Valentine Postcard-notice perimeter of straight lines. Cupid is presenting his heart and a beautiful vase of Forget Me Nots and Shamrocks (for good Luck) to his sweetie. Reads: To Greet My Valentine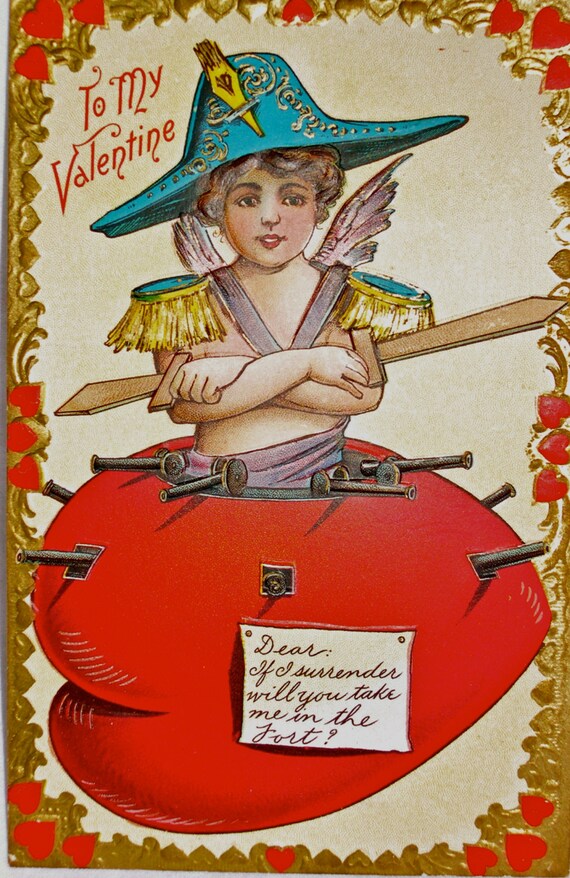 Vintage Postcard,Valentine's Day Postcard, Embossed, Has a Cupid/Angel bursting out of a Large Heart
Great vintage Valentine's Day Postcard. Unusual Subject is that of a Cupid, dressed as Napoleon, holding swords and the heart is like a war tank with cannons shooting out of little holes--still has his wings though! It says: To My Valentine-Dear, If I surrender will you take me in the Fort? Card has never been used although it has a stamped 362 on it. Made in the USA.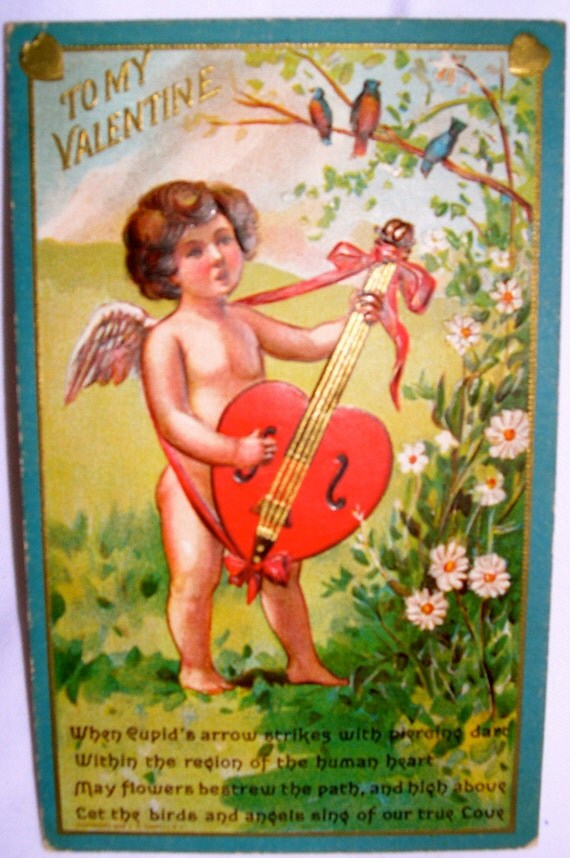 Valentine Postcard, embossed Valentine features a nude Cupid playing a heart shaped guitar
Vintage Valentine Postcard embossed with Cupid sporting a dark, fluffy head of hair, and he is playing a Heart Shaped Guitar. In good vintage condition with corner tips showing age. This is a "poem" or perhaps it is the song that Cupid is singing--nonetheless, here it goes: When Cupid's arrow strikes with piercing dart, Within the region of the human heart, May flowers be strew the path, and high above, Let the birds and angels sing of our true Love. Heavy stuff!! Marked as number 333. Int'l buyers contact me for true ship rate.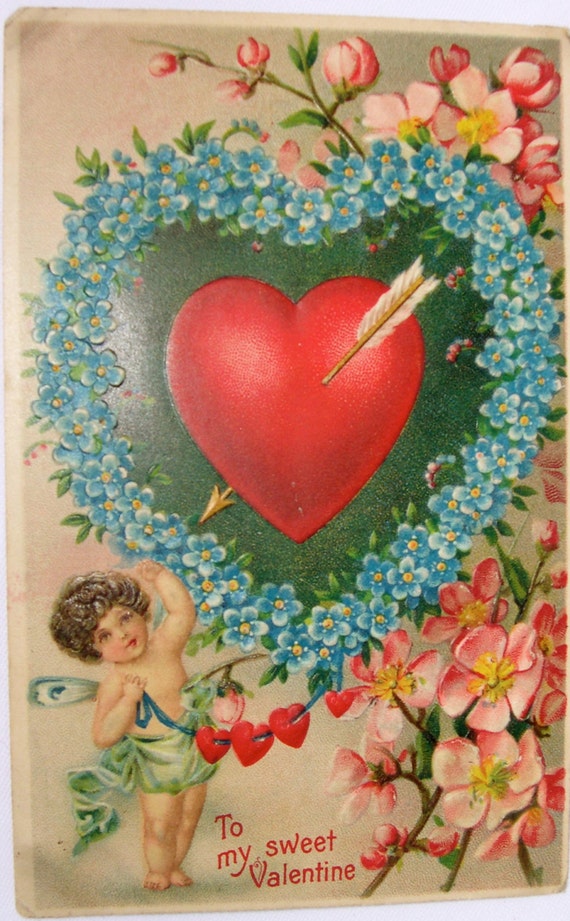 Valentine Postcard
Beautiful, romantic Valentine's Day Vintage Postcard. Features large red heart with an arrow through it. Heart is outlined with Forget-Me-Nots. Little Cupid is standing underneath the heart with dark brown curly locks. Post reads "To My Sweet Valentine". Great to copy for your own postcards, invitations, mixed media,etc. Postmarked divided back.Embossed postcard identified as B. W. 309 Printed in Germany. Int'l buyers contact me for best ship price. Good vintage condition with tips showing age.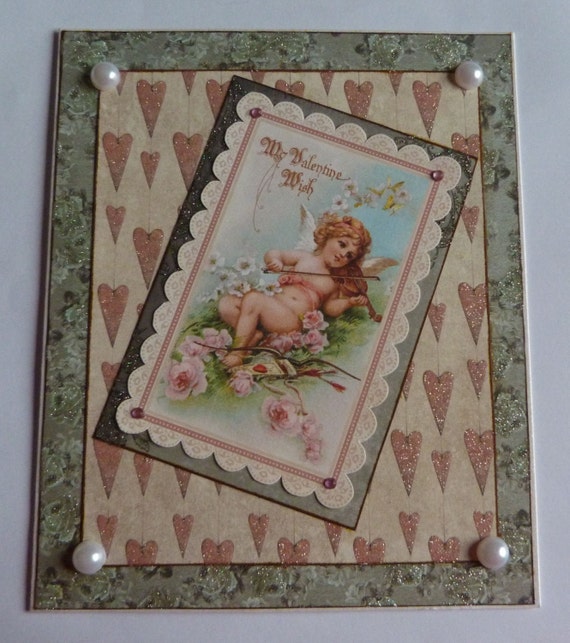 vintage Valentine's day card, glitter card
Vintage inspired Valentine's day card will make a perfect little gift for Your loved ones. Decorated with pearls and glitter hearts. Blank inside for Your personal message. Comes together with the white envelope.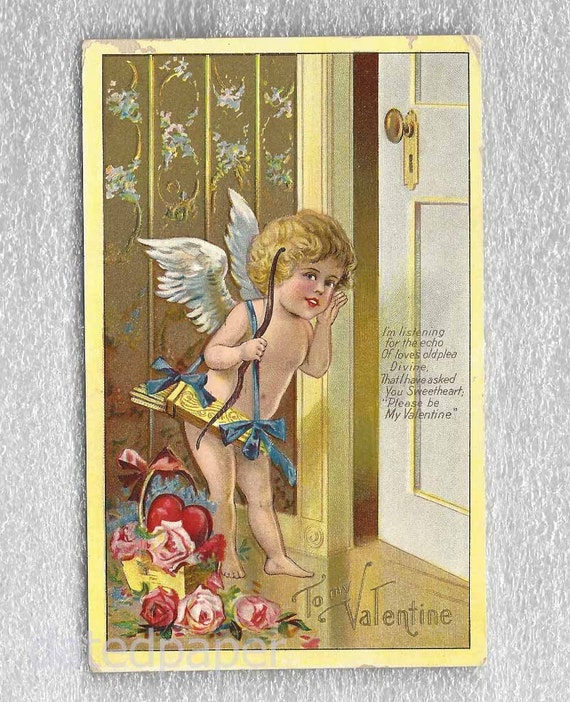 Antique Valentine's Day Postcard Cupid Listening at Door Unsigned Frances Brundage Valentine Series 1 Post Card Angel Vintage ~ 5496a
Here is a beautiful vintage Valentine's Day postcard to add to your collection. It pictures the sweetest looking Cupid standing at a door, listening to what is going on behind the door. Pink and red roses are on the floor. The postcard was not mailed but there is writing on the back. The corners are lightly bumped, with a crease on the top right corner. There is light chipping to the surface on the edges.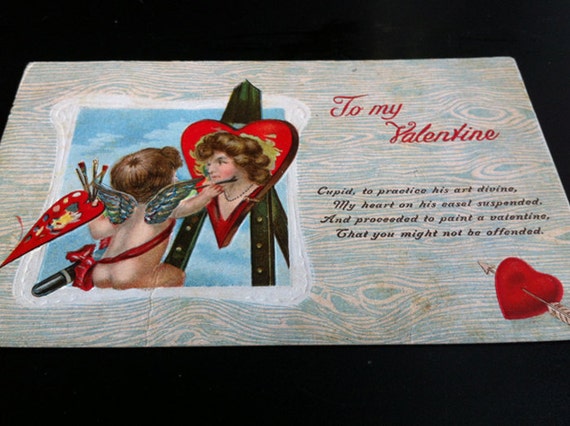 1909 Embossed Valentine Post Card, Cupid Painting
Cute little Cupid artist painting his love. Good condition Measures approx 3.5" x 5.5"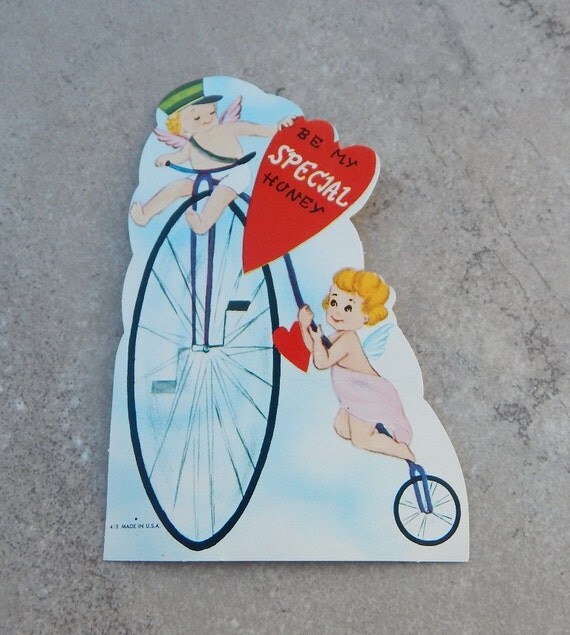 Unused 1950's Valentines Cupid and Angel on Bike Valentines Day Card Made in USA
Cupid sits atop an old fashioned bike while a cute little Angel hangs on to the back! Card reads: Be My Special Honey Measures 3 3/4" x 5 3/4"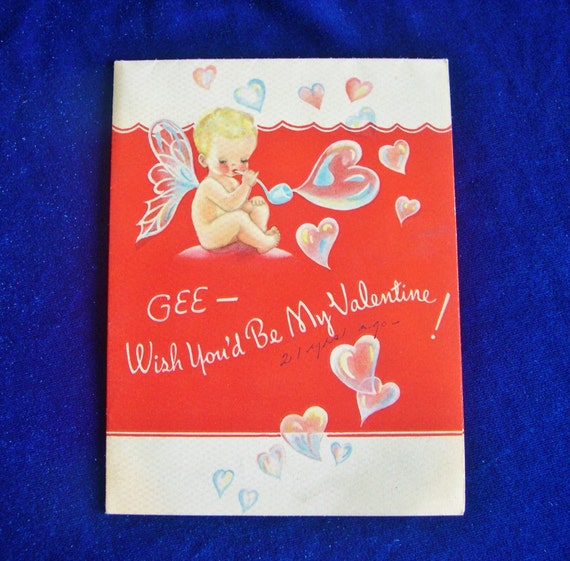 1940's Cupid Blowing Bubbles Valentine Card Golden Bell Greeting Cards
Baby Cupid blowing bubbles valentine card from late 1930's or early 1940's. Adorable art! In excellent condition. Nice and flat. Tiny bit of writing on the front. Neatly signed inside. Card is French fold style. Measures 5.25 in. x 4 in. This would make a unique valentine gift for someone special or a great addition to your vintage card collection!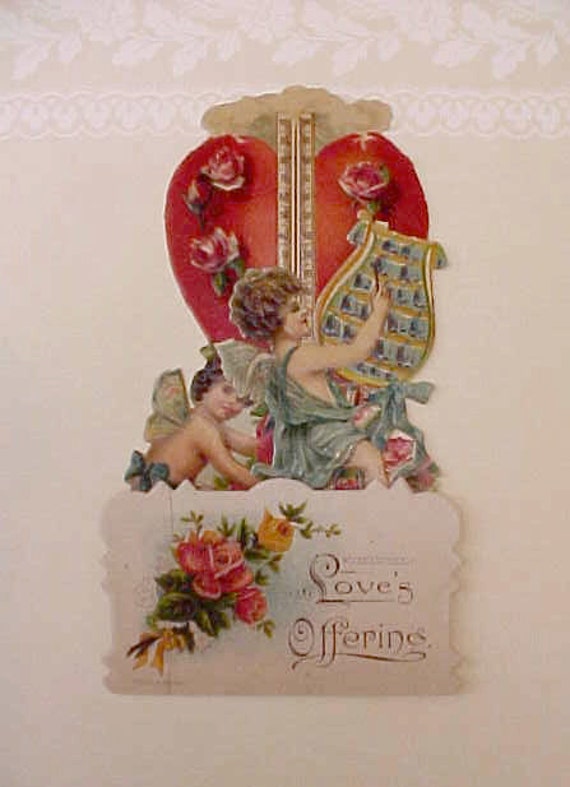 Charming Late Victorian Era Valentine Card with Busy Little Cupids
This pretty antique Valentine card has little cupids very busily doing their little Cupid projects. It is a fold out card but the little link which holds the fold out part together has come apart so it is no longer perfect. It is however, perfectly adorable. It stands 6 3/4" tall and is 3 1/2" wide. It is a darling card. Please note that someone once wrote on the back as you can see in the last photograph.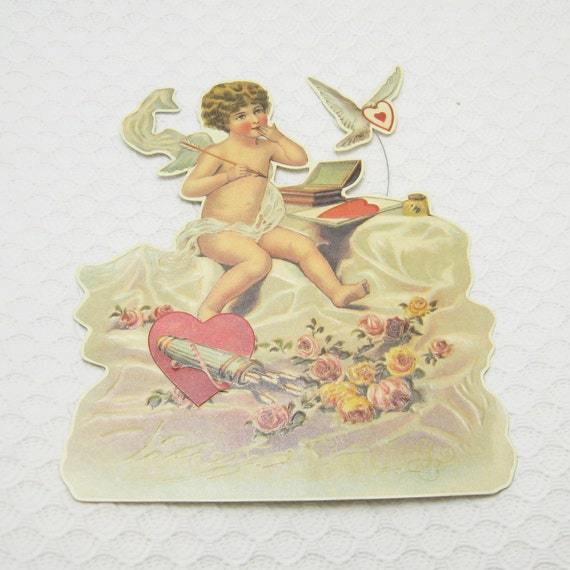 Valentines Card Cupid Dove Victorian Repro Easel Back
Vintage Valentine card is an easel back and die cut. Cupid is penning a Valentine. A dove flies by with a red heart in his beak. Card reads Love's Fond Greetings. A gift on it's own to keep and display. This is new old stock from 1992 and is in the original plastic package. One has been opened just for picture taking but the package top can be easily stapled back on top.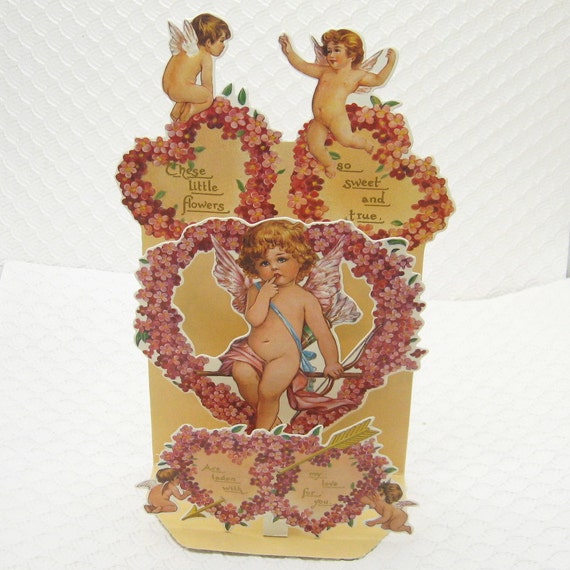 Large Valentine Card Victorian Repro Angel Foldout Vintage Antique
Large Valentine Card is a Victorian reproduction foldout card. This gorgeous vintage Valentine card is a gift by itself. Beautiful pink and red floral hearts and sweet cupids. Reads: These little flowers so sweet and true, are laden with my love for you. Bottom (not visible when standing) reads Greetings. These are new old stock from 1990 and in original package (one was opened to photograph and describe but still is in the original packaging.) 1990 B Shackman & Co - measures 7 1/8 X 4 1/8 inch.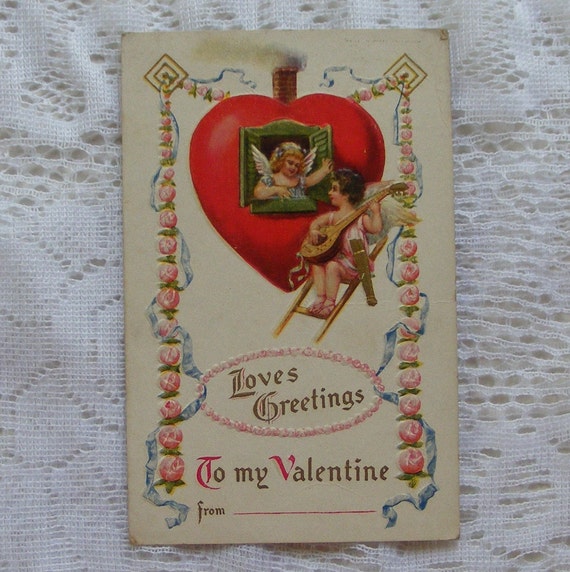 Unused Vintage Valentine's Day Postcard Girl Angel in a Big Red Heart House Being Serenaded by Cupid and Mandolin Fantasy Post Card ~ 3076c
Here is an unused vintage Valentine's Day postcard that pictures Cupid serenading a blonde angel in her heart house. Garlands of pink roses and blue ribbons frame the card. The postcard was not used and there is no writing on it. It has light corner wear with a hint of creases. These might just be on the front piece of paper, as they don't show on the back side. It might have been done during the making of the postcard.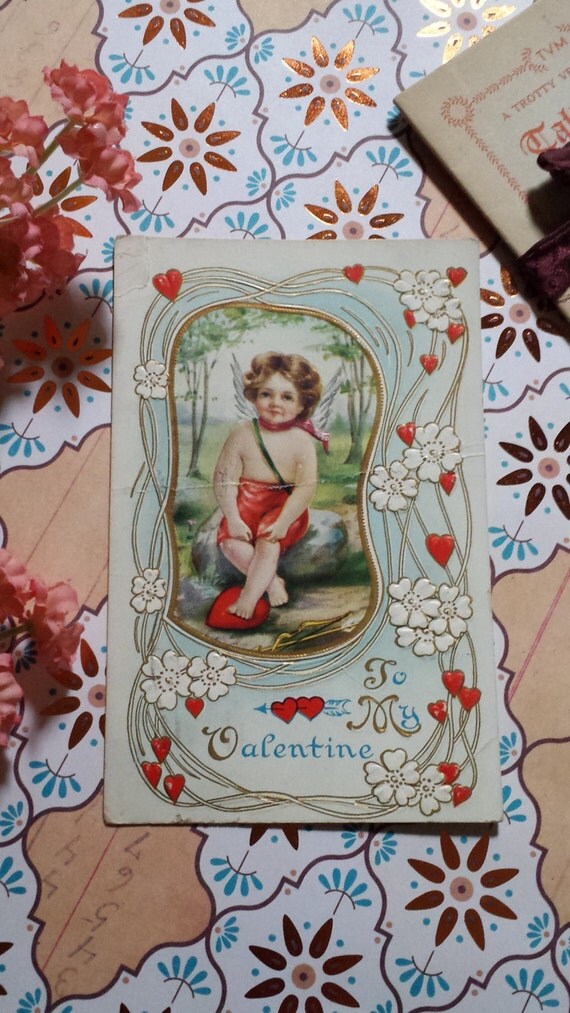 Victorian Valentine's Cupid Cherub Child Post Card
What a precious used post card! You will receive the exact card shown. Measures about 3 3/8 x 5 1/4" and is in overall very good condition for it's age with light wear to be expected (please carefully view photos for any flaws). It is about 100 years old, I recently acquired a huge lot of nearly 200 Victorian and Edwardian postcards both used and unused and will be listing them over the next couple weeks. This lot of cards primarily dates between 1900 and 1920. Some cards in the lot are from other countries but, unfortunately, I do not have the time to look into which countries.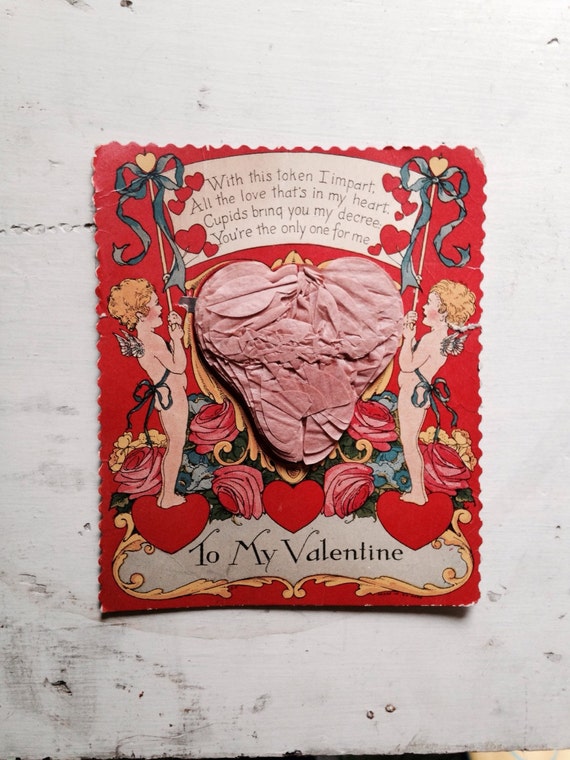 Antique Vintage Victorian Valentine Cupid Valentine Card
To My Valentine With this token I impart, All the love that's in my heart. Cupids bring you my decree: You're the only one for me 1910's era Original antique Valentine in "as is" condition 5 x 6"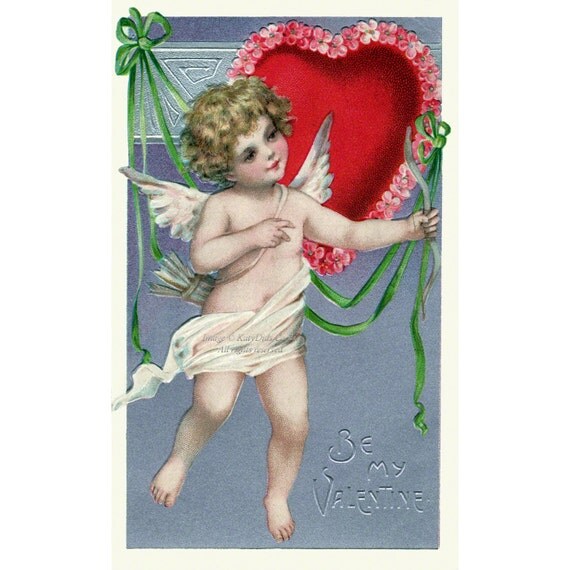 Valentine's Day Card - Cupid Archer Archery Hearts and Flowers Valentine - Vintage Style Brundage
This modern greeting card shows a little cupid hovering in front of a large read heart, who has shot an arrow of love at someone. It is a reproduction of a vintage postcard by artist Frances Brundage, circa 1915. You can choose to have this card with a glossy or matte surface. Simply make your selection from the pulldown menu when you make your purchase. Our cards are all 5" x 7" inches, (unfolded they measure 7" x 10".) Glossy are printed on 60 lb. cardstock, matte on 88 lb. All cards are blank inside. Each card comes with an envelope.
Valentine Vintage Cupid Cards Page ONE
--------------------------------------------------
Here are more Valentines Day Vintage Cards!:
Vintage Valentine Cards
Vintage Girls Valentine Cards
Vintage Boys Valentine Cards
Vintage Boy & Girl Couple Valentine Cards
Vintage Dogs Valentine Cards
Vintage Bunny Valentine Cards
Vintage Bears Valentine Cards
Vintage Cats Valentine Cards
Vintage Paper Lace Cards
Vintage Cupid Valentine Cards
Vintage Circus Valentine Cards
Vintage Teacher Valentine Cards
Vintage Flower Valentine Cards
Vintage Sailor Valentine Cards
Vintage Giraffe Valentine Cards
Vintage Cowboys/Cowgirls/Indians Cards
Vintage Space Astronaut Cards
Vintage Elephants Valentine Cards
Vintage Lions Tigers Valentine Cards
Vintage Farmer Valentine Cards
Vintage Sports Valentine Cards
Vintage Marching Band Valentine Cards
Vintage Trains Valentine Cards
Vintage Birds Valentine Cards
Vintage Monkey Valentine Cards
Vintage Police Valentine Cards
Vintage Hunting Valentine Cards
Vintage Pirate Valentine Cards
Vintage Owl Valentine Cards
Vintage Fireman Valentine Cards