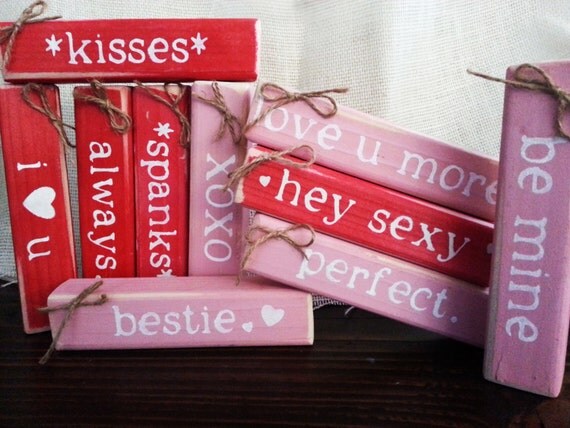 Super cute hand painted Valentine wood blocks
Don't forget your awesome Bestie buddies on Valentines day! Super cute rustic perfectly imperfect homemade and hand painted 6 in. x 1 1/4 Valentine love blocks. Thoughtful and fun as a cute accent to the gift you've already got planned and just as sweet as a gift on its own! ** Listing is for ONE block ** Please don't forget to specify the word or saying of your choice in the message section :) Each block is all wood, hand painted, cut, and distressed with love! No two blocks are alike!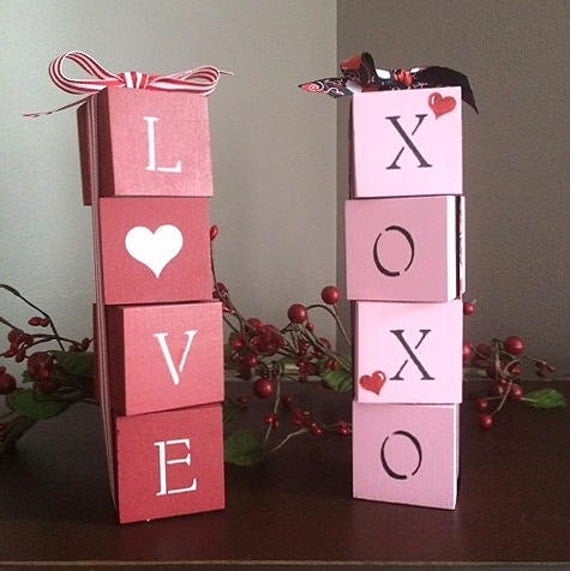 Valentine vertical blocks, 8"
NEW for 2016! These are adorable stacked cube blocks, off kilter a bit, and either say XOXO or Love! Both are wrapped in a perfect matching valentine ribbon and are narrow enough to fit just about anywhere! 2" wide and 8" tall, just choose the design, tough decision, do both! Perfect little valentine gift for godparents, grandparents, aunts, sisters, or you!!!!!!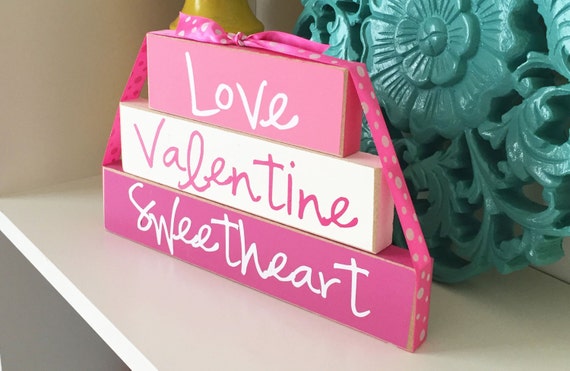 Valentine's Day Stackers- Valentine's Day Decor, Love Decor
These Valentine's Stackers make a great addition to your Valentine's Day Decor. Add this to your mantle, shelves or use the blocks as a centerpiece! Valentine's Stackers are smooth MDF pieces hand painted in rose pink, white and magenta. Sentiments of Love, Valentine, and Sweetheart are added to each block. I distress each piece for a clean edge and then wrap them in pink ribbon. This item measures approx. 10in x 6in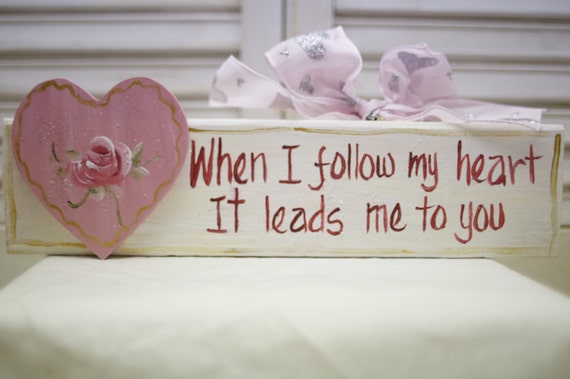 Valentine's Day When I Follow My Heart Hand Painted Wood Block
Valentine's Day When I Follow My Heart Wood Block Dimensions are 12"x5"x1 1/2" Blocks are made from 2 1/2" high 1 1/2" thick pine. Other pieces are made from 3/4" thick pine.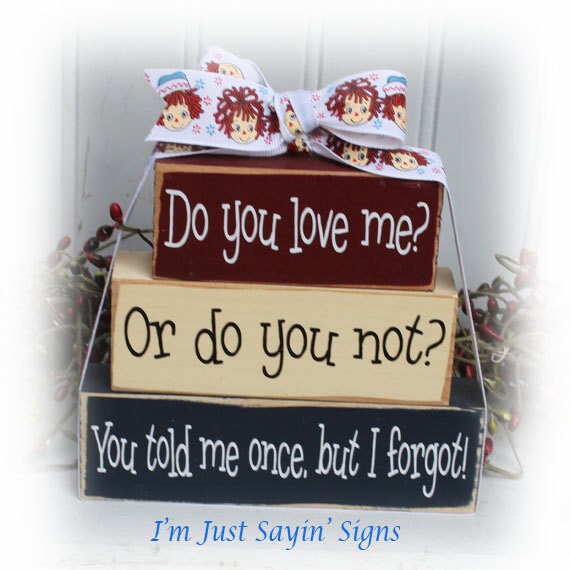 Do You Love Me Or Do You Not You Told Me Once But I Forgot Itty Bitty Wood Blocks
Do You Love Me Or Do You Not You Told Me Once But I Forgot Itty Bitty Wood Blocks A sweet sentiment shared by a couple of romantics. Perfect for the star struck lovers. Sit on a table, bureau or shelf. The blocks have been hand painted burgundy, cream and dark blue. The edges have been sanded to give the blocks a worn, distressed look. The lettering is done in white and black vinyl. A coordinating ribbon with a set of raggedy dolls has been tied around the stacked blocks. Measurements are 4x6" stacked. Sealed for protection.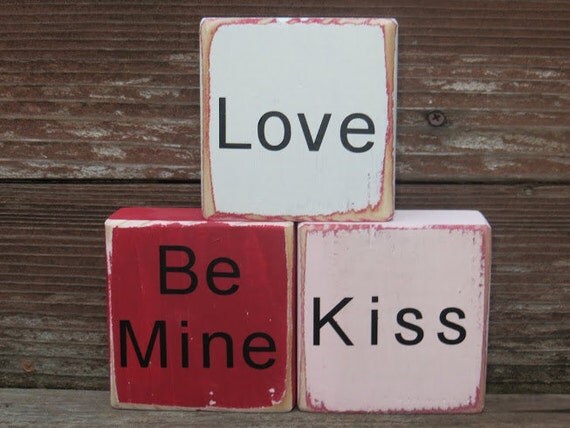 Valentines Day blocks with Love, Be Mine and Kiss
Vintage Love, Be Mine, Kiss. These cute wooden blocks are painted white, red and pink, with a coordinating color underneath that shows when the edges are sanded. Each block is 1 1/2 x 3 1/2 x 3 1/2" and is painted (2 colors), sanded and black vinyl is added for the words.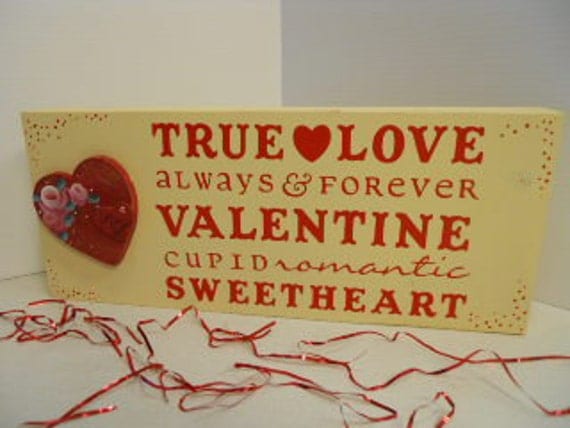 Subway Art, Valentine's Day
Something for that special Valentine! This is a 2 x 6 cut to 13" and painted with Buttermilk acrylic paint. The words are cut from red vinyl. A wooden heart has been decorative painted and glued to the side of the sign. Small red dots embellish the corners. Quite nice to sit on a shelf. A top coat of mod podge has been applied to help keep the letters from lifting. It has also been sprayed with a matte coat of protective sealant. Measurements are approx. 2x6x13"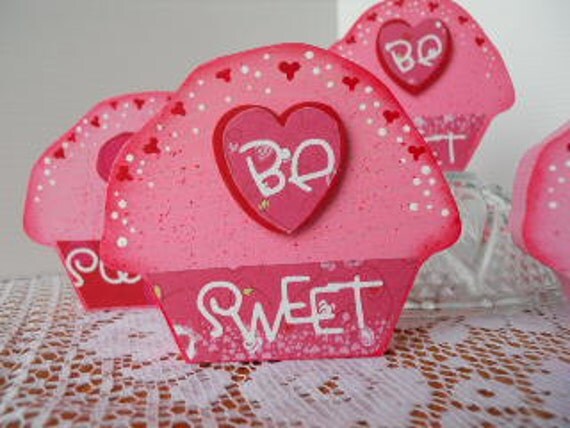 Valentine Cupcake Be Sweet
How cute is this! Cut from 3/4 " pine lumber, it is painted with acrylic paints. The little wooden heart is decoupaged with scrapbook paper. Some don't have a wooden heart. I'll send the ones with the heart first but if you want one with the wooden heart then it will have to be MADE TO ORDER so just convo to let me know. They're both cute and you can see the difference in the photos.The lettering is white vinyl.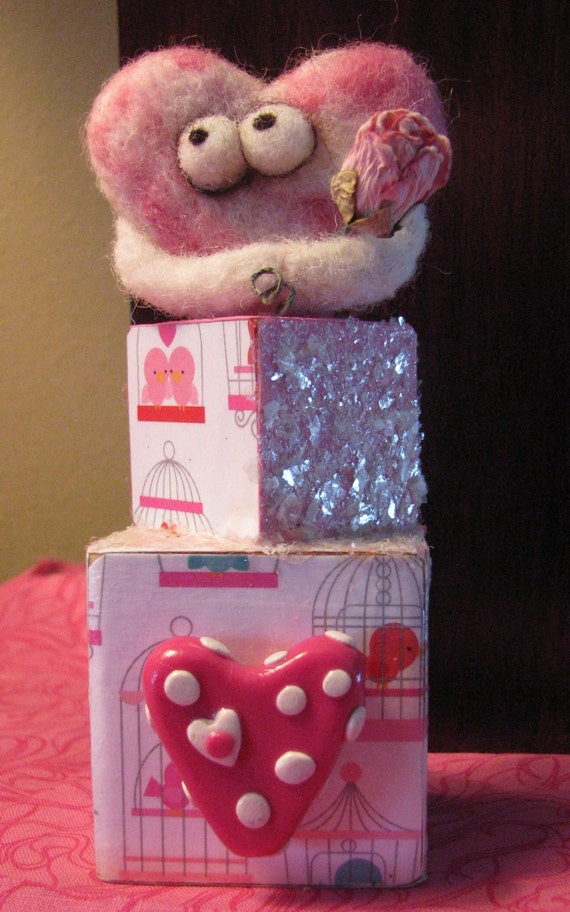 Valentines day needle felted heart, rose, polymer clay, decopaged wooden block, mica flakes,pink
What better way to say I Love You than with felt.....ok add some chocolates too. 2 decopaged blocks with epherma Valentines day paper rest atop each other. One Polymer Clay heart afixed to the larger block. Mica flakes add the extra sparkle for the hand needle felted wool heart. Mixed pink and white lush wool. She holds a rose in her arms. Too cute!! Perfect for Valentine decor, a gift for one you love or keep it out year round for added whimsy!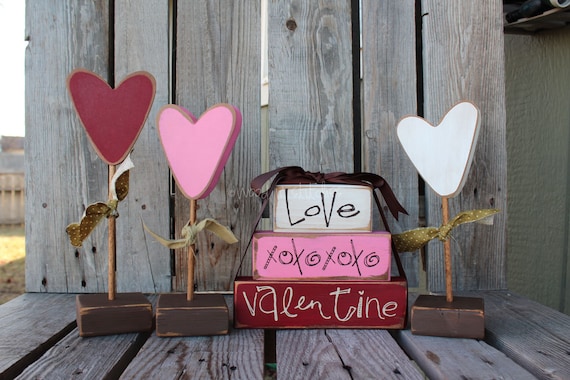 Valentine Heart Flowers Set of 3 primitive wood block valentine heart seasonal personalized home gift decor
Base: 3" x 3" - painted brown, sanded and stained Hearts: 4.5" x 5" (painted pink, red and antique white - sanded and stained). They vary in height, from 11" to 14" (bottom of base to top of heart). They will come un-assembled, you will need to put the dowel in the base and heart (but all pieces will be finished). Fabric ties on the stem will be a variety of fabric (just depending on what I have).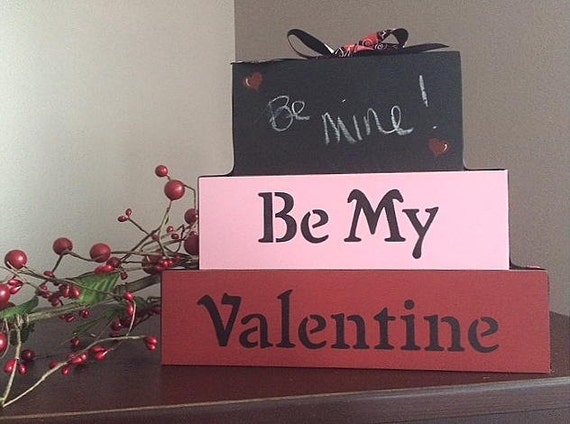 Valentine stacked blocks, personalized
Ours exclusively, NEW for 2016, stacked valentine blocks with a chalkboard! 8" tall x 12" wide, tied completely around in a matching black, red & pink heart ribbon! The top block is a chalkboard with 2 red painted hearts, leave a cute message for your honey! Comes with 2 pieces of chalk! Perfect valentine decor!!!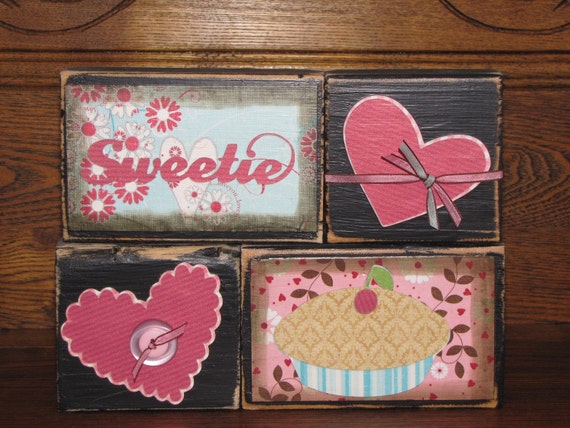 Valentines Day Decor - Sweetie Pie Valentine Sign blocks
A fun little word block set to help you celebrate Valentine's Day!!!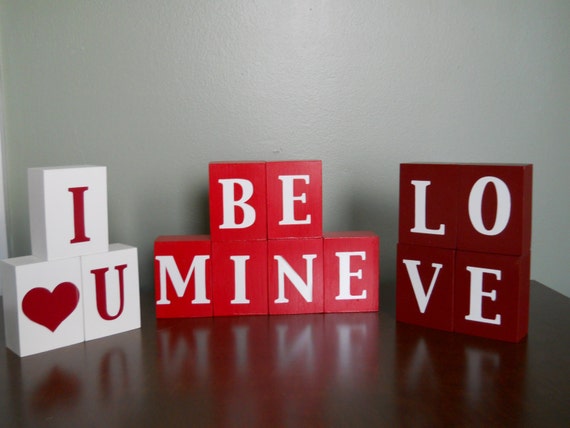 Valentine Saying Wooden Blocks; LOVE, BeMine, Etc. Blocks
All Valentine wooden blocks are hand painted & vinyl lettering sealed in gloss or matte finish per customer preference. Blocks can be lettered on both sides at no extra cost. Price depends on number of blocks at $3.00 a block. Each block is 3 1/4" H x 2 1/2. Please put order information under comments. Shipping cost of $5.00 is for up to 10 blocks. Additional shipping may apply after 10 blocks & shipping may be less if under 5 blocks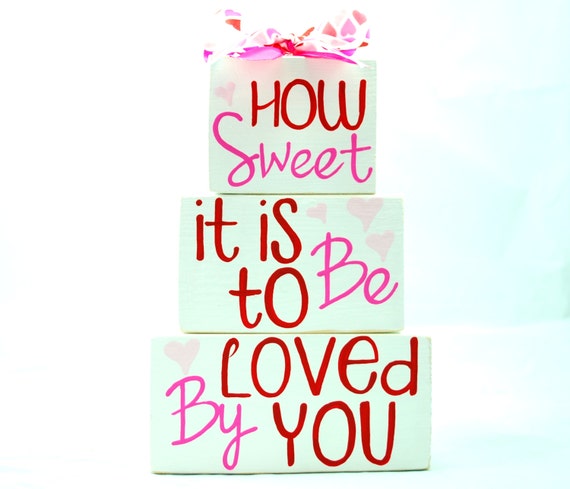 How Sweet It Is To Be Loved By You Red Pink White Valentines
How Sweet It Is To Be Loved By You Red Pink White Valentines WoodenBlock Shelf Sitter Stack measures 5" x 7.5" and is topped with a coordinating ribbon. Colors included in stack pictured are holiday red, bright pink, light pink, and white.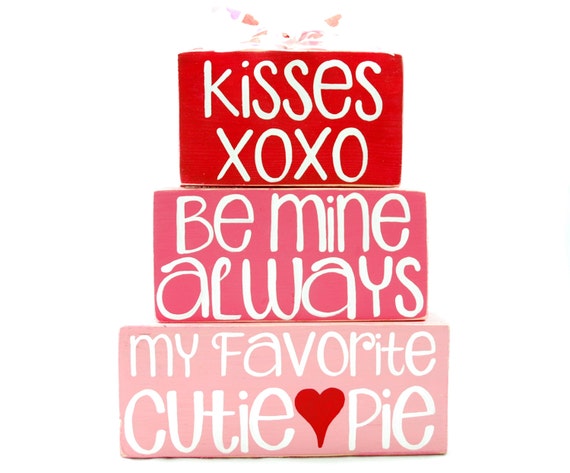 Kisses XOXO Be Mine Always My Favorite Cutie Pie
Kisses XOXO Be Mine Always My Favorite Cutie Pie Valentine's WoodenBlock Shelf Sitter Stack measures approximately 6" x 7.5" and is topped with a coordinating ribbon. Colors included in the stack as pictured are holiday red, hot pink, pink and white.
Rotating Wooden Block Set for Valentines Christmas Thanksgiving Halloween by Wood Finds
Valentines/Halloween/Thanksgiving/Christmas Rotating Blocks One set of (3) blocks which covers 4 different holidays! Simply flip the blocks over and you have another set for the next holiday! Save space as these easily tuck into a drawer when not in use. These would make the perfect decoration for any mantel, shelf, windowsill or table. They make a lovely wedding or housewarming gift. I promise you they will not have a duplicate of these at the end of the gift opening :) These cute blocks are created from 2"x2" wooden blocks. The set sits 10"Wide and 4.5"High. These wooden blocks are painted in latex paint then decoupaged with cute craft paper. The lettering is applied over the sealed paper with vinyl lettering. This listing is for one set of blocks (3), in the size & design specified above. Because each piece of wood is uniquely beautiful (knots, cracks, holes, grain, etc) and each sign is hand stained, painted or distressed, your sign will not be identical to the one pictured.
"My heart is and always will be yours " wooden block set with beautiful Bow
Let them know how much you care with this special wood block set. "My heart is and always will be yours" Makes the perfect Valentine gift or for any time you want to tell them just how much you care. Perfect home decor that sits on the mantel, shelf, desk or inside a bookshelf. Can be customize by adding that special someone's name. Block set measures 4", 6", 8" and comes with matching ribbon. You can special order a set in custom colors and wording. Just leave your specific names in notes and we will customize it for you. Message me and we will make you something special.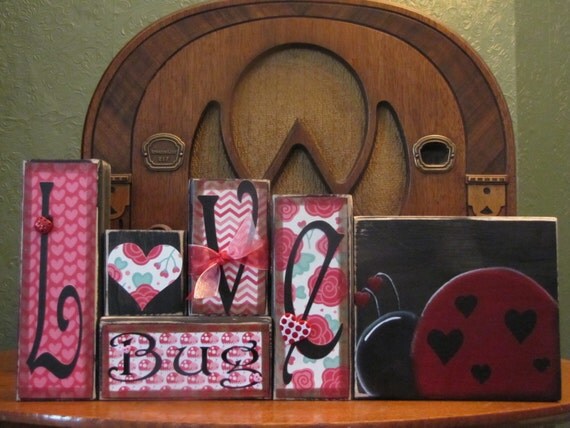 Valentines Day Decor - Valentine Word Blocks - Valentines Sign - Love Bug
A fun little set of blocks to brighten your home for Valentine's Day. Mrs. Ladybug (love bug) has been designed (copyrighted) and painted by me to brighten your home. This set measures 7" tall and 16" wide.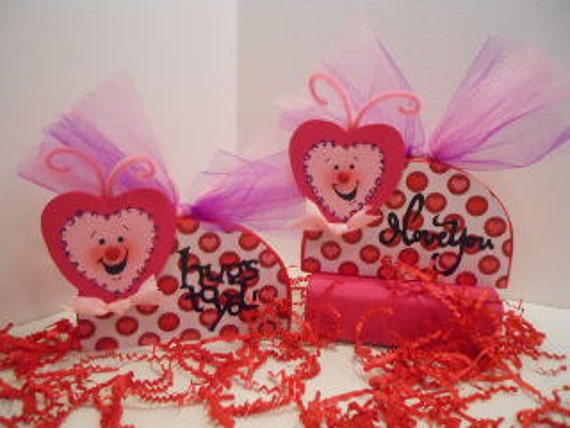 Valentine LOVE Bugs, STLOFG
Cutest Bugs in town! Newly made and original pattern by Paintspots and Splinters. These are available in different patterned scrapbook paper. Cut from 3/4" pine and 1/4" MDF, these guys are painted with acrylic paints and decoupaged with quality scrapbook papers. Their faces are cut out and glued separate to the head with quality wood glue. Their little noses are a small wooden plug glued to the face. The antennae are Pink fuzzy sticks glued to the back of the head. The wings are pink and purple tulle tied and glued to the top of the body. A bow has been glued to the neck for further embellishment. Comes to you wrapped in cellophane and ready to gift with "Hugs To You" or "I Love You" in black vinyl. 19
Valentines Day Blocks Page ONE
--------------------------------------------------
Here are more Valentines Decorative Blocks!:
Valentines Day "Love" Blocks
Valentines Day "XOXO" Hugs Kisses Blocks
Valentines Day "Be Mine" Blocks
Valentines Day Heart Blocks
Happy Valentines Day Blocks
Valentines Day Kiss Blocks