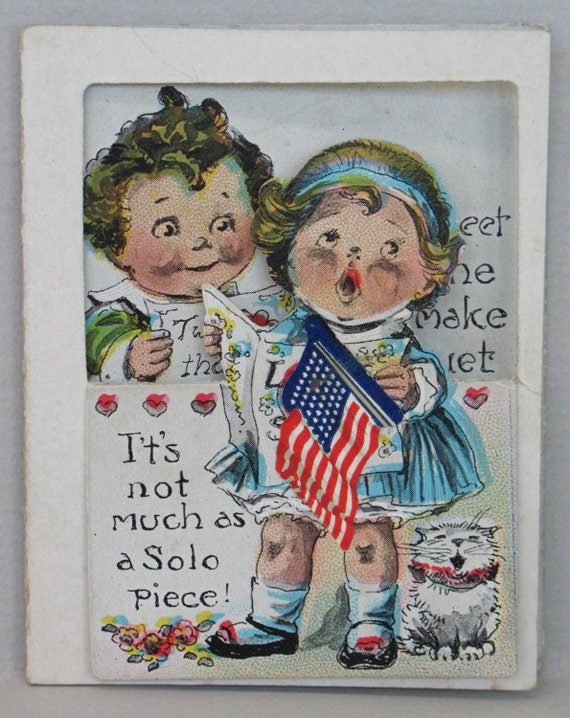 Valentine|Card|USA Flag Vintage Ephemera FLAG
A little girl in a blue dress and headband is holding a USA flag and a book of music lyrics. she and her white cat are singing to a little boy dressed in yellow knickers. The front of the card reads: "It's not much as a solo piece"! Inside the card, with the little boy and a basket of flowers with a red heart, reads "Be my sweet Valentine and make it a Duet". This cute little card also tips out on the front. On the back reads: Series No. 329:--Valentine Cut Outs, 12 designs. made in the U. S. A. And "Beatrice from Alberta" Size: 3 3/8"" ht x 2 11/16" width all approximate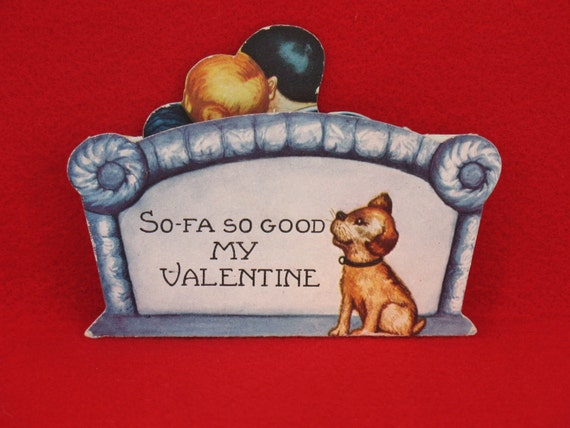 Valentine Card Valentines Day Card Car Boyfriend Love Greeting Dog Two Lovers Romantic Antique
Valentine Card Valentines Day Card Car Boyfriend Love Greeting Dog Two Lovers Romantic Antique. A Valentine card for Valentines Day, an antique greeting card for your boyfriend or girlfriend expressing love with two lovers heads pictured sitting on a couch with a little dog announcing the greeting. This greeting card is a fold out Size: 4" x 2 7/8", opened: 5 3/4 H all approximate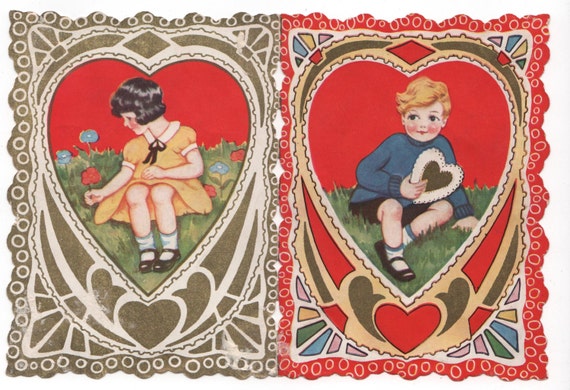 Vintage Valentine Card - Double Sided Boy & Girl 1920's
Vintage Valentine Card 1920's Double Sided Boy and Girl "Some day when I am older, I thik it will be fine, If you would be, Sweetheart, to me A loving Valentine." Card is written inside George measures 4 5/8"L X 3 1/4"W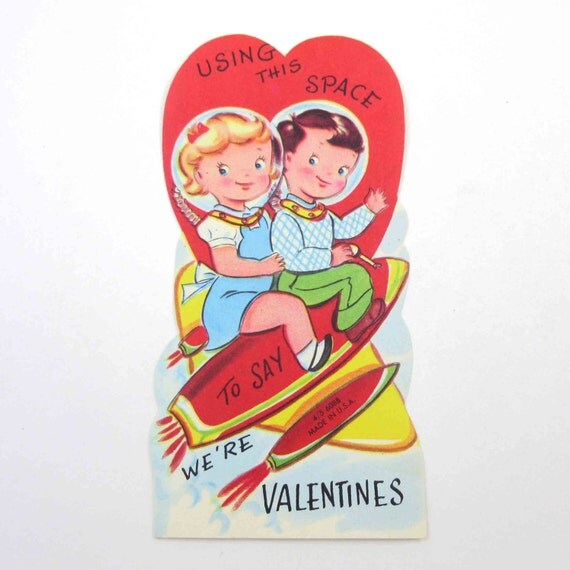 Vintage Children's Novelty Valentine Card with Space Boy and Girl Astronauts on Rocket Ship Space Travel
An adorable vintage valentine card with a cute little boy and girl on a rocket ship! Measures approx. 2 1/2" x 52". Properly aged to perfection! Signed on back. Super cute! Sold as is. Perfect for your collection, holiday decorating or stash of ephemera for collage, assemblage, mixed media, scrapbooking or altered art projects!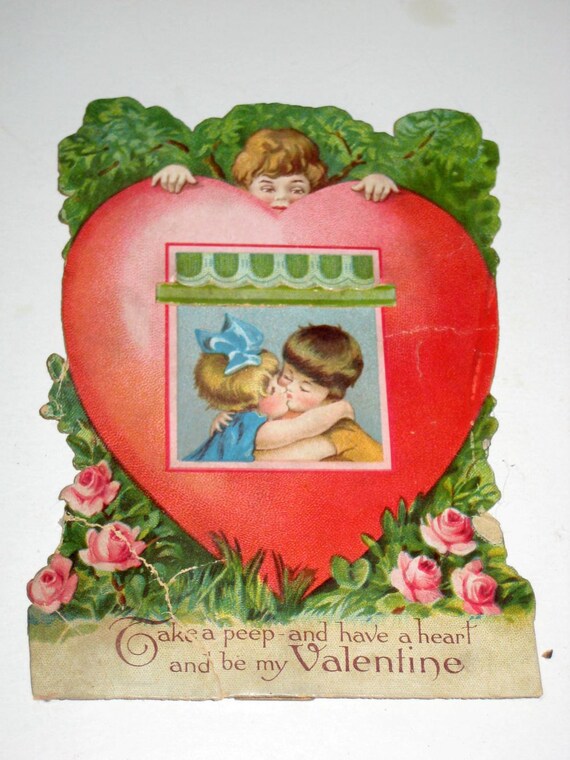 Vintage Mechanical Valentine Card - Boy and Girl Kissing Behind Roll Down Shade
This large card measures 6" x 4". It depicts a girl in a blue dress with a big blue bow in her hair kissing a boy. The window shade goes up and down. I don't know exactly how old it is. Based on what I've seen online, I would say the 20s or early 30s The left corner has some serious creasing but the entire card is still intact... Still a lovely and colorful display piece, or a valentine for a vintage loving friend.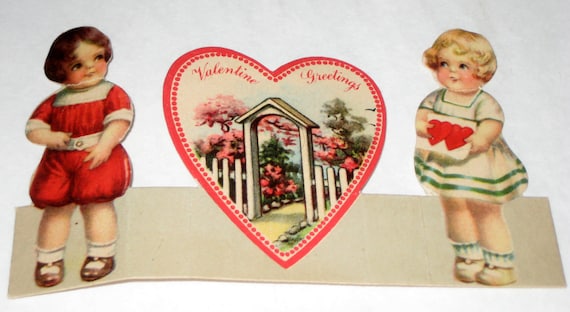 Vintage Valentine Card - Children, Boy and Girl
This card features a very sweet boy and girl and simply says "Valentine Greetings.". This card measures about 5"' x 3" and is in good condition. It has several bends but is still intact. It has folds so it can stand by itself.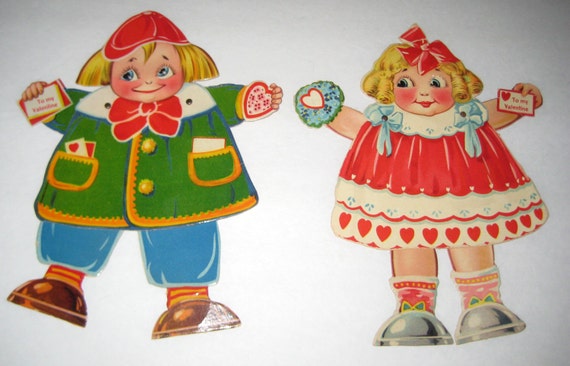 2 Vintage Large Mechanical Valentine Cards - Girl and Boy Dolls with Google Eyes
These large cards measures 7.75" x 6". They depict a girl and boy doll with google eyes, or at least eyes that move. They are mechanical cards with arms that allow the eyes to move when pulled .The cards are in very good condition with only a small bend on her bow. A great pair to add to a vintage valentine collection.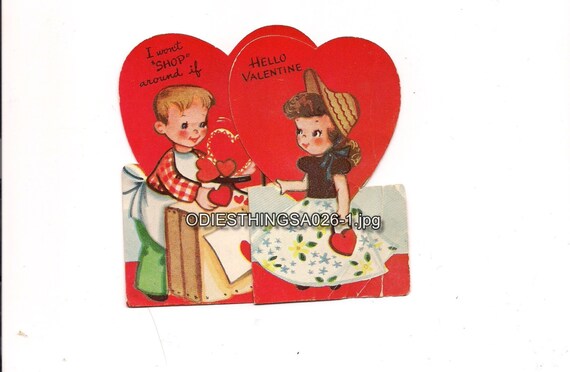 Hello Valentine - Ameri-Card Valentine Card Opens Up Vintage
This is a very nice old Valentine card with little boy and girl. This card appears to be from the 1950's. There is some folding at the lower right corner where it was packed away.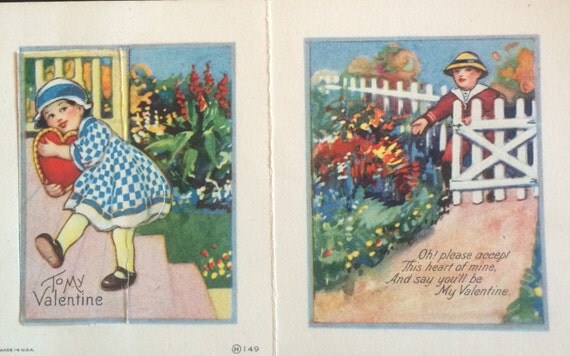 Antique Valentine Card, Die Cut Carrington Card, ca. 1910s
Warrington Card punch out card for children. Valentine hearts and flowers - won't you mine? Condition: Good; back of card has signature and some soiling. Measurement: Approximately 3" W. X 3" H.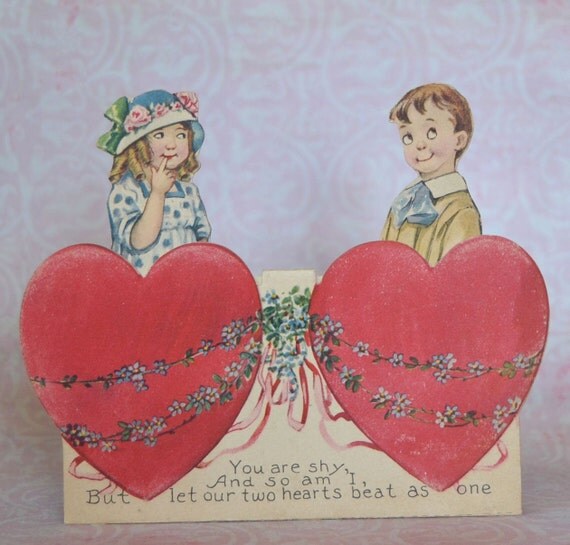 Lovely Vintage Stand-Up Valentine Card Children and Hearts
Vintage stand-up, die-cut Valentine card of a cute boy and girl standing behind two hearts. An early card from 1920's or before. Measures approx. 4 1/2" x 5 3/8". Very good condition. Very light crease on boy's neck. Light discoloration. Names on back in ink. A very sweet card !!!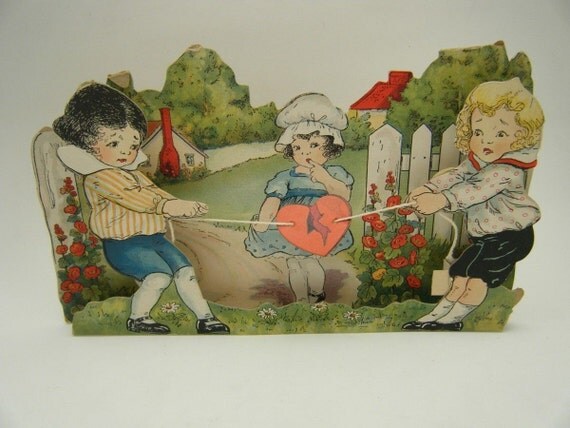 Large 3-d Antique Valentine Card 2 Boys Play Tug-of-War with Heart, Girl Watches
Up for offer here is a lovely antique, early 20th century Valentine's Day Card that is large, colorful and 3-d. It depicts two little boys playing tug-of-war with a heart that is tearing whilst a little girl, who looks very similar to Dolly on the Little Rascals, coyly tries to choose who would win her heart. Seems she would prefer both to win! Card is in very fine, original condition. Very small areas of loss at the top of car where the trees and bushes are pointed - very hard to notice. Measures 8.5" x 5"x .5"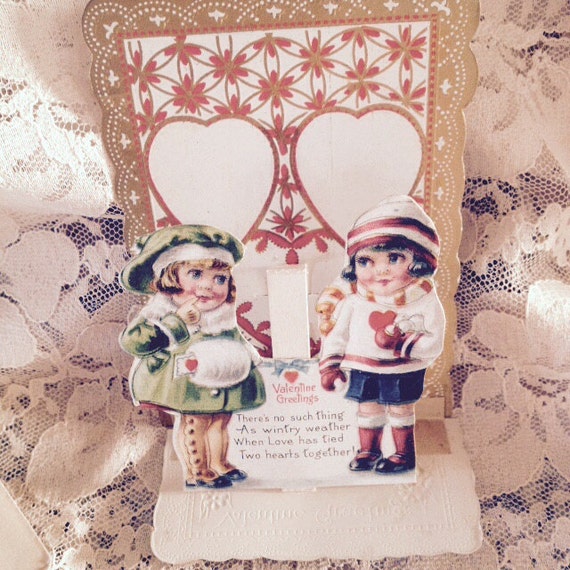 Vintage Wintry Weather Valentine's Card - Unused
"Ther's not such thing as wintry weather when Love has tied Two Hearts together!" Girl dressed in a green coat and matching hat. Her hands are in a fur muff with a ribbon attached to the boys mittens.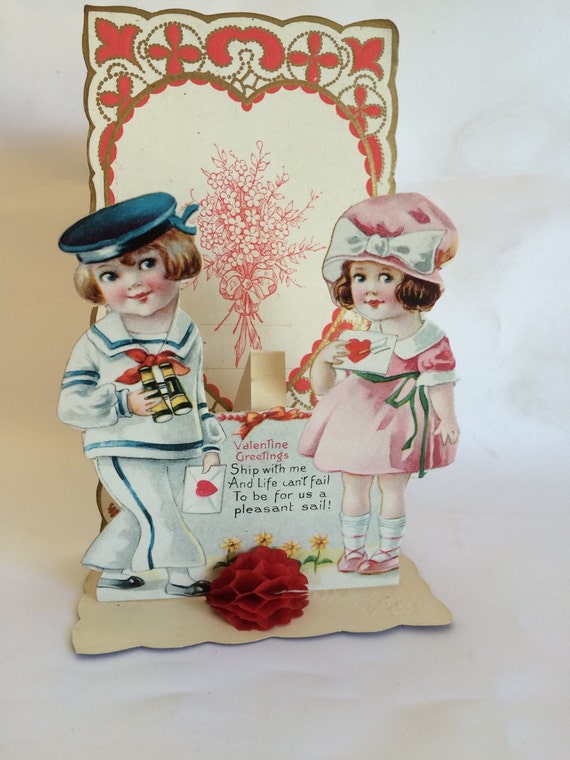 Vintage Sailor Boy and Girl Valentine's Card - Unused
Vintage Mechanical Valentine card dating to the 1940's. Shows a sailor boy and a pretty girl. Reads: "Valentine Greetings. Ship away with me, And life can't fail, To be for us a pleasant sail!" The bottom of the card reads: ""To my Valentine. Love brings sunshine to the heart, May yours in mine such joy impart". This part folds down so the card can stand. Card measures 6-3/4" x 4". Condition is very good with no writing on back.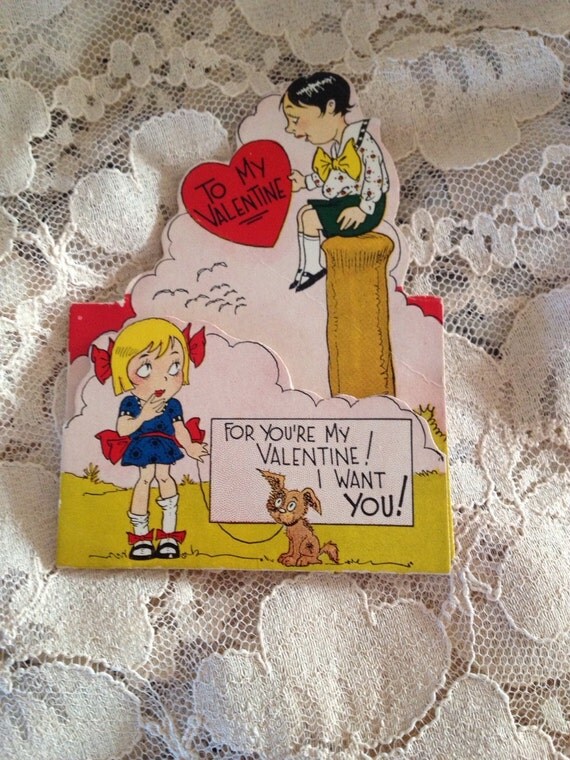 1940s Vintage Stand Up Valentine's Card
A darling vintage Valentine card featuring a boy sitting on a tall tree stump calling down to a girl with her puppy on a leash "for you're my Valentine! I want you. On the back is written: Elenaor Newmann. From Eunice.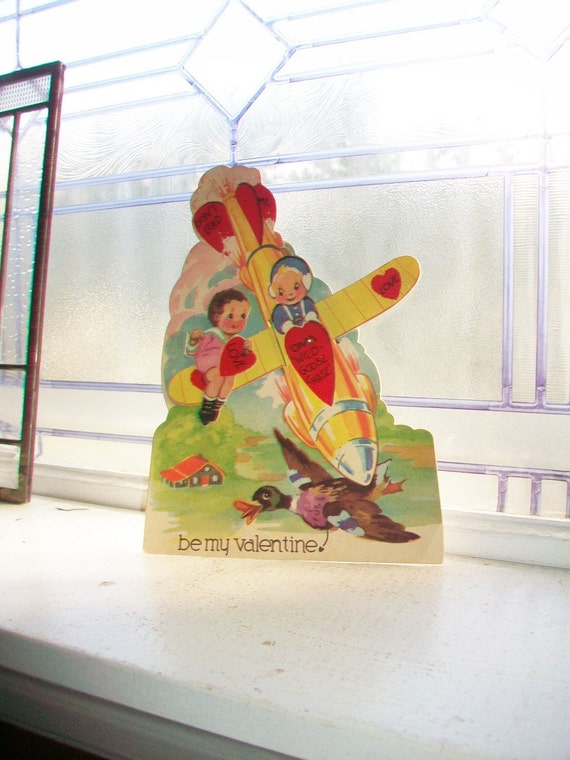 Vintage Valentine Card Airplane Wild Goose Chase Movable
Vintage 1950s movable boy and girl in an airplane Valentine card, perfect for display. When you move the wing of the airplane the girl goes up and down. It measures 10" high. It reads "Don't lead me on a wild goose chase". Enjoy!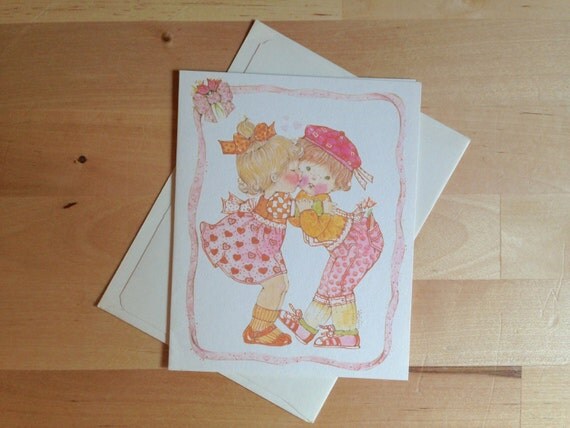 Vintage Happy Valentine's Day - You're Somethin' Special - Sunnysides - (C) Current, Inc.
Vintage Valentine's Day greeting card. Cute kissing kids design on the front cover. Inside: Know somethin'? You're somethin' special! Happy Valentine's Day Measures about 4" x 5". Pictures accurately show colors and condition.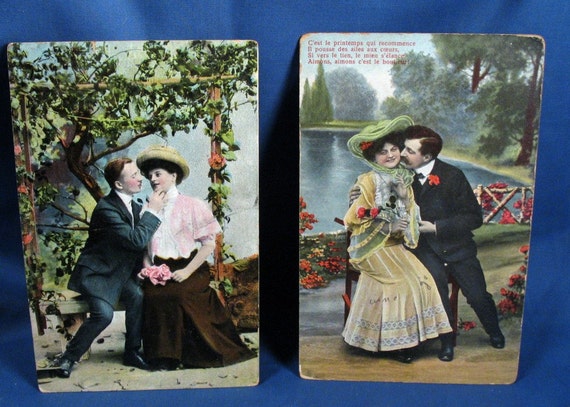 Vintage Valentines Postcards - Set of Two - 1910 Handcolored Photos
Set of two photographic valentine postcards. Both are vertical and were mailed. They have the appearance of being handcolored (prior to being printed I would guess). First card shows a man and woman sitting on a bench by a lake. Woman has long yellow dress and large green hat. She is holding some red roses. The man has a red flower in his lapel. There is some french at top left corner - C'est le printemps qui recommence Il pousse des ailes aux crere Si vers le lien, le mien a'elance Aimons, aimons c'est le boulier!. There are two words written on the womens skirt. The second card shows a couple sitting on a bench with a trellis behind them. The woman has some pink flowers. Both cards in good condition, colors are bright. No tears, holes or bad stains. Some fuzziness on the corners and edges. One has Msde in Germany printed on the back. The other one has mulitple languages on the back including russian (i think) No mention of where it was made.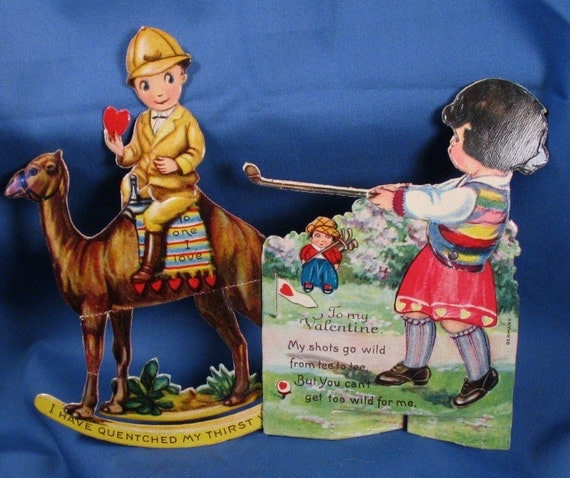 Vintage Die Cut Mechanical Valentine Greeting Cards - Made in Germany
Set of two Mechanical Die Cut Valentines greeting cards. Both made in Germany and are on glossy stock. One is a camel with a boy in a safari outfit. 5-1/2 inches tall by 4-1/4 inches across. The camel's background legs separate to form a stand. The boy leans backward or forward in his seat. He is carrying a red heart. On the bottom is says " I have quentched my thirst with love" On the saddle blanket the boy is sitting on it says "To one I love" The other card is a little girl golfer teeing off. 4-1/2 inches tall by 3-1/8 inches across. The girl moves from the waist up to swing the golf club. The golf ball on the tee has a heart on it and there is a row of white hearts on her skirt. It says "To my Valentine. My shots go wild from tee to tee, But you cant get too wild for me." There is another golfer in the background. At the base is an area where the bottom can be folded back for a stand. Girl has a small metal clasp to hold the head and torso to the background. Both are in very good condition, no stains, marks or tears. There is a fold line at the base of the camel It looks like a machine made perforation. Slight fold marks on the safari boys neck and the camels front leg. The golf club has some wear around the edges.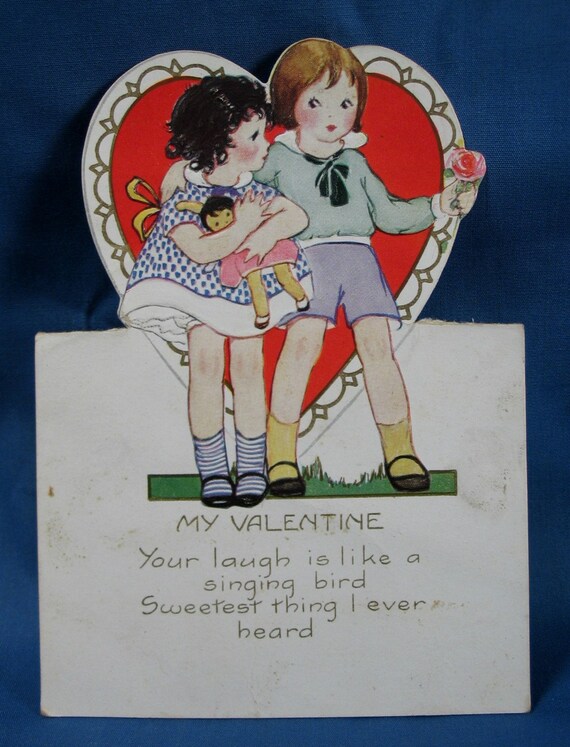 Vintage 1930s Childrens Valentines Card
Childrens Valentines Card from the 1930s. Approximately 5 inches tall by 3-1/2 inches across. Cutout heart section on the top. Two children, a girl with a doll and a boy with a rose. Embossing around and on the figures. Good condition, colors still bright, background a little yellowed. No tears, rips or holes. Minor staining on the bottom section white background.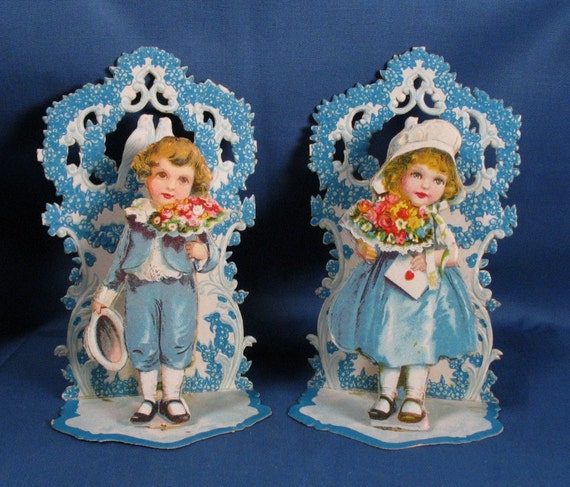 Vintage Diecut Stand Up Valentine Cards - Set ot Two - Made in Germany
Set of two vintage valentine cards. Approximately 4-1/4 inches tall. Embossed, diecut backgrounds with two lovebirds at the top and blue flowers. Figure stands in front. Bottoms have To My Valentine printed on them. One card has boy figure in blue suit. He is carrying a bouquet of red and pink flowers and his hat. The other card has a girl figure in a blue dress and white cap. She is carrying a pink and red bouquet and an envelope with a heart on the back.Figures are 3-1/4 to 3-1/2 inches tall. Made in Germany is printed on the back at the bottom. The back of the boy figure is blank, the back of the girl figure has a name penciled on it. Both good condition, fronts are clean, no marks, tears, rips or missing pieces. Each base has a small stain. The stain doesn't show unless you look down on the opened card. There is some age yellowing on the backs. Both stand on their own.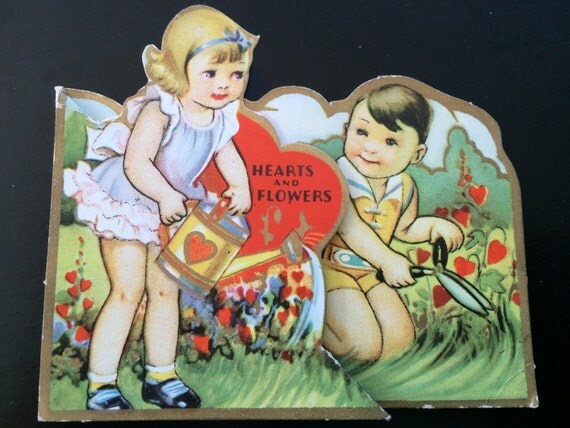 Vintage Valentine's Card Die Cut Stand Up Children Watering Can Garden
Vintage Valentine's Day card from circa 1945. Die cut of children in a garden with watering can. A little wear at the fold. Stands up.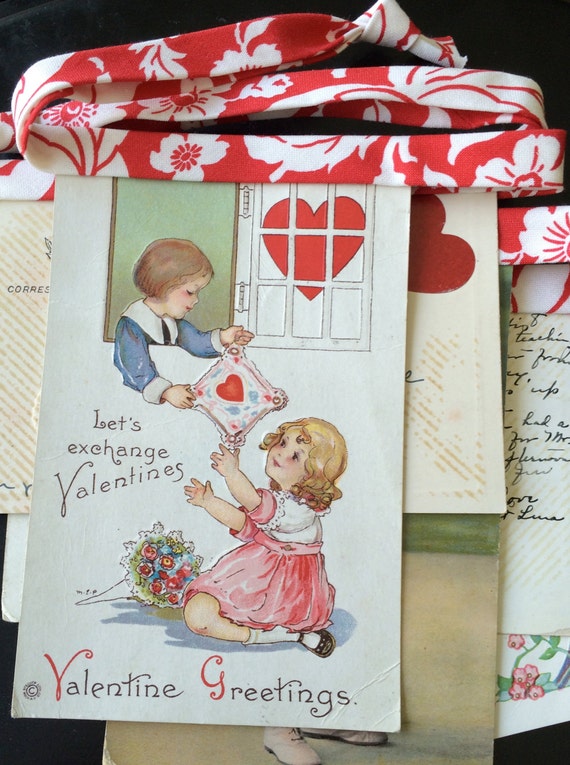 Vintage Valentine Antique Postcard Banner Bunting Children Hearts Roses Cottage Chic
Vintage Valentine banner or bunting made from five antique Valentine postcards and a handmade bias tape. Banner measures 42" long and is made in my smoke free home. Hang this shabby cottage chic banner in a widow, doorway or mantel for a vintage festive look.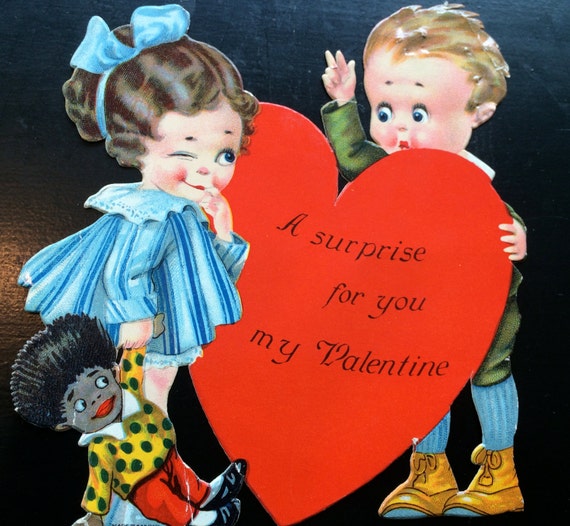 Vintage Valentine Frances Brundage 1920's Die Cut Children & African American Doll
Vintage Valentine attributed to artist Frances Brundage. Circa 1920 die cut with African American doll held in little girl's hand. Some wear at boy's head and a few creases at the doll and girl's dress. 5" x 6"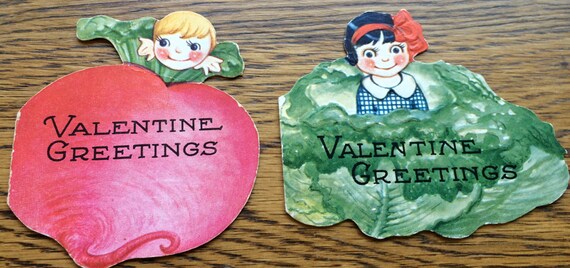 Vintage Valentines Two 1930's Vegetable Kids Radish Lettuce
Pair of vintage Valentines circa late 1920's to early 1930's. A couple creases on the radish. They are about 3" high.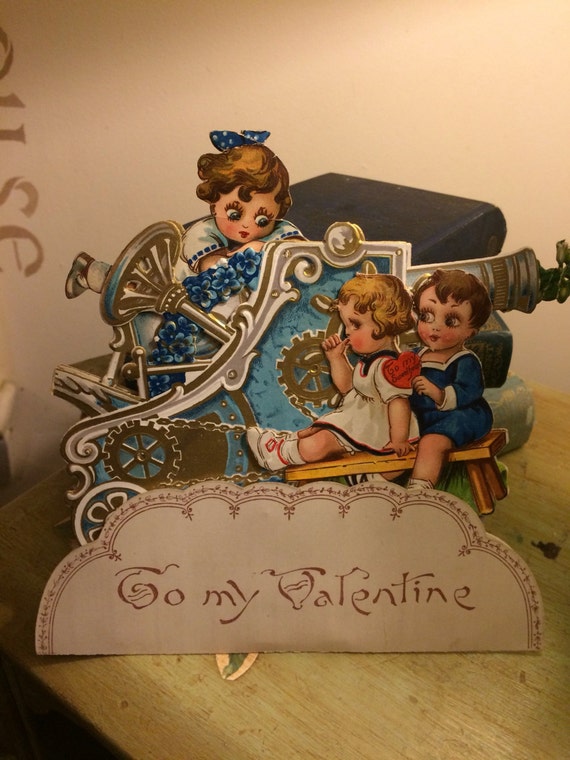 Antique German Valentine Standup three dimensional Chloe Preston 1924
Stand up three dimensional made in Germany and dated 1924. Artist is most likely Chloe Preston. A few minor problems: flower coming out of cannon has crease, and stand is beginning to split.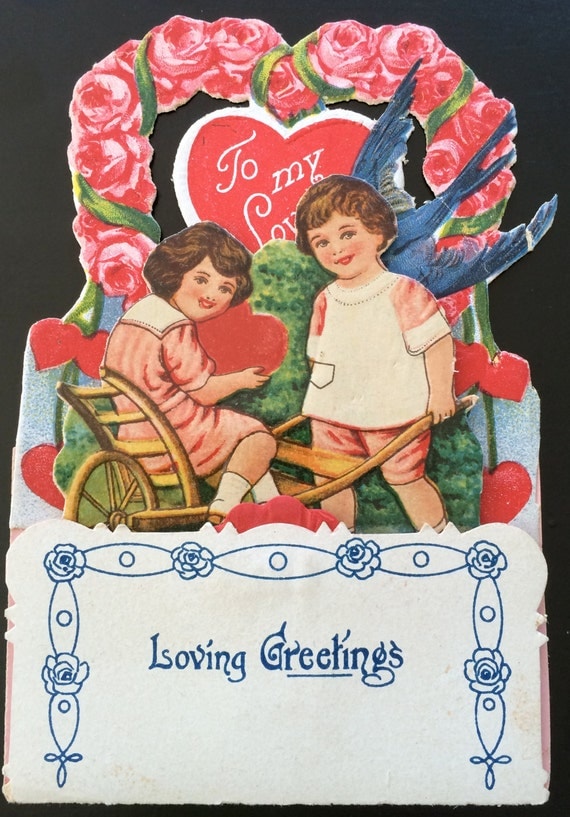 Antique Valentine Card Vintage Die Cut Children & Cart Blue Bird Roses Standee German
Antique Valentine's Card printed in Germany. Circa 1920 standee type with small honeycomb. Bend at bird's wing. 4.5" tall and 3" wide.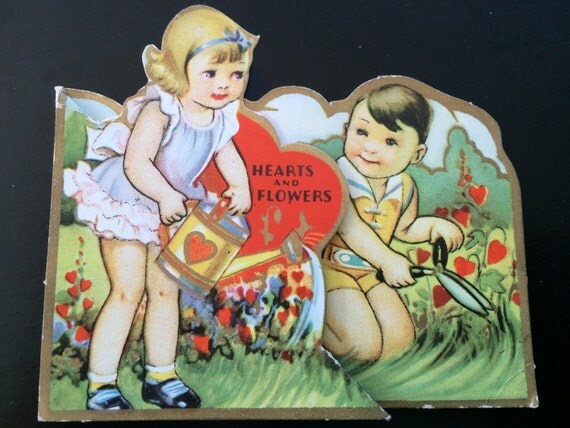 Vintage Valentine's Card Die Cut Stand Up Children Watering Can Garden
Vintage Valentine's Day card from circa 1945. Die cut of children in a garden with watering can. A little wear at the fold. Stands up.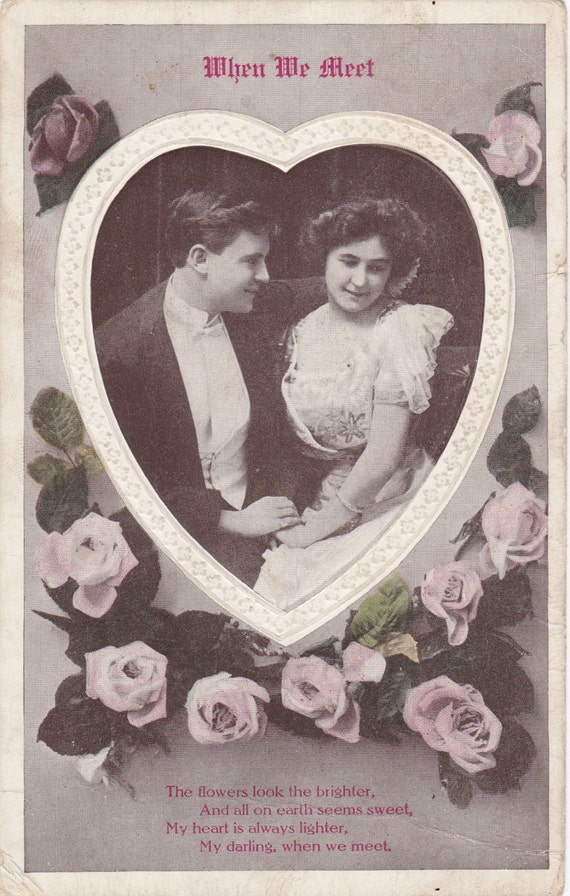 When We Meet- 1910s Antique Postcard-
(3 1/2 x 5 1/2 In) This is an original antique Anglo New Art Series postcard from the 1910s. It shows an Edwardian couple framed by a hear and tinted punk roses, "When We Meet". "The flowers look the brighter, And all on earth seems sweet, My heart is always lighter, My darling, when we meet."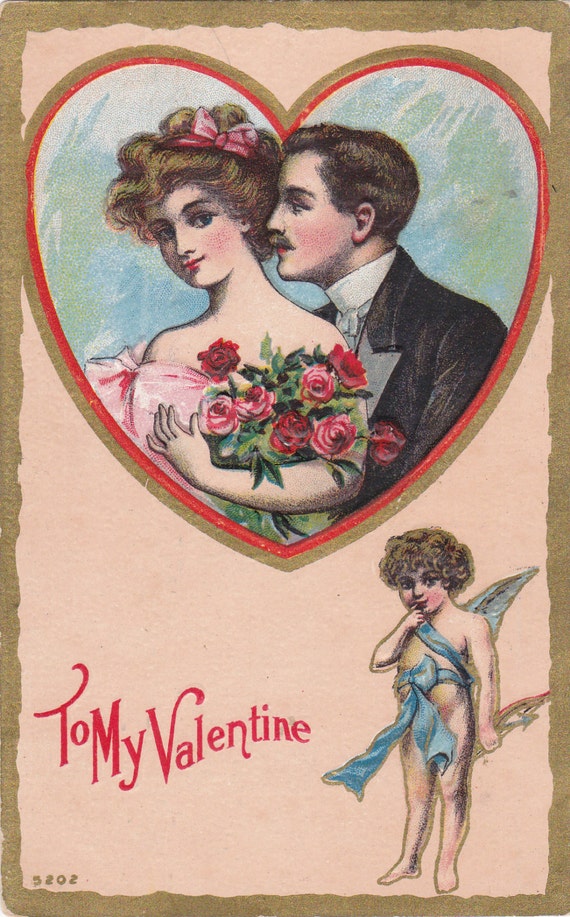 Whispering Sweet Nothings- 1910s Antique Postcard- Edwardian Romance- Valentine Decor- Cupid's Arrow- Art Card- Paper Ephemera- Used
(3 1/2 x 5 1/2 In) This is an original antique postcard from the 1910s. It shows an Edwardian beau whispering sweet nothings into his sweetheart's ear as cupid watches, "To My Valentine". "Hello Sis: How you was? We are fine + dandy everyone is asleep. I hope to see you before long. I can talk with you better than I can write. By Bye. And Soon. Maggie", reads the message written on the back. The postcard is in VERY GOOD condition, wear at the edges.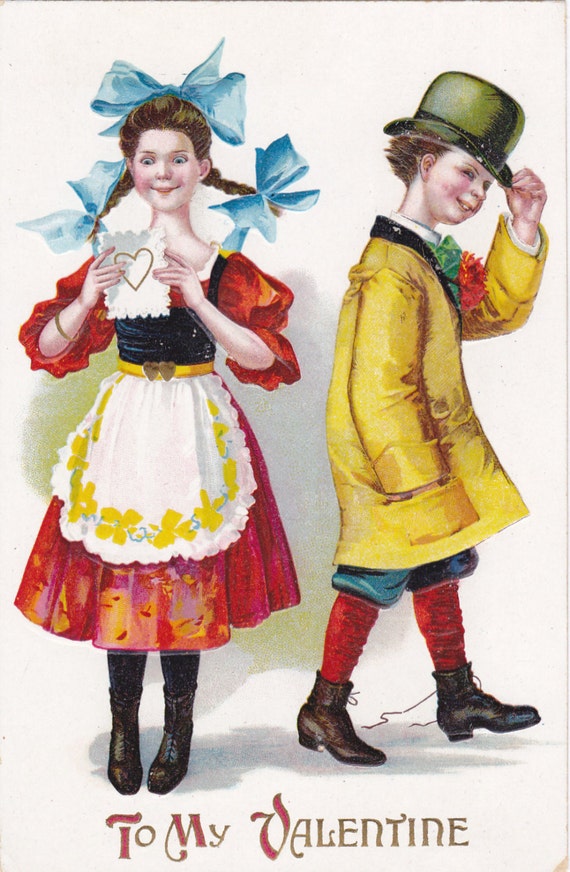 My Valentine- 1910s Antique Postcard- Ellen Clapsaddle-
(3 1/2 x 5 1/2 In) This is an original embossed antique International Art Publ. Co. postcard from the 1910s. It shows an adorably shy boy handing a Valentine to his sweetheart without pausing to see her delighted reaction, "To My Valentine". The postcard is used and is in VERY GOOD condition, light wear at the edges, blunted corners, small pinhole near the boy's shoe, a few minor areas of wear on raised parts. 30
Vintage Boy Girl Couple Cards Page ONE
Vintage Boy Girl Couple Cards Page TWO
Vintage Boy Girl Couple Cards Page THREE
Vintage Boy Girl Couple Cards Page FOUR
Vintage Boy Girl Couple Cards Page SIX
Vintage Boy Girl Couple Cards Page SEVEN
Vintage Boy Girl Couple Cards Page EIGHT
--------------------------------------------------
Here are more Valentines Day Vintage Cards!:
Vintage Valentine Cards
Vintage Girls Valentine Cards
Vintage Boys Valentine Cards
Vintage Boy & Girl Couple Valentine Cards
Vintage Dogs Valentine Cards
Vintage Bunny Valentine Cards
Vintage Bears Valentine Cards
Vintage Cats Valentine Cards
Vintage Paper Lace Cards
Vintage Cupid Valentine Cards
Vintage Circus Valentine Cards
Vintage Teacher Valentine Cards
Vintage Flower Valentine Cards
Vintage Sailor Valentine Cards
Vintage Giraffe Valentine Cards
Vintage Cowboys/Cowgirls/Indians Cards
Vintage Space Astronaut Cards
Vintage Elephants Valentine Cards
Vintage Lions Tigers Valentine Cards
Vintage Farmer Valentine Cards
Vintage Sports Valentine Cards
Vintage Marching Band Valentine Cards
Vintage Trains Valentine Cards
Vintage Birds Valentine Cards
Vintage Monkey Valentine Cards
Vintage Police Valentine Cards
Vintage Hunting Valentine Cards
Vintage Pirate Valentine Cards
Vintage Owl Valentine Cards
Vintage Fireman Valentine Cards