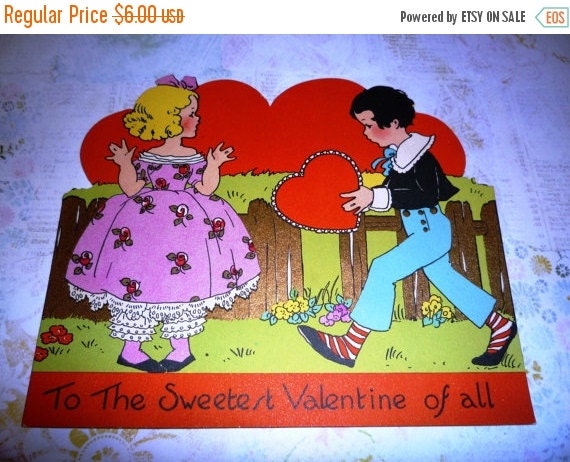 Vintage 1930s Boy and Girl Valentine
Valentine is in excellent condition. 5 1/4 x 6". Signature on back. Colors are very nice. Carrington valentine.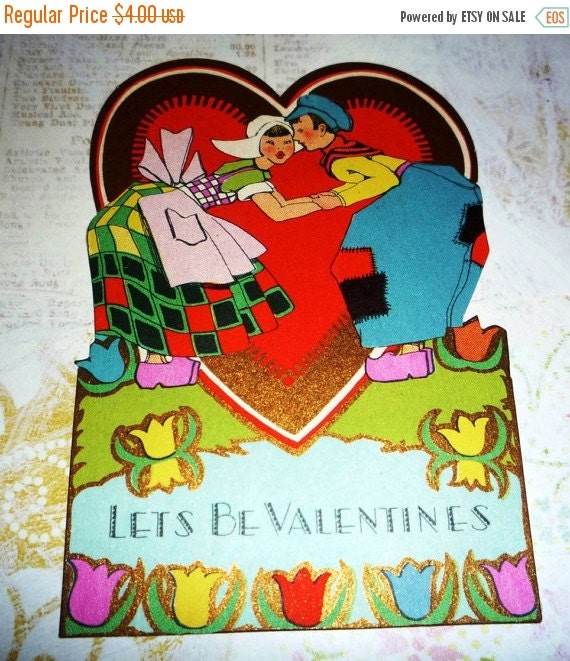 Vintage 1930s Valentine Little Dutch Couple
Very cute little valentine in excellent condition. Vibrant colors. Signed on back. Carrington. 4 1/2 x 3 inches.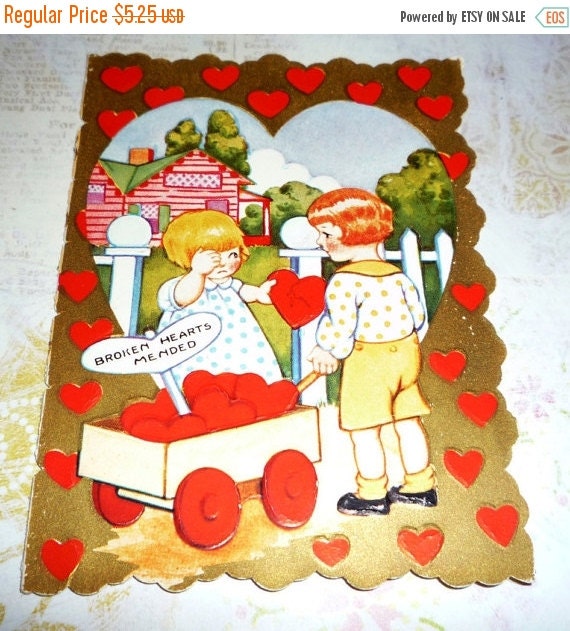 Vintage 1920s Unused Valentine Broken Hearts Mended
Absolutely precious little card! Back is also printed. Excellent condition. Very colorful. 3 3/8 x 4 1/2 inches.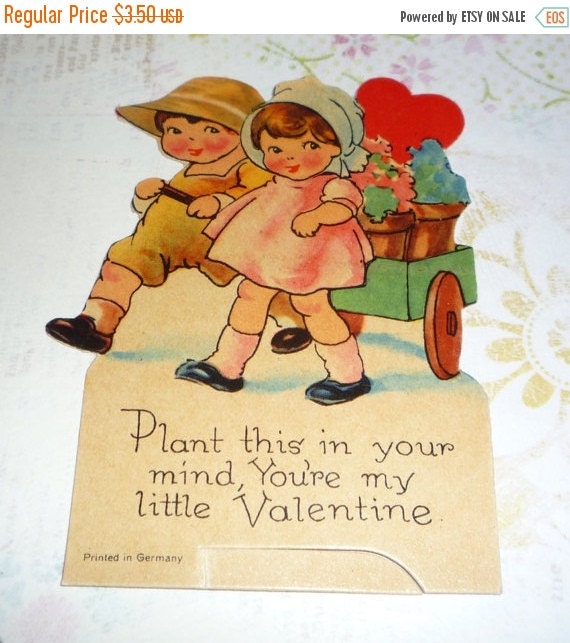 Boy and Gil With Cart of Plants Vintage Valentine
Sweet little card was printed in Germany. 3 1/4 inches tall. Excellent used condition.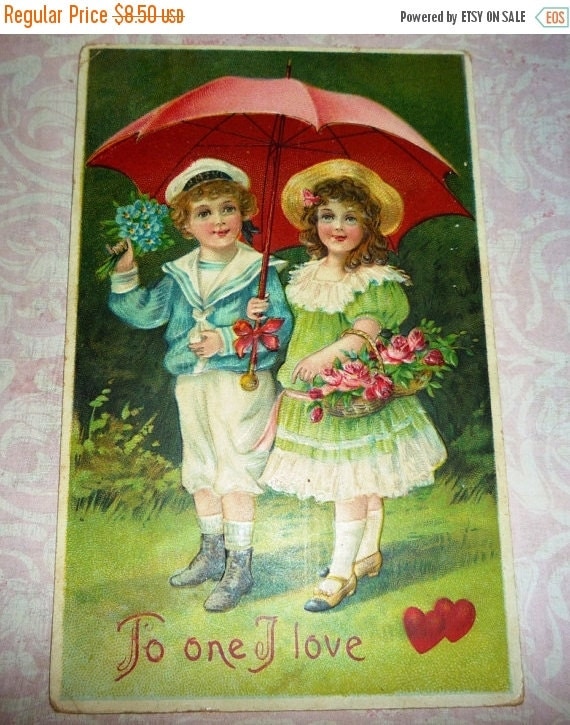 Two Sweet Children Holding an Umbrella Antique Valentine Postcard
Beautiful old card! Vibrant colors. Printed in Germany by B.W. Postmarked 1909. Corners a bit worn. In very good condition.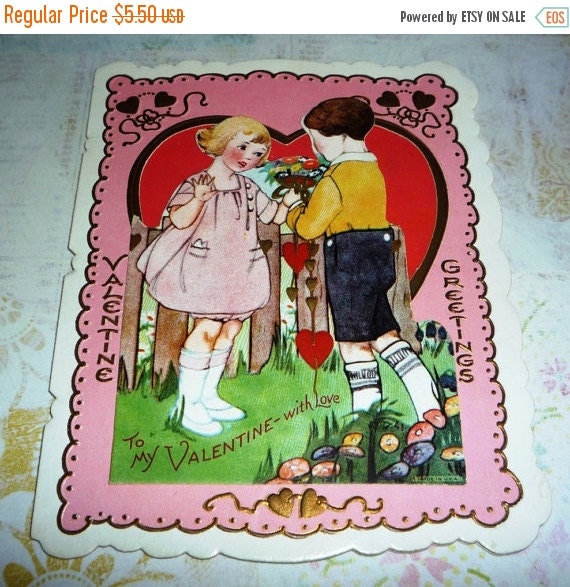 Vintage 1920s Valentine With Boy and Girl
Very colorful and pretty card in great condition. Has writing on the back. Measures 4x5".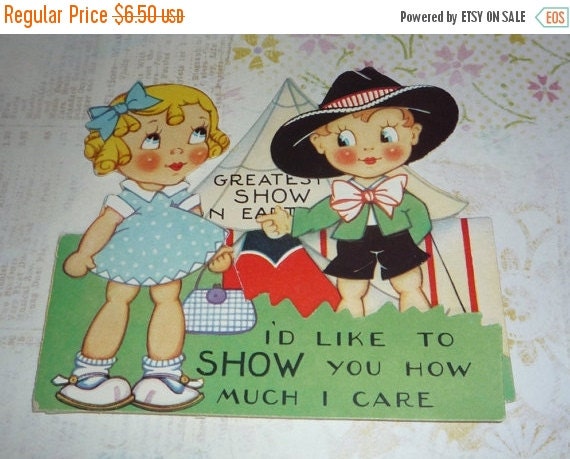 Cute Girl and Boy - Id Like to Show You How Much I Care Folding Vintage Valentine
This such a cute old valentine. It opens up. 3 5/8 inches by 4 1/4 inches when closed. In excellent used condition.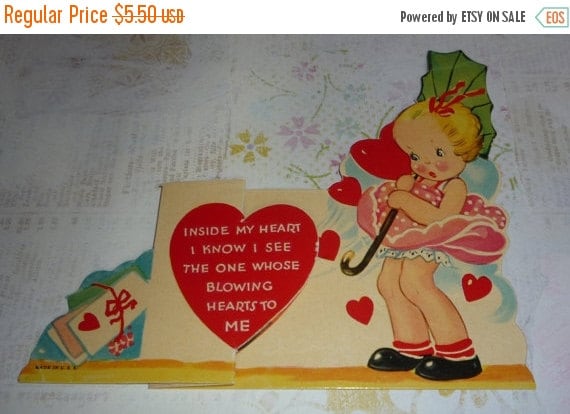 Boy Blowing Hearts to Cute Little Girl With Umbrella Vintage Valentine
Cute folding valentine. 5 x5 1/2 inches. VG used condition.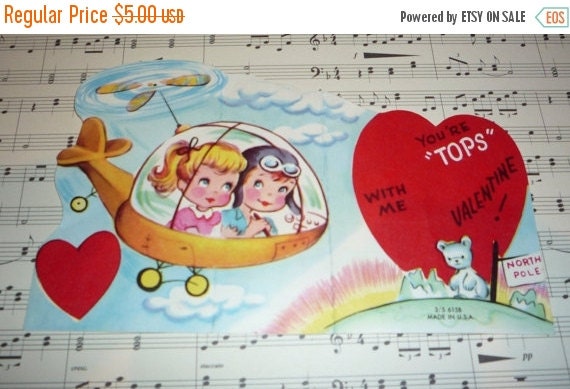 You're Tops With Me Helicopter Valentine - Vintage 1950s
Unique helicopter valentine. 6 x 3 3/4 inches. Folds. A couple of light creases on the back. Good condition.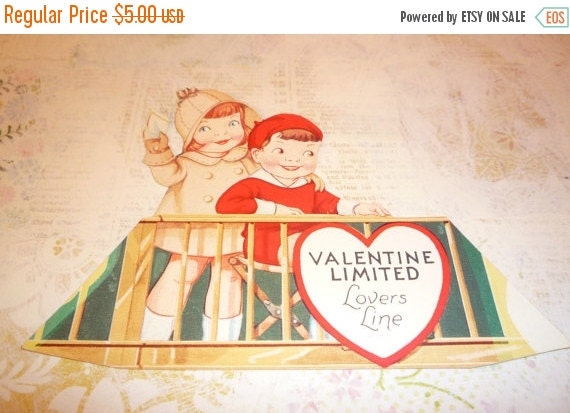 Lovers Embark on Cruise Vintage 1930s Valentine
Cute little card. 5 1/2 x 4 inches in excellent condition. Used.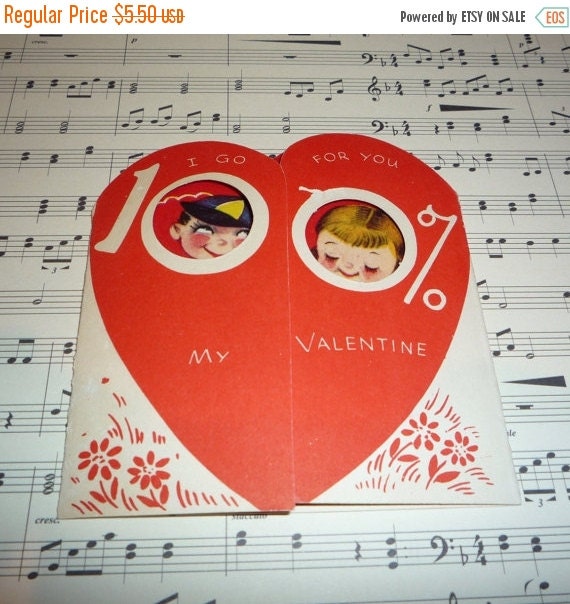 I Go For You 100% My Valentine Vintage Fold Open 1940s A-Meri-Card
For some reason, I just love this little card. 3 3/4 by 3 1/2 inches. Used, but in excellent condition. Comes with the envelope.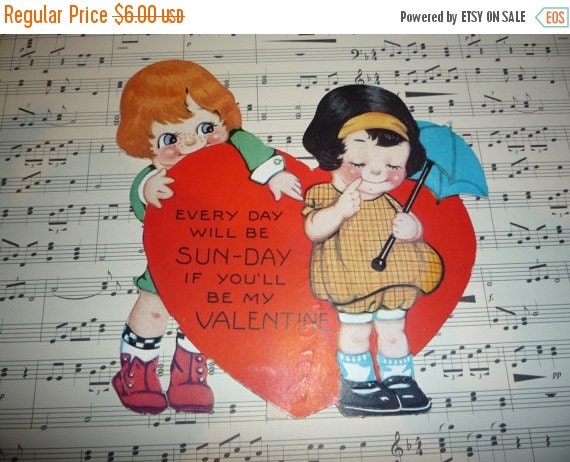 Every Day Will Be Sun-Day If You Will Be My Valentine Vintage 1927 Stand Up Valentine
Cute card in very good condition. Stands up in back. Used. Dated 1926-27. 5 1/4 x 5 1/5 inches.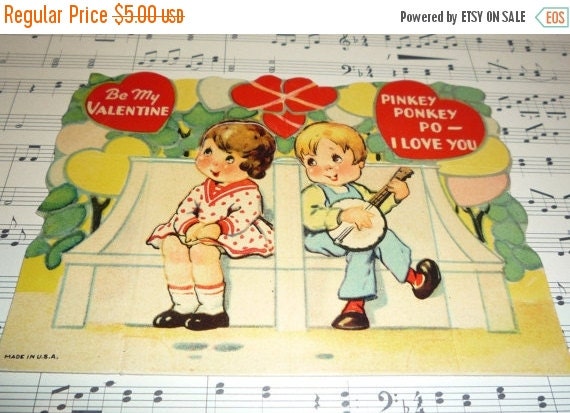 Cute Boy Plays Banjo And Sings to His Valentine Vintage 1930s Valentine
Sweet card. Used and in excellent condition. Looks like it fold to stand up.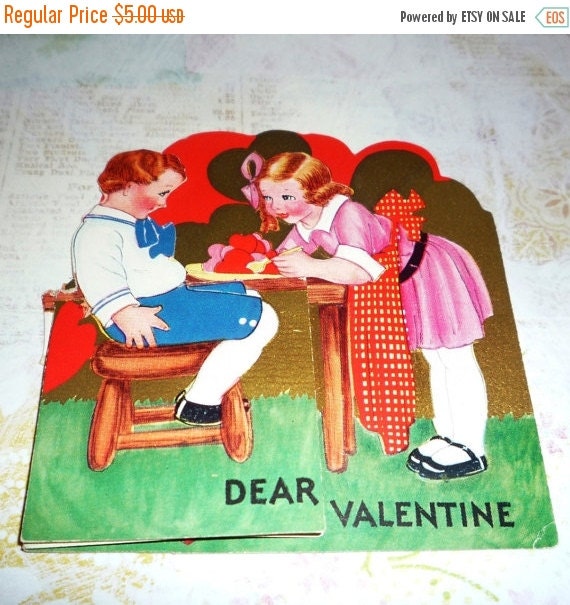 1940s Vintage Valentine Card Girl Feeding Boy Valentines
In her perky pink dress, with her red gingham apron, this little girl has her eyes fixed on her beau. And she is just about to feed him a valentine supper. This darling foldable valentine is from the 1940s. It does have a little crease on the inside, but otherwise it is in great shape. It is three and three fourths inches tall and wide.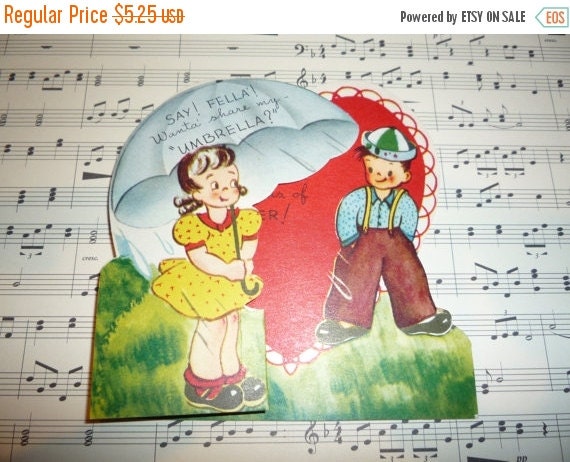 Vintage 1940s A-Meri-Card Fold Out Valentine - Girl Wants to Share Umbrella With Boy
Nice card. Used on back. Excellent condition. 4 x4 inches. With envelope.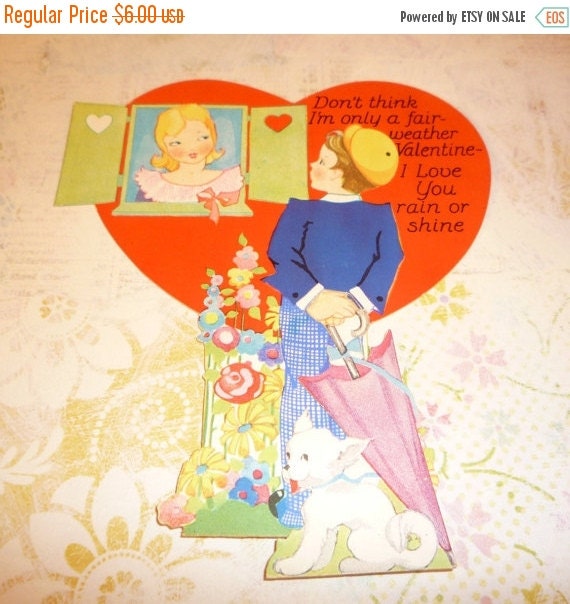 Vintage 1930s Carrington Stand Up Valentine - Boy Loves Girl Rain or Shine
Beautiful card in near mint condition. Name on back. Made by Carrington Co. 5 inches tall.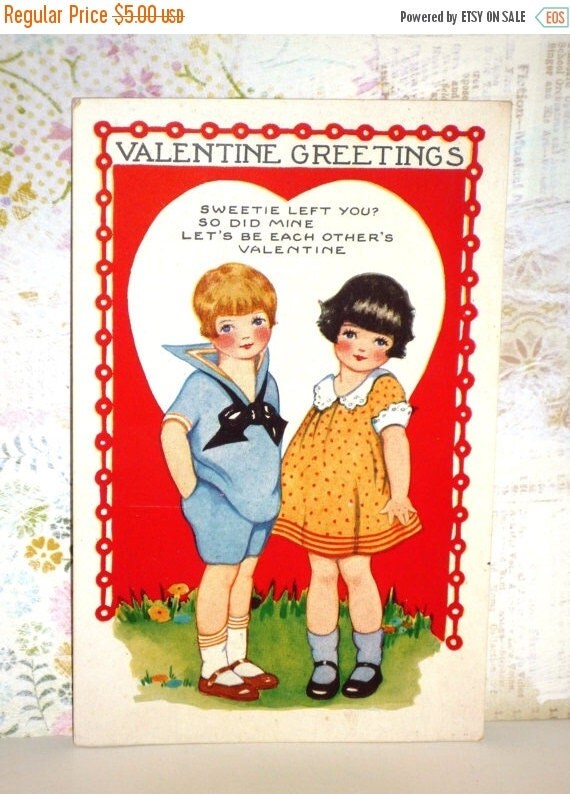 Valentine Greetings Whitney Postcard
Here is a postcard, which I believe was from the 1920s. The illustration is sweet and it is in very good condition. It is signed on the back.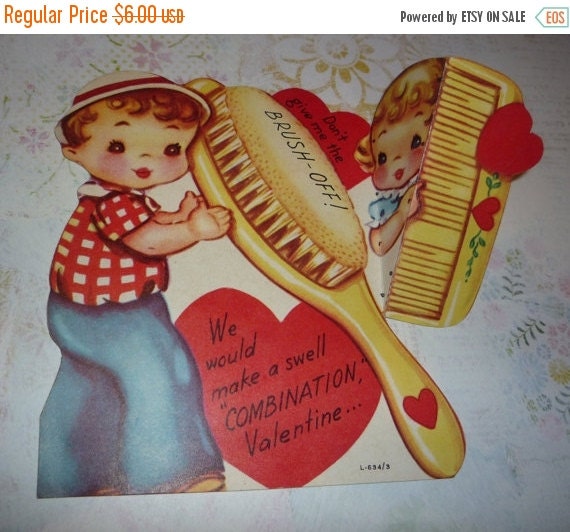 Don't Give Me the "Brush-off", We could Make a Swell Combination, Valentine! Vintage Card
What a cute old card. 5 inches tall and opens to 6 inches. Used. In excellent condition.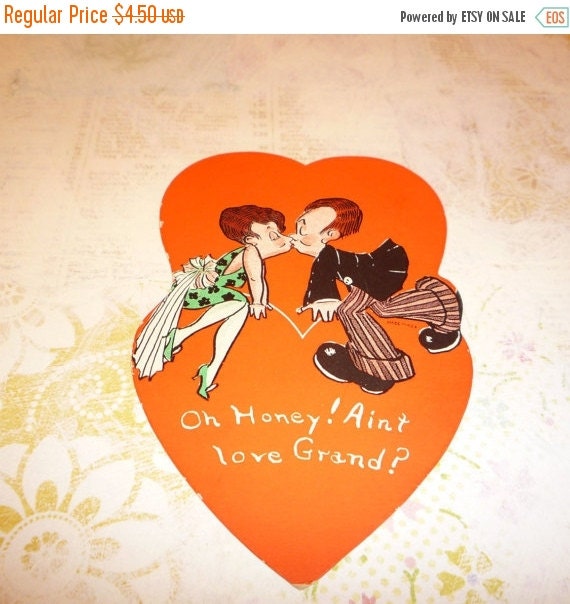 Vintage 1920s Oh Honey! Ain't Love Grand? Kissing Couple Valentine
Cute old card in very good condition. Used on back. 4 5/8 inches tall.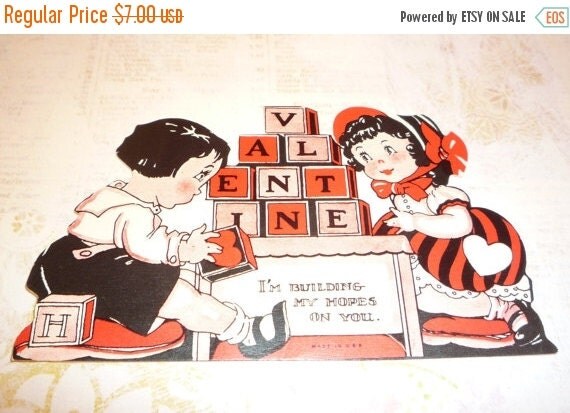 Vintage 1930s I'm Building My Hopes on You - Valentine
Cute old card. Used, but excellent condition 5 by 3 inches.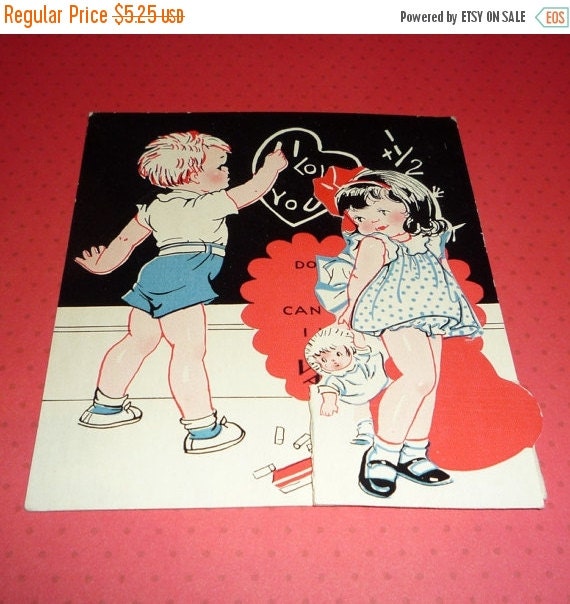 Vintage 1930s Fold Open Valentine With School Children and Black Board
Cute old card in very good condition. Used. 4 1/2 inches tall.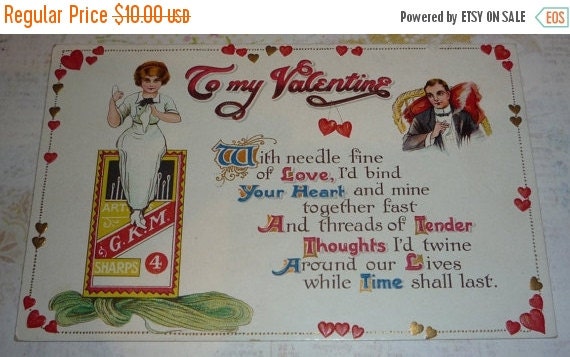 To My Valentine - Lady Sitting on Package of Needles Binding Her Heart With Her Love Antique Postcard
Very unique, lovely postcard! Printed in Germany. BB London. Used, but not posted. Excellent condition.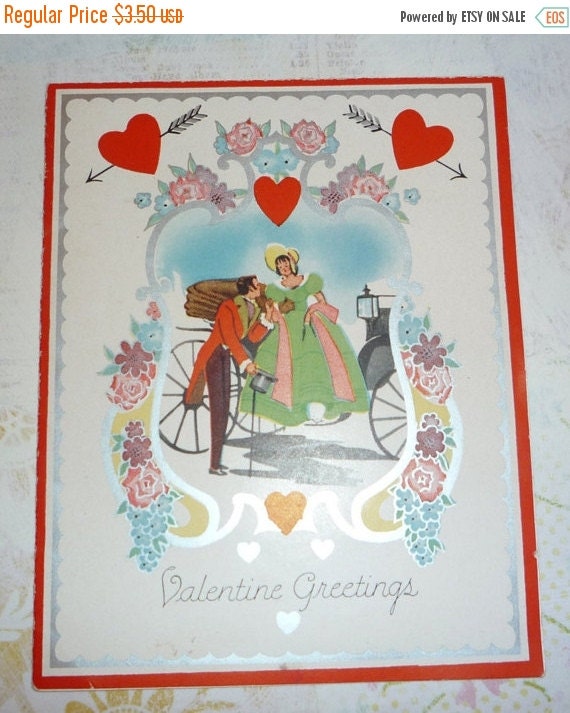 Vintage 1930s Pretty Fold Open Valentine Card - Man Helping Lady From Carriage
Cute little card. Used on back. A few tiny spots on front. Vintage 1930s. Reminds me of Gone With the Wind. Made in the USA.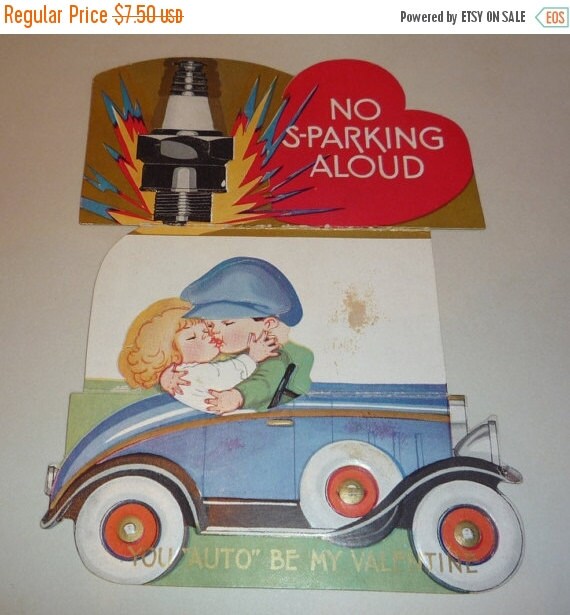 You Auto Be My Valentine - Adorable 1920s Fold Open Card - NO "SPARKING" Allowed
This is a really cute card! The is a little bit of white worn off - see pic- but it is in very good condition. Unfolded, it is 5 3/4 inches long. Die cut and embossed, made in USA. Collectible.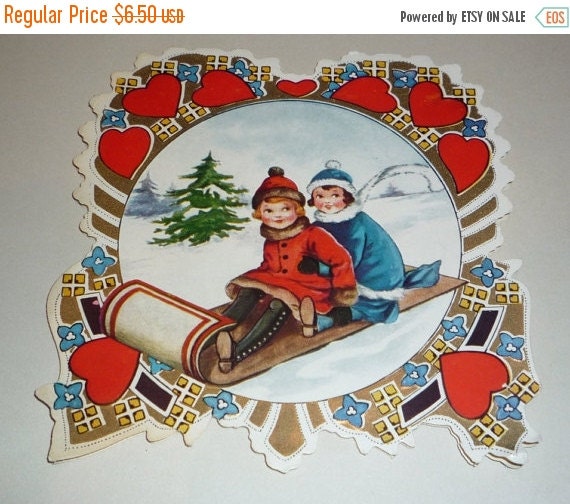 Lovely Little Girls on a Sled Unused Art Deco Valentine
Very pretty old card. 4 1/2 x 4 1/2 inches. A couple of very tiny corner creases. Very Good condition.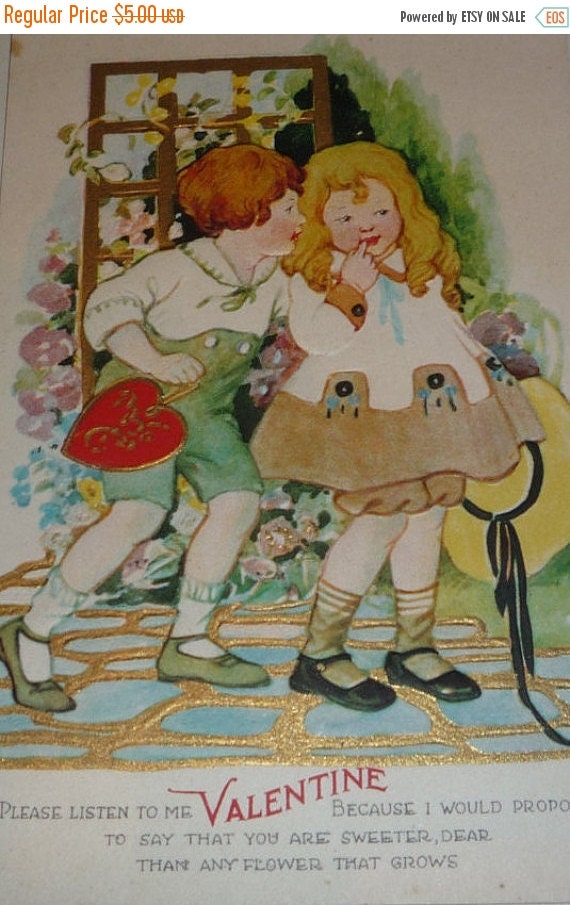 Little Boy Whispers Into Girl's Ear Vintage Valentine Postcard
lovely old card. Used, but not posted. VG condition.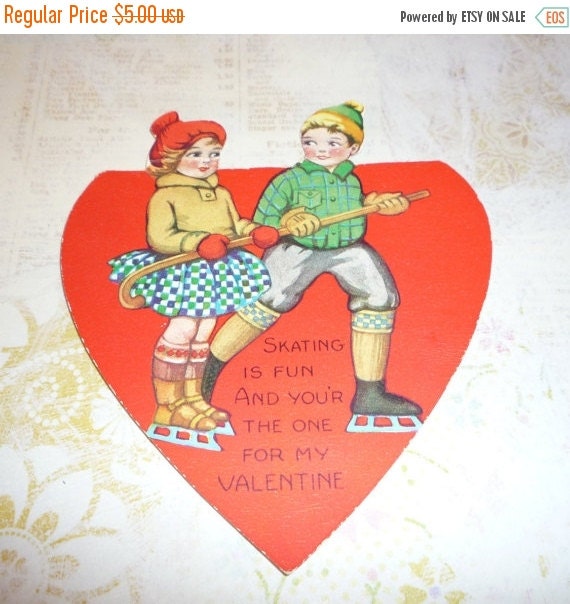 Vintage 1920s Boy and Girl Ice Skaters Fold Open Valentine
This cute card is blank on the inside and used on back. There are creases in the faces of the children where the card has been folded back. 4 1/2 inches tall.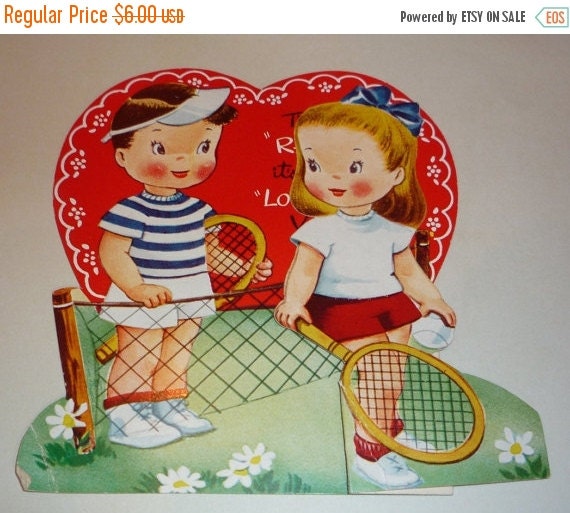 Cute Little Couple of Tennis Players - This is No Racket - It's Strictly a Love Game Valentine
Adorable valentine! 4 7/8 inches tall and opens to 6 1/2 inches. Ameri-card. It does has one bent corner on the the lower left, but the rest is very good. Used on back. Vintage 1950s.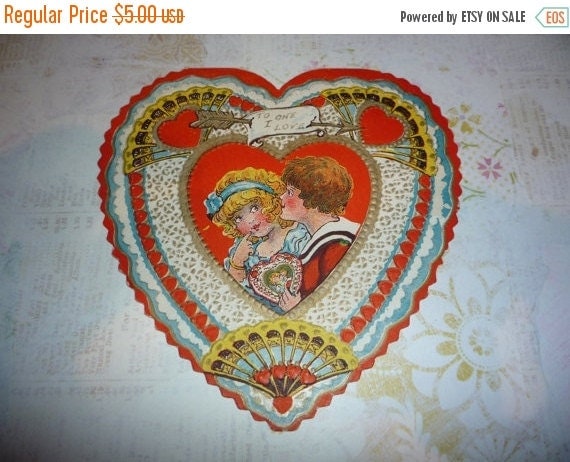 Vintage 1930s Fold Open Valentine With Couple - To the One I Love
Pretty card. Approx 5x5 inches. Verse inside. Dated 1932 on the back. Used on back. Good condition.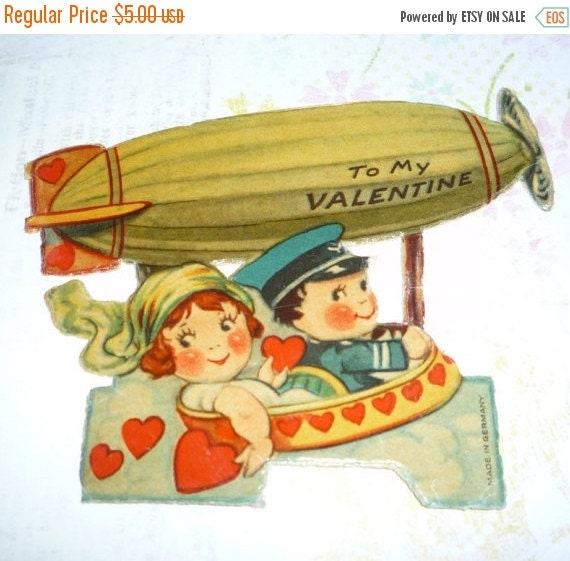 Vintage 1920s German Die Cut Mechanical Valentine - Boy and Girl Ride Dirigible
Precious little card. Bottom standup piece missing, otherwise very good condition. Made in Germany. 3 3/8 by 2 1/2 inches. 30
Vintage Boy Girl Couple Cards Page ONE
Vintage Boy Girl Couple Cards Page TWO
Vintage Boy Girl Couple Cards Page THREE
Vintage Boy Girl Couple Cards Page FOUR
Vintage Boy Girl Couple Cards Page FIVE
Vintage Boy Girl Couple Cards Page SIX
Vintage Boy Girl Couple Cards Page EIGHT
--------------------------------------------------
Here are more Valentines Day Vintage Cards!:
Vintage Valentine Cards
Vintage Girls Valentine Cards
Vintage Boys Valentine Cards
Vintage Boy & Girl Couple Valentine Cards
Vintage Dogs Valentine Cards
Vintage Bunny Valentine Cards
Vintage Bears Valentine Cards
Vintage Cats Valentine Cards
Vintage Paper Lace Cards
Vintage Cupid Valentine Cards
Vintage Circus Valentine Cards
Vintage Teacher Valentine Cards
Vintage Flower Valentine Cards
Vintage Sailor Valentine Cards
Vintage Giraffe Valentine Cards
Vintage Cowboys/Cowgirls/Indians Cards
Vintage Space Astronaut Cards
Vintage Elephants Valentine Cards
Vintage Lions Tigers Valentine Cards
Vintage Farmer Valentine Cards
Vintage Sports Valentine Cards
Vintage Marching Band Valentine Cards
Vintage Trains Valentine Cards
Vintage Birds Valentine Cards
Vintage Monkey Valentine Cards
Vintage Police Valentine Cards
Vintage Hunting Valentine Cards
Vintage Pirate Valentine Cards
Vintage Owl Valentine Cards
Vintage Fireman Valentine Cards